I think it is safe to say that almost all banks in Kenya, if not all, allow their customers to conveniently and easily access banking services using USSD shortcodes via their phones. USSD stands for Unstructured Supplementary Service Data and you use them by dialing * followed by the bank code, then # at the end. For example, *111# is a sample USSD code.
The biggest advantage of using USSD codes is that they work on any phone, you do not need a smartphone. Additionally, unlike banking via mobile apps, USSD mobile banking does not require internet connectivity to function. Below is a list of all USSD codes for banks operating in Kenya that are registered with Safaricom.
Advertisement - Continue reading below
---
Related Posts:
---
Kenyan Banks' USSD Codes
Kenyan Bank Name
Bank USSD Code
1
Kenya Commercial Bank (KCB)
*522#
2
Cooperative Bank of Kenya
*667#
3
Absa Bank Kenya PLC (Formerly Barclays Bank)
*224#
4
Standard Chartered bank
*722#
5
Equity Bank
*247#
6
Commercial Bank of Africa
*654#
7
National Bank of Kenya
*625#
8
Diamond Trust Bank (DTB)
*385#
9
Consolidated Bank Limited
*262#
10
NCBA Bank
(Former NIC Bank and CBA Bank)
 *654# for ex-CBA customers
*488# for ex-NIC customers
11
Bank of Africa (BOA)
*987#
12
Family Bank
*325#
13
CFC Stanbic
*208#
14
I & M Bank Limited
*458#
15
Ecobank
*335#
16
Imperial Bank Limited
*356#
17
Transnational Bank
*862#
18
Gulf African Bank
*399#
19
Guardian Bank
*356#
20
Guaranty Trust Bank (GTBank)
*878# 
21
United Bank of Africa (UBA) Bank
*368#
22
Housing Finance Company (HFC) Ltd
*231#
23
Post Office Savings Bank (Postbank)
*498#
24
Sidian Bank (Formerly K-Rep bank)
*527#
25
Equatorial Commercial Bank
*286#
26
Credit Bank
*699#
27
Jamii Bora Bank
*344#
28
Chase Bank
275#
29
Prime Bank
N/A
30
ABC Bank
N/A
---
Related Posts:
---
How To Use USSD Codes
There are a few prerequisites to starting using USSD codes for banks in Kenya. First of all, you need to have a bank account with the bank. Secondly, the majority of banks will require you to go to one of their branches and fill out forms before they can activate your mobile banking. This is a necessity to block off mobile fraudsters. This is where they also link your mobile number to your bank account. However, most banks nowadays will recommend mobile banking registration when you open an account with them. Thirdly, you need a phone, any phone, and a cellular network.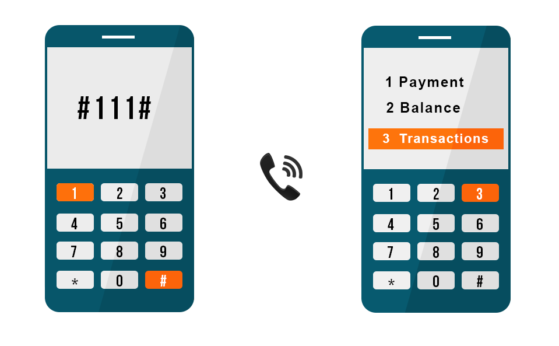 After you've done the above successfully:
You can now dial the bank's USSD code on your phone's dialer.
Next, you will be prompted to input the PIN you set during activation.
You can now choose from a menu the transaction you would like to do.
The banking menu layout will vary from bank to bank. But most will let you send money, pay bills, withdraw cash, and check your account balance. Some even allow you to apply for loans. The only challenge with USSD banking is poor cellular network coverage. Even though most USSDs are free to use, Safaricom will take a few coins from your phone airtime balance whenever you dial.
On the other hand, banks will charge you for successful transactions like checking your balance, sending money, etc. Though it will be definitely cheaper than going to an actual banking hall.
Advertisement - Continue reading below
Is there a USSD code for a bank in Kenya that we have left out? Kindly let us know through the comments section below.
---
Related Posts:
---
Featured Image Credit: gadgets-africa.com