Artificial intelligence (AI) is at a fascinating spot at the moment, often unpolished but full of promise, and the more it's used, the faster it will accelerate. Maybe you have already started incorporating some of the tools in your workflow or are trying to find what will work for you.
You are in the right place, we have curated the top 5 websites that earnest the power of Artificial Intelligence and believe it can save you a ton of hours doing manual work. Let's dive into it, shall we?
Advertisement - Continue reading below
Utility Tools and Assistance
These are the types of AI assistance that can help you finish a project or polish up a step. The best example in this category is the Excel AI formula generator.
1. Excel AI Formula Generator
The Excel AI Formula Generator uses artificial intelligence to help you transform your text instructions into Excel formulas in seconds or explain and translate your formula into a different language. The translation is available in 13 languages. The Excel AI Formula Generator is available as an extension for Google Sheets for subscribed users.
AI Art Tool
AI art generators are becoming increasingly popular, and rightly so. Tools like DALL-E-2, GANBreeder, and Artbreede draw for you near realistic photos and art from text-based descriptions. Here are some websites you can use to draw images, memes, and art using artificial intelligence.
2. Supermeme
Supermeme generates AI memes by simply typing a sentence, and its AI automatically chooses the template and writes a caption. All you have to do is describe the emotion you're looking for and Supermeme will get you the right template.
3. Photosonic AI
Photosonic AI creates realistic or artistic images from any text description, using a state-of-the-art text-to-image AI model. No design skills or Photoshop are required.
4. DALL-E-2
Developed by Open AI, DALL-E-2 is one of the AI art generators that made headlines when they launched this year. A list of AI art generators would be incomplete without including it on the list.
Advertisement - Continue reading below
I typed in the phrase "Daft Punk in the Style of Van Gogh," and this is one of the outputs I got.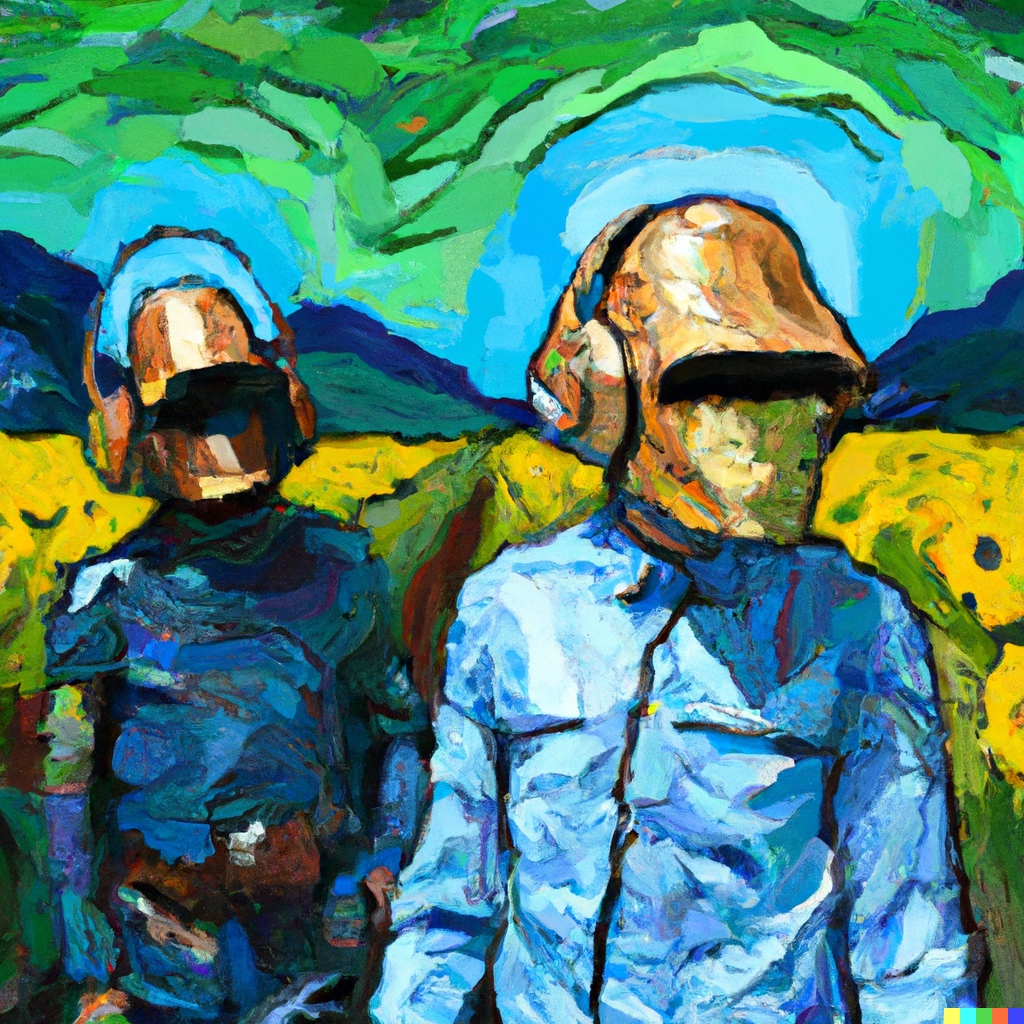 ---
READ ALSO: The Best Five AI Art Generators to Try Out
---
Artificial Intelligence (AI) Writing Assistant
AI writing assistants have taken the internet by storm this year. Tons of tools and websites can help you edit your grammar, write content for a website, come up with scripts, and copyright, and create captions for your social media content.
The downside with all these copywriting AI bots is you have to know what you want. For now, it needs a human to direct it for you to have phenomenal results. Here are some of the AI tools you can earnest when it comes to writing.
5. Writesonic
Writesonic is a unique platform for writers, bloggers, and content creators. It helps you create SEO-optimized, plagiarism-free content for blogs, ads, emails, and websites. The biggest perks of this platform are most of the features are free and my best section is the "Article and Blog" section where you can generate article ideas and get AI-generated intros or conclusions. A part of this is written by Writesonic, let us know if you can tell in the comment section.
6. Copy AI
Copy AI is one of the AI copywriting tools I first discovered and have a high affinity for. For the free plan, they give their users a full tour of the entire platform, where users can experiment for a month with 10 credits. Check out the tools, from birthday cards to social media captions and bios.
7. Rytr
Rytr is another copywriting tool that helps you generate blog ideas, taglines, and more. What makes them stand out, in my opinion, is the option for you to create YouTube descriptions, ideas, and more. You can check them, they are highly rated among the community and have a decent free tier plan you can make use of.
Artificial Intelligence (AI) Image and Video Editors
8. Unscreen
Producing background-free video used to require complex and fiddly techniques like chroma-keying and greenscreens. Unscreen analyzes your video 100% automatically and generates a high-quality result with Unscreen.
Advertisement - Continue reading below
9. ClipDrop
The ultimate ecosystem of apps, plugins, and resources for all creators. ClipDrop automatically removes objects, people, text, and defects from your pictures. It upscales your images by 2x or 4x in seconds. This is an Android app that you can download and explore to its full potential.
10. Remove.bg
Remove.bg has been around for quite a while now and helps you remove the background of any image and download it as a PNG. The advantage is that it is completely free, and you can download the image in full UD.
Have you tried any of these AI-powered tools before? Share your thoughts in the comments section and tell us what you like about them.