The world has become increasingly dependent on the internet for personal, business, and professional use. In order to keep up with the demands of the digital economy, high-speed internet has become a necessity. MTN Uganda has consistently dominated the fiber-to-the-home market since 2021 with its service MTN Wakanet Pro. The company has recently updated its rates for its fiber packages, which now include new monthly, quarterly, and bi-annual packages and a new 10 Mbps tier plan.
In this article, we will take a closer look at the MTN Wakanet Pro Home Fiber Bundles and compare the old and new rates to give you a better understanding of the changes. We will also delve into the benefits of each package, helping you make an informed decision on which package best suits your needs
Advertisement - Continue reading below
What's New?
Since its inception, MTN has maintained two packages for its home fiber internet. i.e. the Standard and Premium packages at 20 Mbps and 40 Mbps, respectively. The standard bouquet provides 20 Mbps for UGX195,000 per month, while the premium package offers 40 Mbps for UGX295,000 per month.
With the new rates, customers now have one more option to choose from and a bunch of payment choices from monthly, quarterly, bi-annual, to annual packages. The new packages include the, 10 Mbps, 20 Mbps, and 40 Mbps tiers. The new 10 Mbps tier offers a lower entry point for customers who want high-speed fiber internet on a budget.
Comparison of the Old and New Wakanet Pro Packages
The new rates offer more flexible payment options, allowing customers to choose the plan that best fits their budget and needs. The Lite package offers a lower entry point for customers who are looking for a lower-speed connection, while the Standard and Premium packages continue to offer high-speed connections with higher data allowances. The old rates were only offered as monthly plans, while the new rates include options for monthly, quarterly, bi-annual, and annual payments.
Packgaes
Old Speeds
New Speeds
Old Prices(UGX)
New Prices(UGX)
Lite
N/A
10 Mbps
N/A
- 130.000shs for a month
- 390.000shs for 3 months
- 780.000shs for 6 months
- 1.560.000shs for a year
Standard
20 Mpbs
20 Mbps
195,000shs/month
- 195.000shs for a month
- 585.000shs for 3 months
- 1.170.000shs for 6 months
- 2.340.000shs for a year
Premium
40 Mbps
40 Mbps
295,000shs/month
- 295.000shs for a month
- 885.000shs for 3 months
- 1. 770.000shs for 6 months
- 3.540.000shs for a year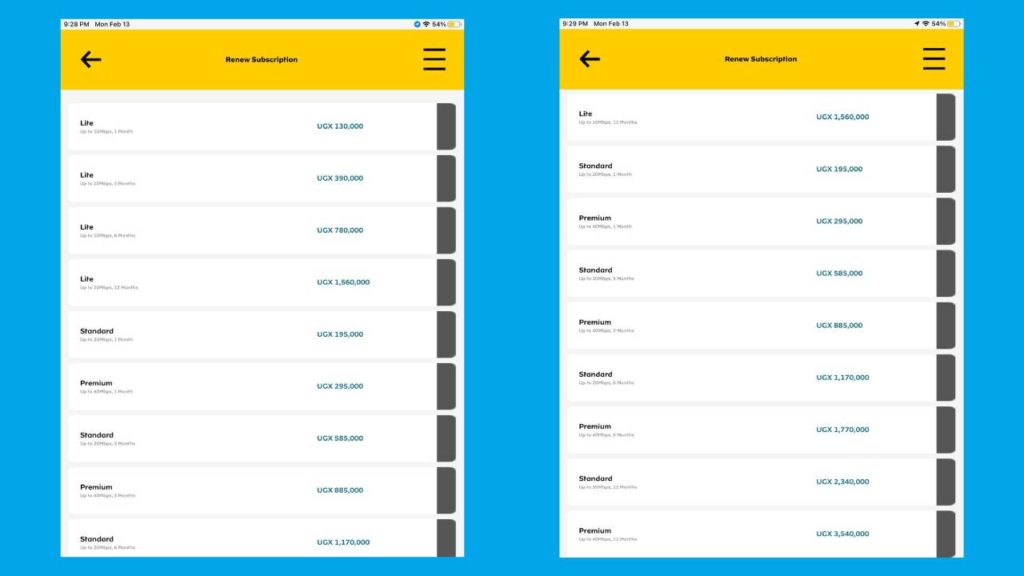 ---
READ ALSO: A Step-By-Step Guide on How to Subscribe to MTN Wakanet Pro Home Fiber Bundles
---
MTN Wakanet Pro vs Competition
Uganda Top Fiber to Home Internet Packages 2023
Provider
Technology
Installation
Package
Speed
Price
Wakanet Pro: MTN Home Fiber
Fiber
UGX100,000
Lite
10Mpbs
UGX130,000
Standard
20Mbps
UGX195,000
Premium
40Mbps
UGX295,000
Xstream: Airtel Home Fiber
Fiber
UGX100,000
Xstream WiFi
10Mbps

30Mbps

50Mps
UGX170,000

UGX250,000

UGX350,000
Sprint UG
Fiber
UGX300,000
Sprint Ultra
10Mpbs
UGX165,000
Sprint Supreme
20Mpbs
UGX220,000
Zuku
Fiber
Free
Tripple Play
10Mbps

20Mbps

40Mbps

100Mbps
UGX169,000

UGX219,000

UGX339,000

UGX559,000
Simba Fiber
Fiber
UGX50,000
Silver
5Mbps
UGX100,000
UGX40,000
Gold
10Mbps
UGX150,000
Competition in any business always ends up favoring the customers. Since Airtel Uganda has lately taken its xStream Fiber service seriously, offering a 10 Mbps transmission rate for 170,000 UGX, the only logical business sense for MTN was to undercut them and launch a slightly cheaper package. For most people across the country, this is a good offer, as fiber has never been at these rates before.
Keep in mind that there has been no official communication or tweet from them regarding the addition of the new 10 Mbps package so far, but it's available on your myMTN App when you are renewing your monthly package. We will update the post once the official communication from MTN Group Uganda has been publicized.
Advertisement - Continue reading below
For now, share with us in the comment section if you are excited about this move from MTN Uganda. Do you see cheaper packages launching soon? In truth, there has been more development of fiber optic infrastructure in estates, suburbs, and away from the uptown areas of Kampala.