MTN Uganda has quietly launched a fiber-to-home internet service dubbed as the Wakanet Pro(MTN Home Fiber) delivered using optic fiber directly to people's homes.
Unlike all MTN products which have big budgets for marketing and customer educations, this service has been flying under the radar since its introduction at the beginning of 2021. We took the liberty as Dignited to curate all you need to know about the MTN Home fiber packages, from installation cost to coverage and Wakanet Pro(MTN Home Fiber) packages.
Advertisement - Continue reading below
What is Wakanet Pro( MTN Home Fibre)?
Wakanet Pro (MTN Home Fiber) is a fixed home internet solution delivered using optic fiber cable directly to your home. It provides a reliable high-speed internet connection with no cap on data volume to meet your home entertainment, education, surveillance, and home office needs.
This isn't to be mistaken for the previously launched Wakanet which was rebranded to Wakanet Max. Wakanet Max is a home internet service. The starter kit comes with a 32 4G user router and a 35GB bundle that has no expiry date. You can read more about the Wakanet Max in our previous blog to understand the installation cost and internet bundles.
---
READ MORE: What is MTN WakaNet Max and How to Get it?
---
MTN Home Fiber(WakaNet Pro) Packages
The MTN Home fiberIt has 2 packages i.e the Standard and Premium packages. The standard bouquet gives users Up to 20mbps and costs UGX169,000 per month and a Premium package with speeds of Up to 40mbps at UGX269,000 per month.
To purchase the MTN home fiber(Wakanet Pro) bundles in Uganda, open myMTN App, select Buy, then Wakanet Pro, and proceed with payments via Mobile Money.
Keep in mind, If your phone number is already on the service, it will not ask you to apply for the Wakanet Pro service but rather show you the MTN Home Fiber packages to buy.
Advertisement - Continue reading below
| | | |
| --- | --- | --- |
| MTN Home Fiber Packages | Wakanet Pro Speeds | Monthly Prices(UGX) |
| Standard | Up to 20Mbps | 169,000shs |
| Premium | Up to 40Mbps | 269,000shs |
Wakanet Pro Installations and Gadgets
The installation fee for Wakanet Pro(MTN Home Fiber) is UGX100,000 and payments are made using MTN mobile money.
To get started with the purchase of Wakanet Pro, you can follow these steps;
Step One: You will have to go to MyMTN App, You can download it from either Google Play Store or Apple App Store.
Step Two: Select Buy on the main menu, scroll down, and choose WakaNet Pro to proceed.
Step Three: Accept the terms and conditions and select Request Service. Choose from the drop-down your location, enter your email, and choose the Sales Agent type to proceed.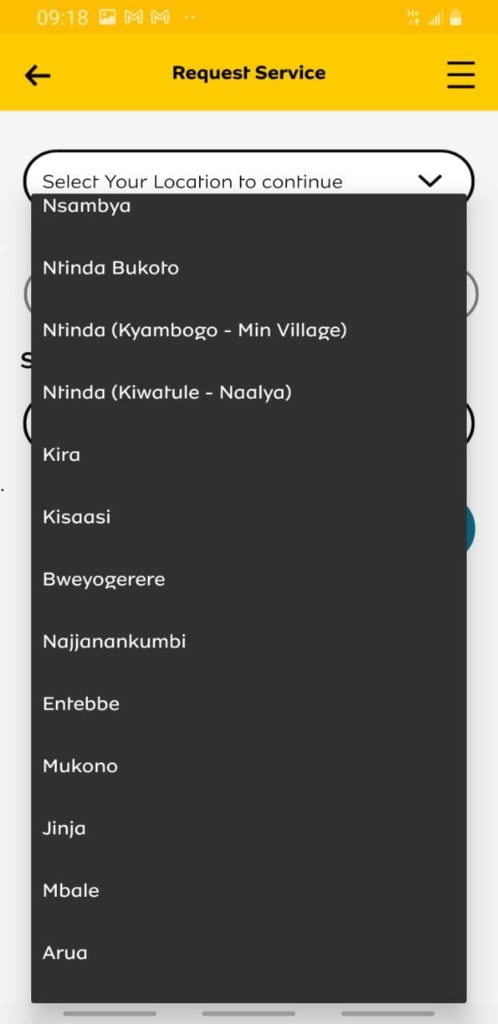 Step Four: About Two days after applying, your home location will be surveyed. An installation agent from MTN will call you to come to supervise your location to do due diligence regarding coverage, signal strengths, and fiber line to your place.
Step Five: 1-2 days after the survey results show you're in a feasible distance, an email is sent to you directing you to pay 100,000UGX. Again about 2-3 days after you have paid, you are installed and hooked to the MTN Home Fiber.
Note that MTN Home Fiber installation comes with a free WiFi router.
Advertisement - Continue reading below
MTN Home Fiber Installation Requirements
A registered MTN mobile number.
Access to MyMTN mobile app. Go through the Application process through the app and wait for installation.
Installation fee of 100,000UGX ready after area inspection from the MTN team.
Wakanet Pro Coverage
According to information found on the myMTN app, here are the locations available for MTN Wakanet Pro Home fiber Internet solution in Uganda;
Kololo, Naguru, Ntinda, Entebbe, Nakasero Hill, Muyenga, Namuwongo, Makerere, Bugollobi, Luzira, Ggaba, Makindye, Muyenga, Namugongo, Ntinda-Bukoto, Ntinda(Kyambogo-Ministers Village), Ntinda(Kiwatule-Naalya), Kira, Kisaasi, Bweyogerere, Najjananakumbi, Entebbe, Mukono, Jinja, Mbale, Arua and Lira.
And that's it to get started with MTN Wakanet Pro, a home fiber internet service that is here to save customers from the annoying MBS economy. You can let us know in the comment section in case we miss something which is vital and if you have been using the service before, you can tell us your experience so far.