Every developer I have met in Uganda has wanted to, has built or is building an E-commerce web application (me inclusive). In my opinion there are mainly two reasons why most online shopping websites in Uganda fail;
Many lack an effective and easy payment solution(everyone wants something similar to Paypal with Mobile payments)
Inadequate or lack of credible and available content for sell
This week, my hope was re-awakened with my discovery of Meka.ug.
Unlike all E-commerce ideas/applications I have encountered, MEKA is an application that got my blood bubbling (first Ugandan application to have this effect since my failed app in 2010).
Advertisement - Continue reading below
What is Meka
MEKA which means "How much?"  in Luganda. It is a product pricing and reference  application. Its goal is to provide information on items in various stores freely to any shopper.
For example; before buying shoes, you can visit MEKA and compare shoe prices from various stores before committing to a particular store. For your ordinary shopper, this is time saving and to some extent rewarding.
Once you have selected a particular shoe, you can reach the store using the contact and address details provided next to the item. (if u love bargaining……..u can do it on the phone–ladies)
How are they different
Collins Mugume the Business Development Manager for Binary Logic (the guys who built MEKA) tells me "We only work with certified stores, once a store joins our platform; we verify their authenticity by visiting their physical location and agreeing to a few terms".
Unlike all E-commerce sites I have visited, MEKA is the only one that offers vendor contact details freely.
With vendors like Game, Maridadi, Nina interiors etc; shoppers have access to a wide range of accurate information on various products.
Location Based Shopping with Maps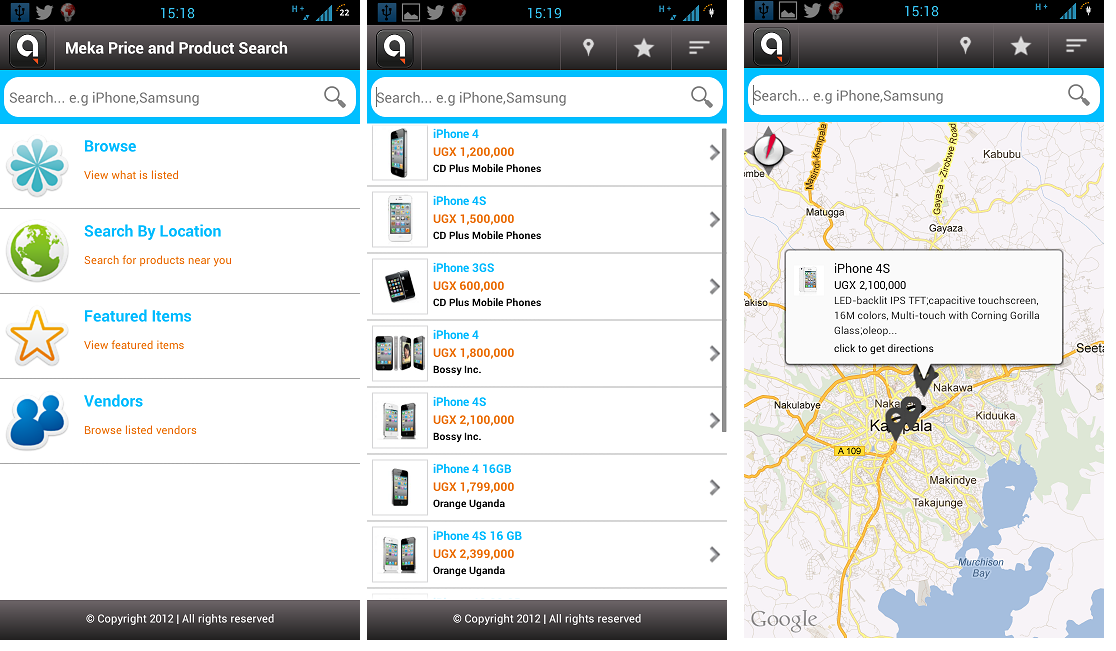 They have an android app which enables one to search for items relative to their location. For example if a person in Jinja searches for a Galaxy Tab under the search by location menu, the app will first show him stores in Jinja offering this particular device. The exact location of the store will be displayed on a map accompanied with directions to the store (I am told a java app is on the way).
SMS Searches
Not everyone has has an internet device — and Meka knows this so well, they've implemented an SMS frontend for users to access the system. To try this out, go to your phone and type "MEKA shoes" in the message field and send it to 8198.By sending that message, you are requesting MEKA for information (price and where to buy).
Coupons
I liked the coupons. They offer coupons in form of promotional codes on some items.  The coupons and a weekly special promotion took my attention so much so that I keep checking their site frequently to see if a product I am looking for is amongst those with discounts.
Advertisement - Continue reading below
Support
I also liked the live chat support on the bottom right corner of the website. Should you have any questions regarding their service, you can instantly talk with someone on the other side line and get your questions answered. Very few online services do this and so we found this great and a plus for Meka.
Who is it for?
All stores can easily list their items on MEKA once they have created an account.
Anyone about to buy something will also find MEKA a good reference point. For shop phobic people like me who are generally ignorant about market prices, MEKA is the right place to visit when the need to shop arises.
Payments on MEKA
Collins and his crew didn't divulge much when I asked them about a potential payments platform for MEKA.
In my opinion the decision to leave out payments for now is a very strategic one. Many e-commerce apps in Uganda have failed just because they put a lot of emphasis on building a payments platform. There are too many variables one has to tackle to pull off a successful online payments solution in Uganda (topic for another day).
Does it Work?
There are so many good ideas which have gone bad through poor implementation. Fortunately for MEKA all their products work fine (right now).
I visited the website, searched for a iPod cables which were available by A to Z Enterprises. So i called up the vendor and asked if they had the product(iPod cables) listed on the website and the price for it. It turned out that what the vendor told me and what's published on the website sync — hence it works.
Rating

Meka certainly has a well designed and functional website. However, they haven't yet figured out partnerships, logistics, delivery, payment methods among other things that cripple their ability to be a fully operational store. Hence we give Meka a rating of 2.7/5.