As a software developer and internet junkie, I often need to make online payments for software subscriptions, domain names, and hosting among others. I used to use my regular bank debit card for these payments, but I was always worried about security. I didn't want to share my card details with every website I wanted to buy something from. Also, there was a time, my card was continually debited in error for an AWS service I thought I had stopped using and that was a pain.
I needed something flexible and easy to use. That's why I decided to try the Eversend USD Virtual Card. A virtual card is like your normal bank card just not a physical one, so you don't have to worry about your card number being stolen plus it comes with security features where you can freeze or delete the card if you feel your details have been compromised gave me some peace.
Advertisement - Continue reading below
So I created an Eversend USD Virtual Card and took it for a spin and was able to pay for my monthly subscription to GitHub CoPilot, and bought a few new domains on NameCheap as well. Here is my firsthand experience with the Eversend virtual card.
Card Creation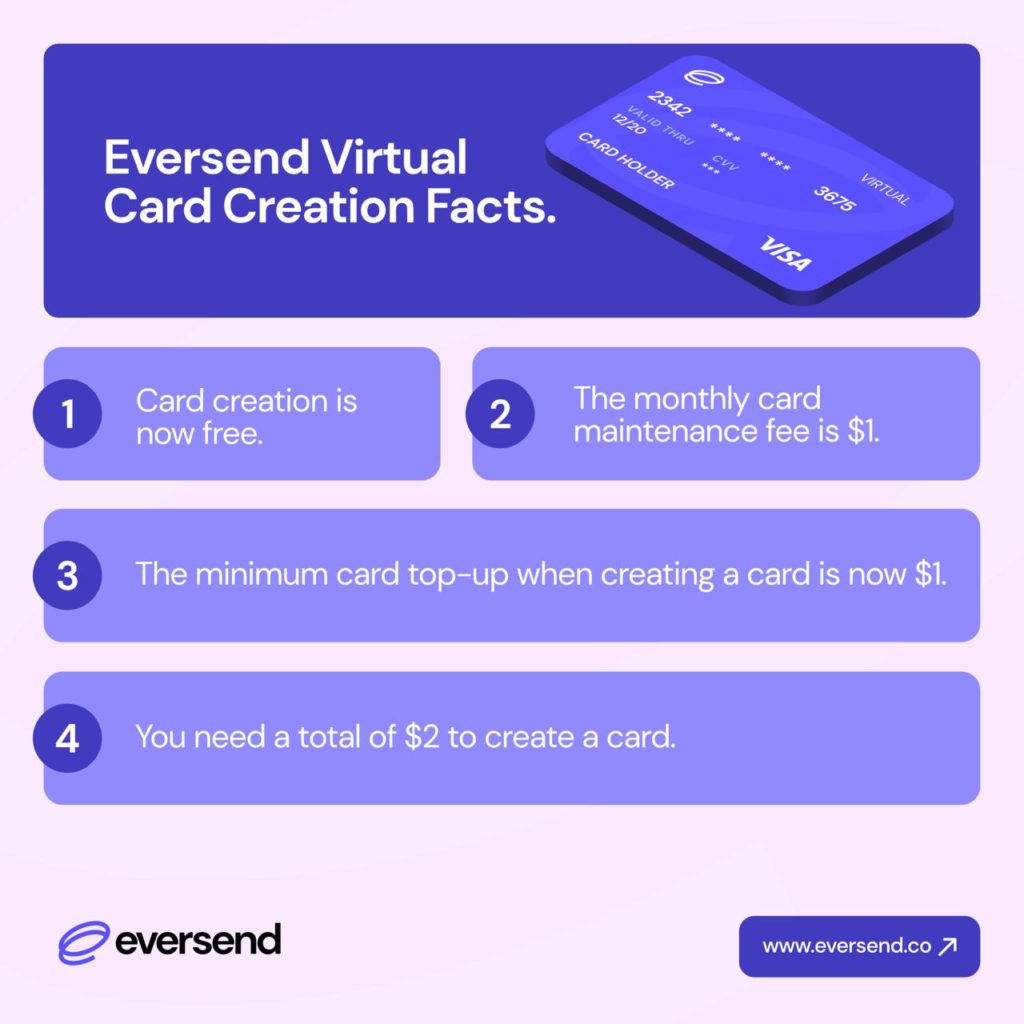 I already had the app but had never tried out the virtual card service. Card creation was simple and seamless. To create a card, you have to fund your wallet and then convert it from your local currency to USD because the card is a USD card. This is possible because Eversend allows you to have multi-currency wallets. After converting, just tap on Create a Card and follow the prompts. There is also a more detailed breakdown here if you need one.
What I liked at this point is that card creation is free and that I only needed a dollar to top up and another for the monthly maintenance fee. So with just $2, I was able to create a virtual card.
---
READ ALSO: Comparison of the Eversend vs Payday vs Chipper Cash Virtual Debit Cards
RELATED ARTICLE: A Complete Guide on How to Add Money or Top-up Your Eversend Wallet
---
Eversend USD Virtual Card Cost of Transactions
One of the standout features of the Eversend USD Virtual Card is its cost-effectiveness. Unlike traditional debit or credit cards, Eversend offers competitive exchange rates and low transaction fees, ensuring you get the most value for your money.
Advertisement - Continue reading below
Additionally, Eversend provides real-time currency conversion, eliminating the need to worry about fluctuating exchange rates. With transparent and affordable pricing, the Eversend virtual card proves to be a cost-efficient solution for seamless online shopping.
The Eversend CEO in a tweet showed how one could lose money in exchange when they use their local currency bank card. For example, if you have a UGX card and are paying a bill of $300, the bank doesn't inform you about the exchange rate they use. Try calculating it manually and you will notice that you could be losing a lot of money.
Here is the breakdown of all the costs you will encounter when you use the Eversend Virtual Card. From service charges to the cost of creation of a new virtual card.
| Feature | Amount |
| --- | --- |
| Monthly Fee | $1 |
| Minimum top-up when creating a card | $1 |
| Card Creation Cost | Free |
| Transaction Cost | Free |
| FX Fees | Yes (foreign exchange fees may apply e.g. when you pay for a service in GBP with a USD card) |
Paying For Services Online With Eversend USD Virtual Card
Using the Eversend virtual card to pay for services works exactly the same way as your traditional card. Once you have your card details, simply enter them at checkout on the merchant's website. Furthermore, Eversend offers enhanced security features, including two-factor authentication and transaction notifications, ensuring your online payments remain secure and protected.
I was able to pay for my monthly subscription to GitHub CoPilot and bought a few new domains on NameCheap as well. Here are some of the payment notifications I made.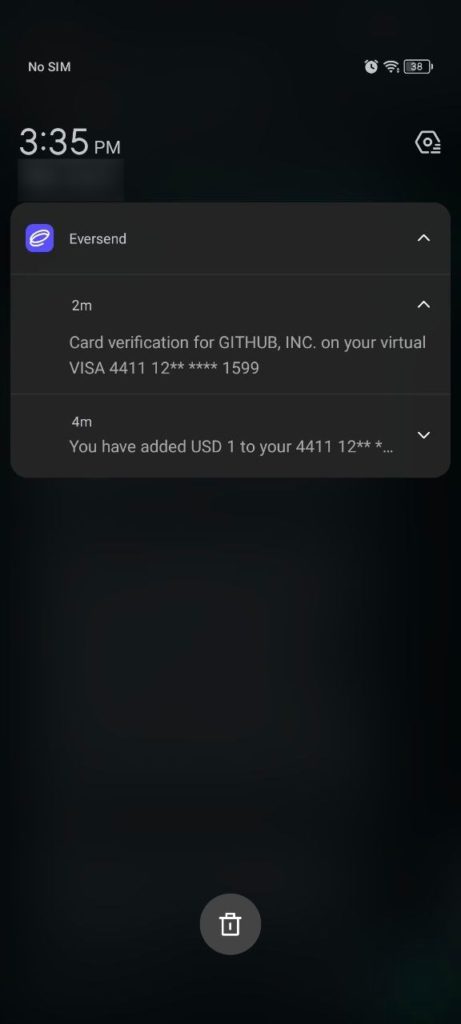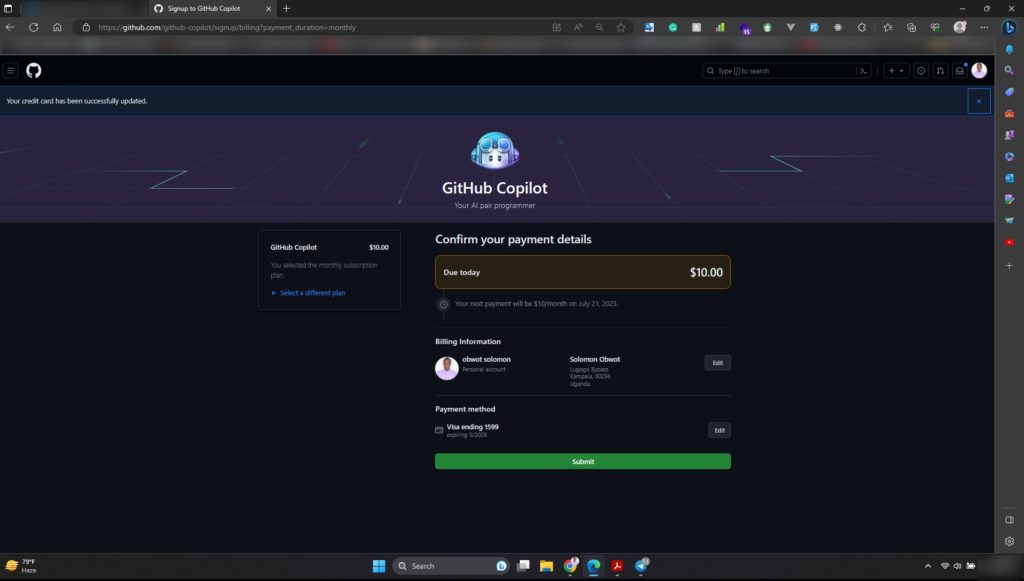 Convenience and Reliability
I also liked the fact that I could easily top up my wallet/card easily via mobile money or even my traditional bank card. Eversend also allowed me to create as many cards as I need. So I can create one for my domain renewals, one for my monthly subscriptions, and another for buying cool stuff I see online. I top up each card with what I need which helps me budget and control my expenditure
When it comes to online payments, reliability is a crucial factor. From the payments we made, the Eversend USD Virtual Card worked seamlessly, proving its reliability and dependability.
Advertisement - Continue reading below
I however noticed that I was not able to pay for Spotify and my friend was not able to pay for Apple Music. When I contacted customer service, I was informed that some merchants like Spotify geo restrict payments because they offer different pricing for different regions. Spotify charges Ugx 10,000 in Uganda and $9 in the US. Since the Eversend USD virtual card is a US-based card, Spotify rejects it while if you pay with your local Ugx card, it will be accepted.
Verdict
I've been using the Eversend USD Virtual Card for a few weeks now, and I am really impressed with how easy it is to use. I can create a new card for each website I want to pay or buy something from, and I can easily add and remove funds from the card.
Whether you're purchasing software subscriptions, registering domains, or indulging in online retail therapy, the Eversend virtual card offers a user-friendly and secure payment option. Simplify your online transactions with the Eversend USD Virtual Card and enjoy a seamless shopping experience like never before. Have you tried the Eversend card yet? Let us know your experience in the comments.