In the ever-evolving digital landscape, virtual debit cards have emerged as a convenient alternative for online transactions. If you are in Africa, there are a bunch of Fintech Startups giving you the ability to create and use one. We have extensively covered the benefits and creation process of each virtual card in our previous blogs. From Barter to Eversend, Payday, Airtel MasterCard, and Chipper Cash.
This article aims to compare and evaluate the three popular virtual debit card options: Eversend, Payday, and Chipper Cash. We will throw information about Barter, and Airtel MasterCard as well. By exploring their features, benefits, service charges, and limitations, you can make an informed decision when choosing the best virtual debit card for your needs. Let's dive into it!
Advertisement - Continue reading below
1. Cost of Creation
When it comes to virtual cards across the continent, there are a few things worth mentioning upfront. All of the fintech startups partner with Banks to be able to create virtual cards. In most cases, if you want a dollar-powered virtual card, you will have to use a US-based bank. Eversend, Payday, and Barter all offer dollar virtual cards meanwhile Chipper Cash and Airtel MasterCard offer virtual cards in the local currency for this case UGX. Payday has a Verve virtual card that is completely free to create but the catch is it's Naira based card.
Eversend has recently waived the card creation fee, allowing customers to create virtual cards free of charge, and lowered the minimum top-up from 5$ to 1$. We have tried it and it works. However, you will still need $1 to pay the monthly maintenance fee.
Here is the cost of the creation of virtual cards. Eversend is the cheapest at 1$ meanwhile Barter charges 2$ and Payday charges a total of 6$.
| Eversend | Payday | Barter | Chipper | Airtel |
| --- | --- | --- | --- | --- |
| - Card creation is free | - Card creation fee is $5 for a Dollar MasterCard or Visa Virtual Card | - Card creation fee is $2 | - Card creation fee is UGX1000 | - Card creation fee is UGX4370 |
| - $1 minimum top-up | - $1 minimum top-up | - $2 minimum top-up | - UGX1000 minimum top-up | - UGX4370 minimum top-up |
| | | | | |
2. Virtual Debit Cards Service Charge
When it comes to service charges for virtual cards, most fintech apps offer two options. They either charge a flat transaction fee or make money from the real-time exchange when you make payments.
Chipper Cash takes a different approach. They don't charge you when you pay with your virtual card, but they apply real-time exchange rates for UGX to USD transactions. This means you'll have to pay based on the daily exchange rates, which is usually not a problem for me when I am doing transactions that are small. It becomes tricky for transactions over 100$.
Eversend and Payday, on the other hand, require you to have at least a minimum of $1 on your card every month. Both don't have service fees when making payments.
Advertisement - Continue reading below
Payday offers a Vervex virtual card in Naira. But, be aware that when you use it for transactions in other currencies, you may be affected by exchange rate fluctuations. Eversend charges you a fee of $0.5 if make a payment and your card is declined for lack of funds. PayDay on the other hand charges you for declined cards as well and will terminate your card if you exceed a certain number of declines.
What I like about Eversend is the transparency of their fees, you sign up knowing what you getting into. When you use your Eversend card in a different currency, you'll be charged FX fees. The fees are in United States dollars (USD). If you make transactions outside of the United States, you'll have to pay a foreign exchange fee of 3.5% and an additional charge of USD 0.5 per transaction. It's important for the cardholder to know and understand all the fees related to using the virtual card, whether you're using it within or outside the United States.
| | Eversend | Payday | Chipper | Airtel |
| --- | --- | --- | --- | --- |
| Monthly Fee | - $1 monthly fee | - $1 minimum balance | - None | - None |
| Transaction Cost | - Free | - Free | - Free | - UGX1000 per transaction |
| FX Fees | - Yes | - Yes for US Based Cards | - No | - No |
---
---
3. User Experience and Interface
Fintech startups all experience the same advantages and disadvantages when it comes to virtual cards. When you have a virtual card, you can be confident that it will function properly. However, sometimes there may be issues affecting all users. For example, last year Union54 which is a 'Mastercard Principle' member was battling a chargeback fraud that led to almost all African virtual cards being off for months.
When it comes to user experience, I really like using the Chipper Cash virtual card. I've deleted and created the card multiple times, and I'm happy with how dependable it is.
Eversend's virtual card is the best when it comes to UI and interface. You can find all the card's features listed below it. Freezing the card and checking past transaction history is just a tap away.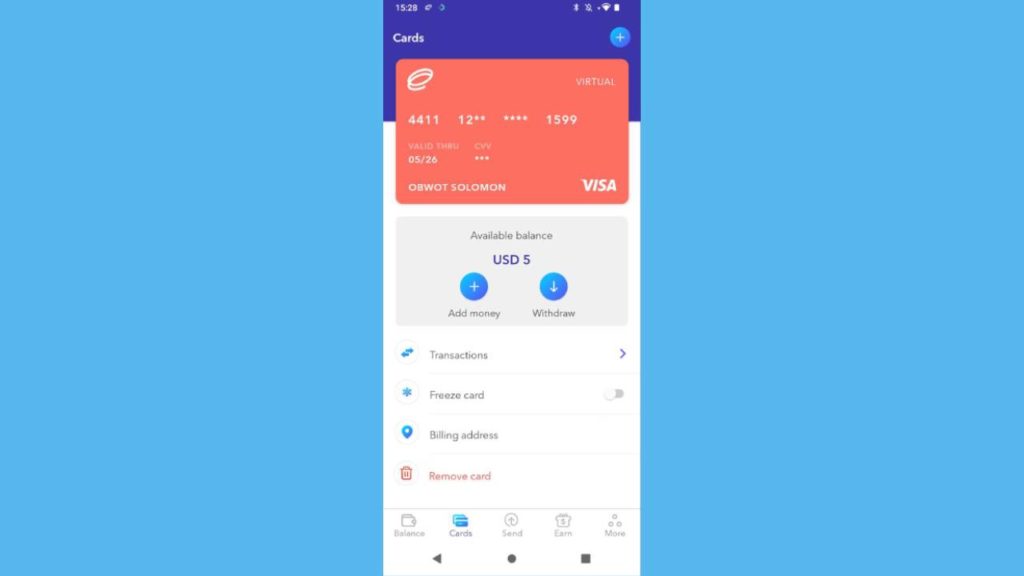 4. Virtual Debit Cards Features
Most virtual cards have similar features, such as bill splitting, the ability to create only 1 card at a time, and card freezing. However, what sets them apart are the support and card type. Payday stands out because it supports VISA, MasterCard, and Vervex. Eversend and Airtel are powered by MasterCard, while Barter supports VISA.
Here are some features of the different virtual cards:
Features
Eversend
Payday
Chipper
Barter
Airtel
Ability to freeze and delete the virtual card
Yes
Yes
Yes
Yes
No
View transaction history
Yes
Yes
Yes
Yes
No
Control subscriptions and how you spend
No
No
No
Yes
No
Virtual Card Topup and Withdraws
Yes
Yes
Yes
Yes
No
Card Type
- USD Virtual VISA Card
- USD VISA Card
- USD Virtual MasterCard
- Naira Vervex Card
- UGX VISA Card
- USD VISA Card
- UGX Virtual MasterCard
5. Availability and Countries Where You Can Create the Virtual Debit Cards
Barter by Flutterwave is available in 13 countries, including the UK. Chipper Cash is available in 6 countries (listed below), and Eversend is available in 5 countries. It's important to consider coverage when selecting a virtual debit card. Keep in mind that the card is accepted worldwide wherever Mastercard and VISA are accepted, regardless of the country it was issued in. For example, I can use it to shop on Amazon and Apple, even though I'm an Eversend user in Uganda.
Advertisement - Continue reading below
Below are the countries where the virtual debit cards are issued:
Eversend
Payday
Chipper
Barter
Airtel
- Kenya
- Uganda
- Ghana
- Nigeria
- Rwanda
- Nigeria
- Rwanda
- Ghana
- Rwanda
- Nigeria
- Uganda
- South Africa
- USA
- Ghana
- Kenya
- Nigeria
- Uganda
- Rwanda
- South Africa
- Tanzania
- Zambia
- Cameroon
- Ivory Coast
- United States
- Canada
- UK
- Uganda
- Zambia

6. Services or Websites Where the Card is Accepted
I've learned from years of using virtual cards that most of them are accepted on popular global merchant payment sites like Uber, Netflix, Alibaba, Apple Music, Asos, Google, Namecheap, Aliexpress, Facebook, etc. However, there can be issues when using a USD-based virtual card for geo-restricted services. For instance, in Uganda, Eversend faces difficulties with Spotify payments due to different regional prices. If you try to pay for Spotify using a USD-based Eversend card, your transaction will be declined. However, if you change your Spotify region to the US or Europe, the transactions are accepted. These are some important things to consider before signing up for US-based cards. On the other hand, Chipper Cash, being locally based, has accepted cards.
Another aspect to note is the usage of cards on betting, crypto, and adult websites. Only Payday, which you can find information about on their website, allows the use of their cards for such purposes. It's important to know that Barter, Airtel Mastercard, and Eversend are specifically designed for merchant payments and not for crypto and similar transactions.
7. Customer Service
Most startups neglect customer service, but Eversend stands out with its excellent customer support for virtual cards. They ensure transparency by listing all charges and fees associated with card usage, and they are always available to answer any questions that may arise about your virtual card. Chipper Cash and Payday also provide commendable customer service.
On the other hand, Airtel Mastercard falls short because its customer service is handled by telecom representatives who often lack knowledge about specific products or services. Customer service with Barter by Flutterwave is also challenging. I have been unable to top up my virtual card and Barter wallet for the past year, and it seems impossible to find someone who can provide clear guidance. Personally, I have given up and suspect that they have closed operations in Uganda.
Choosing the right virtual debit card is crucial for a secure and convenient online payment experience. Through this comprehensive comparison of Eversend, Payday, Chipper Cash, Barter, and Airtel MasterCard, you now have valuable insights into their features, benefits, and limitations. Consider your financial needs and priorities to select the virtual debit card that offers the optimal combination of convenience, security, and affordability for your digital transactions.
Share with us in the comment section, the virtual debit cards you are using.
Advertisement - Continue reading below