AI has revolutionized the realm of image creation, and Bing Image Creator is a prime example of its innovative capabilities. By leveraging AI-powered technology, you can now produce personalized and distinct images. In this write-up, we will provide a tutorial on how to create AI-generated images using Bing Image Creator, which was recently highlighted in a Twitter announcement made by Microsoft.
What is Bing Image Creator?
The latest Bing and Edge preview has brought forth innovative features such as the Bing Image Creator, new AI-driven visual Stories, and updated Knowledge Cards. With the help of an enhanced version of the DALL∙E model from their partners at OpenAI, Microsoft's Image Creator enables users to generate an image by simply describing it in words.
Advertisement - Continue reading below
This update will make it possible for users to generate both written and visual content in a single platform, directly within the chat.
---
Related: How to Create Images from Text Using Open AI's DALL- E 2
---
How to generate images with Bing Image Creator
There are three main steps involved in generating images from text with this new Bing Image Creator currently in testing mode. Here are the steps;
Step 1: Accessing Bing Image Creator
To get started, go to the Bing Image Creator website. Sign or Signup up if you don't have a Microsoft Live account.
Alternatively, when on the website, enter what you want to create and hit Join & Create button which will redirect in case you haven't signed in yet with your Microsoft account.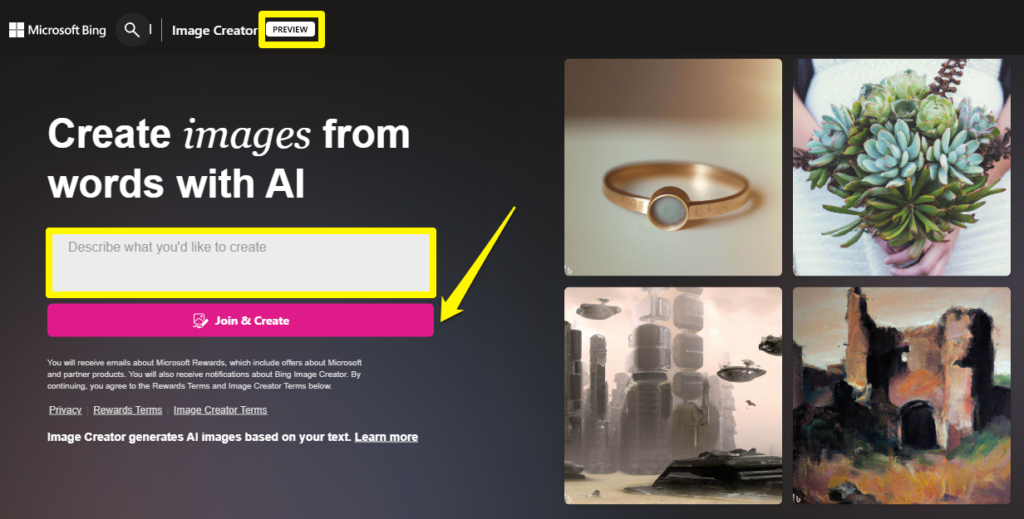 Step 2: Generate Your Image
Once logged in, enter the words describing the image you want to generate in the search box.
Hit the "Create" button to generate the image. Bing Image Creator will use AI-powered technology to create a unique image based on your customizations and prompts.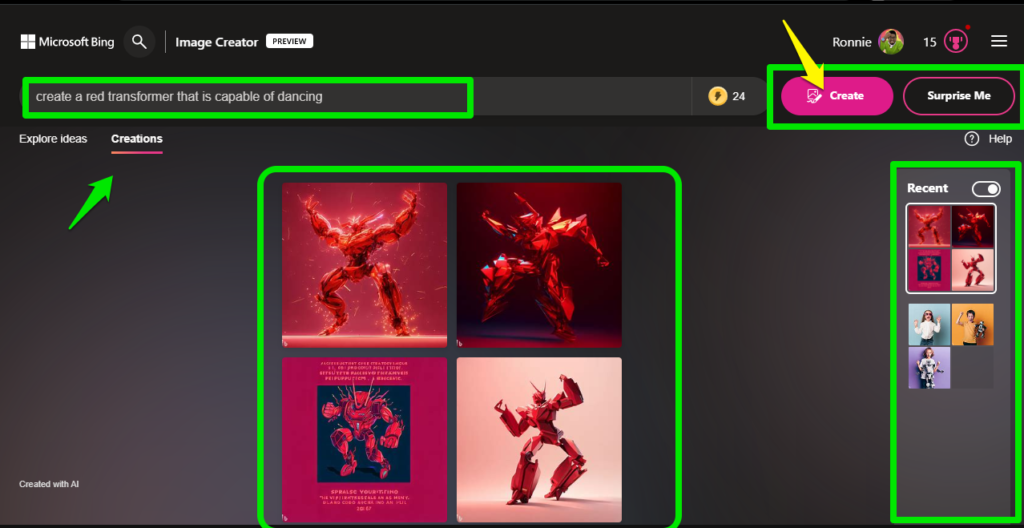 You can create the images more quickly with boosts just in the right corner of the search box.
There is a side right panel that keeps track of all recent creations.
The Explores button gives you ideas, insights, and other creations generated by other users.
Hit the surprise button if you want a random text generation, then hit Create once again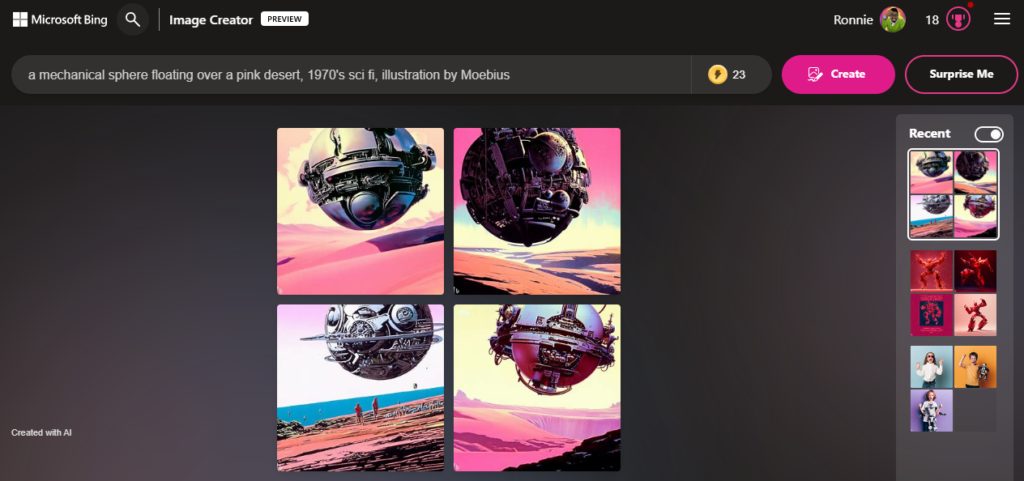 ---
Related: Get started creating stunning AI art with Midjourney
---
Step 3: Download Your Image
Once your image is generated, you can download it to your device. You can also share your image on social media or use it in your own projects.
Advertisement - Continue reading below
Just tap on one of the four generated images and hit the Download button.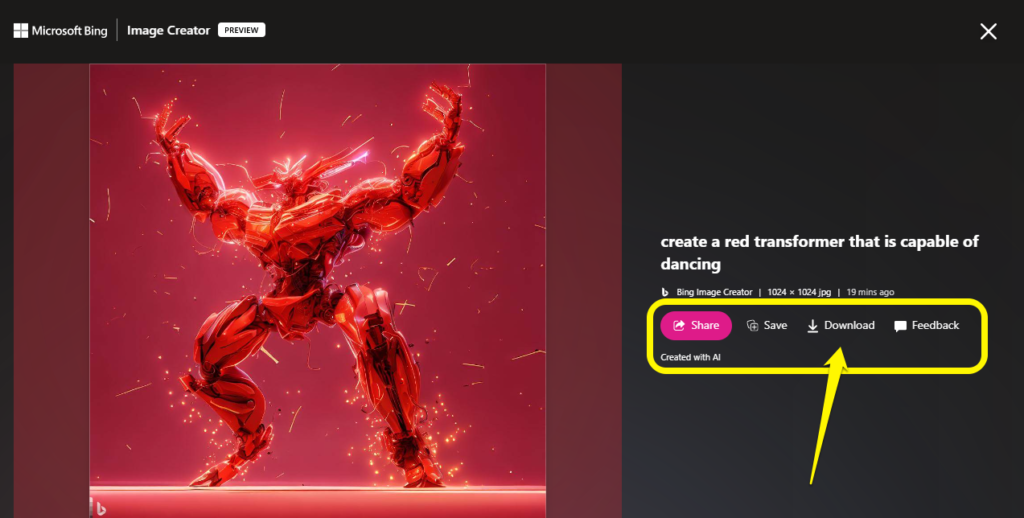 Bing Image Creator Availability and Accessibility
Bing Image Creator integrated into Bing chat began rolling out yesterday to Bing preview users on both desktop and mobile. For those not in the new Bing preview, the preview experience of Image Creator is now available at bing.com/create for Bing users around the world in English. We will add more language support over time.
Bing Image Creator was also made available in Microsoft Edge from the Image Creator icon in the sidebar for both desktop and mobile starting yesterday for Edge users around the world in English. Microsoft also announced that it will soon integrate Image Creator into Edge from the new Bing button in chat mode in the preview version of Edge.
If you're not yet in the new Bing preview, you can sign up for the waitlist here. Read more about this new product from Microsoft here.
---
Related: Here's How to Get Access to the New Bing With ChatGPT
---
Conclusion
Creating AI-generated images with Bing Image Creator is a fun and innovative way to explore the possibilities of artificial intelligence. With a variety of templates and customization options, you can create unique and customizable images that are perfect for social media, websites, or personal projects. So why not give it a try and see what kind of images you can create with Bing Image Creator and tell us your experience?