DALL-E 2 is a highly sought-after AI platform that enables users to generate captivating artwork using text-based prompts. This article will guide you through the steps of creating AI art from scratch and modifying existing images on the platform.
OpenAI's innovative model, DALL-E 2, arrived on the scene in early April 2022 and raised the standard for image generation and manipulation. With just a brief textual prompt, DALL-E 2 is capable of producing entirely new images that seamlessly blend unrelated and distinct objects in a semantically credible manner.
Advertisement - Continue reading below
What is DALL-E 2?
DALL-E 2 is a state-of-the-art artificial intelligence model created by OpenAI for generating images from textual descriptions. The model has been trained on a large dataset of images and text, allowing it to generate high-quality and diverse images from textual input.
It is basically a generative language model that takes sentences and creates corresponding original images.
---
Read More: The Best Five AI Art Generators to Try Out
---
How to get started
Here's how you can get started with using DALL-E 2 to create images from the text:
Head over to the official page.
"Login" or "Sign up" to continue: You can use Google to directly create your account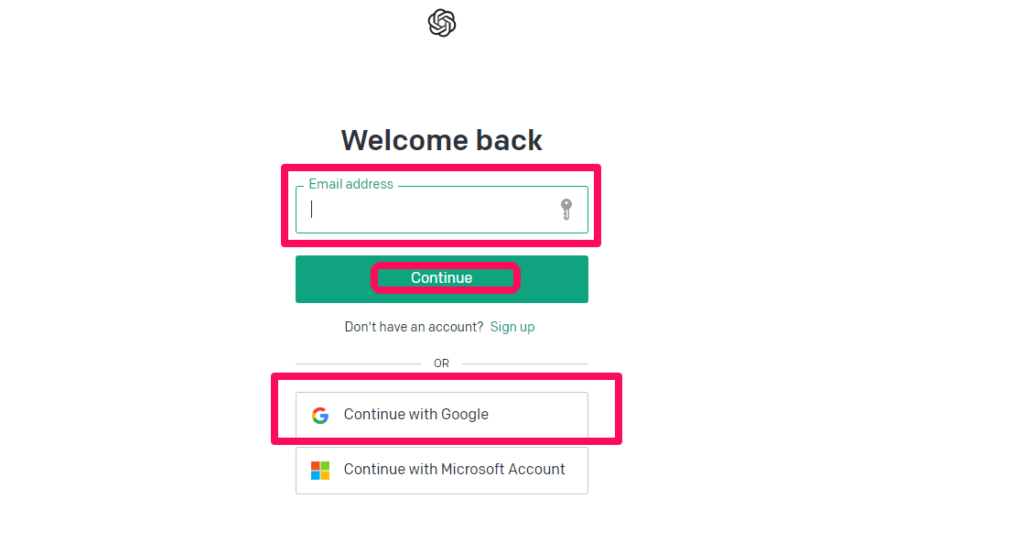 A welcome screen after authentication, click Continue
Get started by entering your design, or piece by describing it with clear English words.
Wait for the results

---
Related: Get started creating stunning AI art with Midjourney
---
Here are the three generated pieces that I am creating a collection for.
Advertisement - Continue reading below
A: "digital art showing Uganda's nightlife"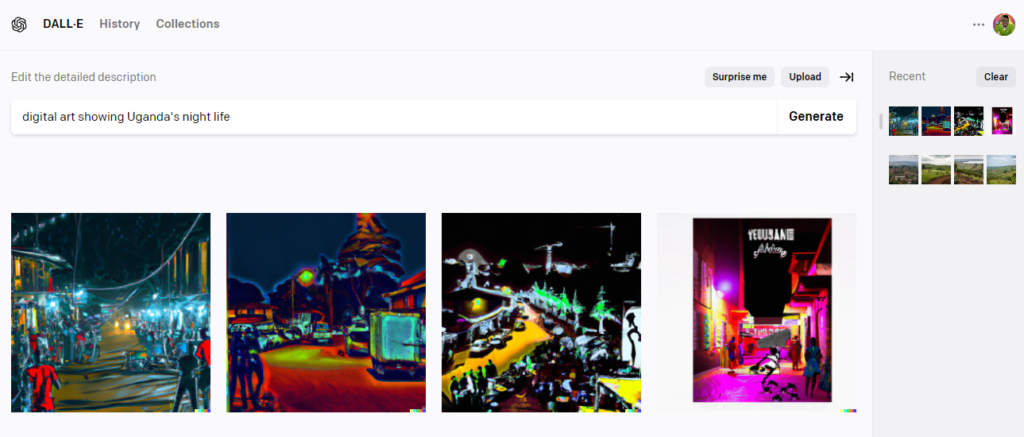 B: "An impression of Uganda's beautiful landscape"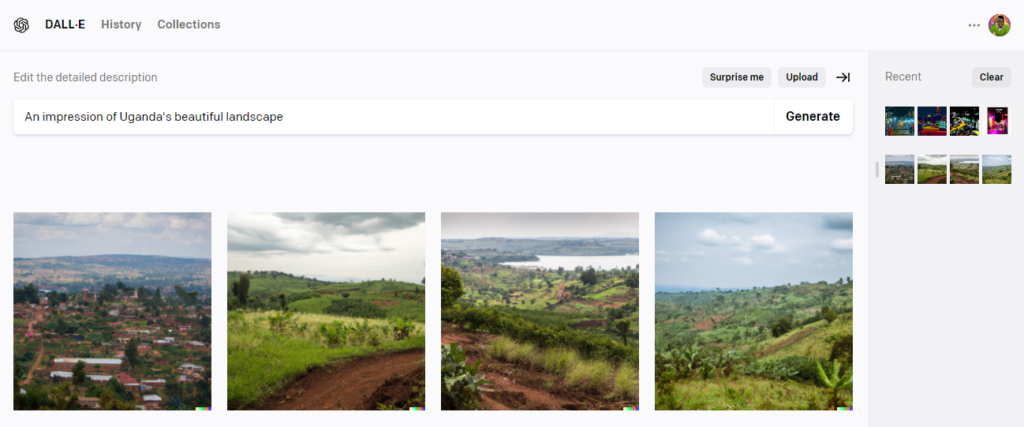 C: "An Oil painting of President Museveni dancing"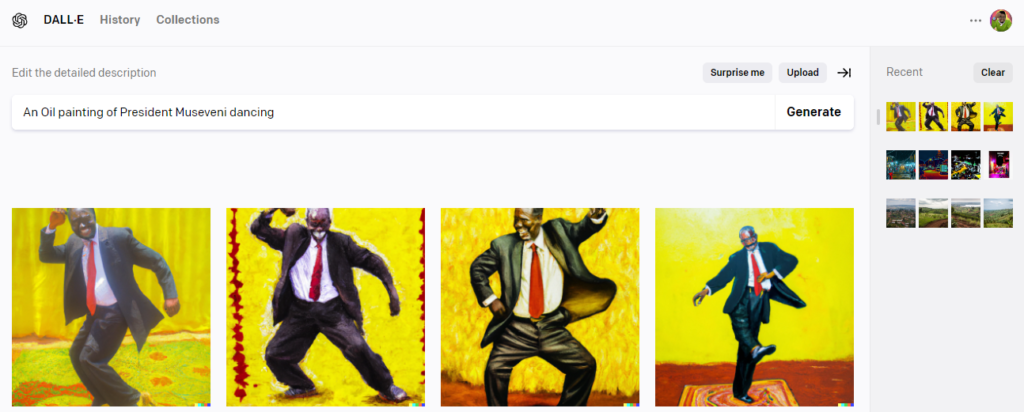 As you can spot from the above: four image variants are generated for each input text. You can go ahead to create a collection under the Collection Tab. Collections can be both private and publicly available. If you scroll down, you can see that you are also able to upload and edit your own images.
You will also notice that DALL-E2 takes some time to bring the results depending on the complexity of the query. It may not also be accurate as you spot in my third generated image of "President Museveni Dancing".
To edit an existing image:
Hit the upload button;
You can apply some cropping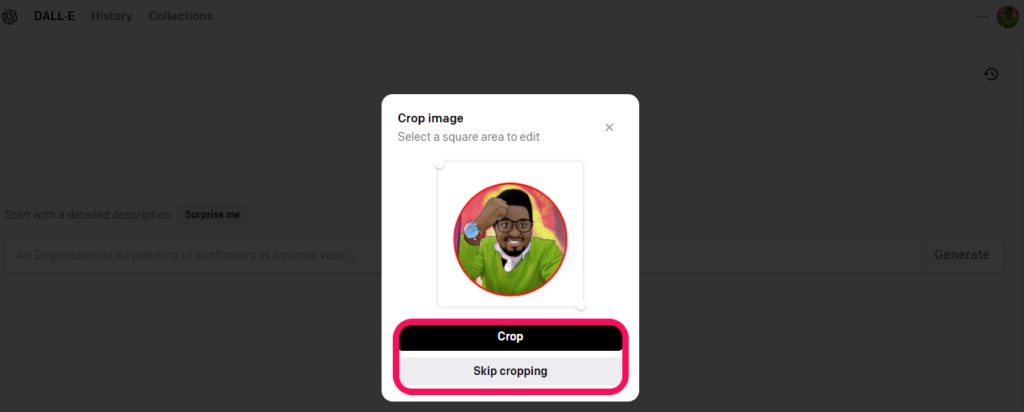 Select either Edit or Generate variations button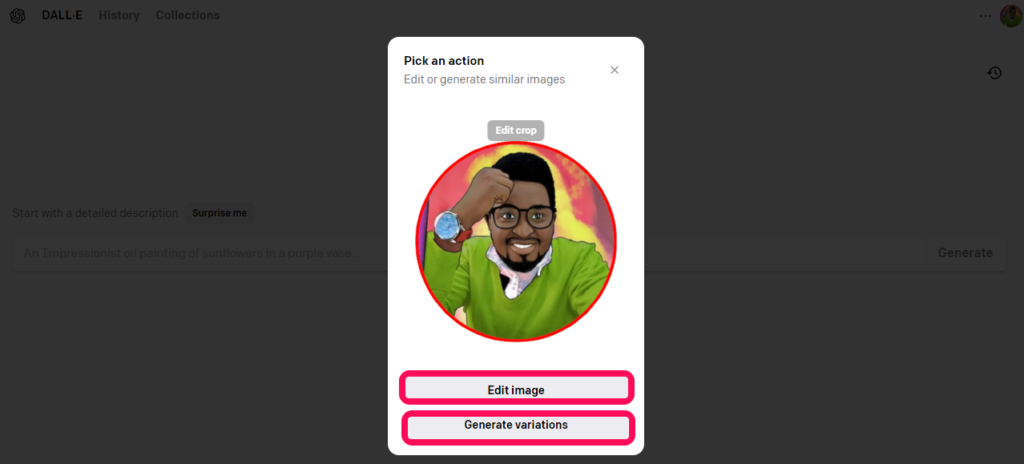 I chose the second option: Here are my generated other four versions

When you choose the first option for editing, the image will open in the online editor where you can erase the background and give normal commands depending on your situation, The commands will be worked on the uploaded and edited image as below;
Advertisement - Continue reading below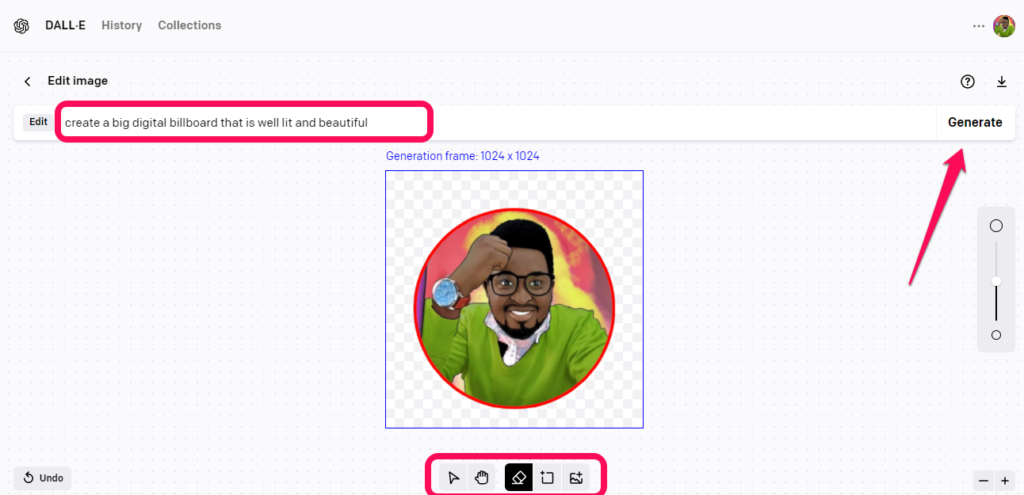 The above command (weird) produced some weird results too;

Is DALL-E2 free?
You get 50 free credits during your first month, and 15 free credits will refill every month after that. A way to experiment with DALL-E 2 is by utilizing the Surprise Me feature, which generates a random prompt for you. This can be a useful option if you are unsure of what to input and it won't cost you any credits unless you decide to generate an image. Read More.
---
Related: Here is How to Get Started With ChatGPT
---
Pro-Tips While Using DALL-E2
To achieve optimal results, incorporating artistic styles in your prompts is recommended. This can range from broad art styles to specific artists and artworks. While prompts such as "A forest filled with trees made of pizza" can be intriguing, it is quite unspecific. Utilizing specific terminology can help to achieve a desired appearance. Here are the tips:
Mention styles like "pixelated", "digital art", "cyberpunk", etc.
Ask for 3D Renders.
Be descriptive as you can.
Ask for mediums like "Oil Painting", "Oil pastels", etc.
You can give contexts like "stained glass", etc to give more meaning.
Ask for Abstract and implausible images.
Words like "dark" or "bright" can have a big impact.
Conclusion
Overall, DALL-E 2 is a powerful tool for generating images from text, offering a new and exciting way to bring your imagination to life. With its cutting-edge AI technology, DALL-E 2 is a valuable resource for researchers, artists, and anyone who wants to experiment with generating images from text.