Midjourney is an independent research lab that produces a proprietary AI or artificial intelligence program. Their AI creates images from text descriptions served through "prompts". Midjourney is just one of the many AI programs used to create Art from text description, the closest competitor being OpenAI's DALL-E. MidJourney is currently still in beta and can only be accessed through a Discord bot. 
So to get started, you'll have to create an account with Discord. Discord is a text and video chat application mostly used by gamers. So head over to discord.com and create an account with your email address or Google account. You can use discord via your browser or you can download it to your computer. 
Advertisement - Continue reading below
Read more: A Beginner's Guide on How to Get Started with Discord
After you've created an account with Discorded and signed in, head over midjourney.com and click on join beta. This will redirect you to the Midjourney bot on Discord. And This is where the magic happens. 
Midjourney is both free and paid. So you can take advantage of the free trial package to get started. No credit card is required. You get only 20 jobs with the free trial after which you will have to upgrade to the paid version.
To create images with MidJourney;
Go to a channel with the bot. For beginners, simply click on any of the newbies channels.  I went with #newbie109.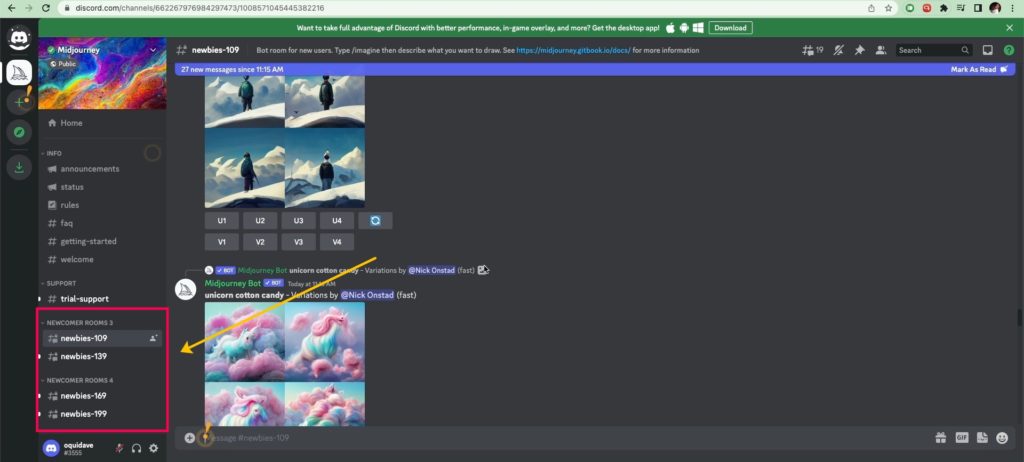 Now Type /imagine in the text box. This is then followed by a what's called a prompt.  A prompt is a phrase or text description about the image you want the AI to generate for you. This can be anything, but read through the Midjourney's terms and conditions. You can't generate nude  images for instance. For instance, I typed in the "/imagine city along the river Nile" in the text box.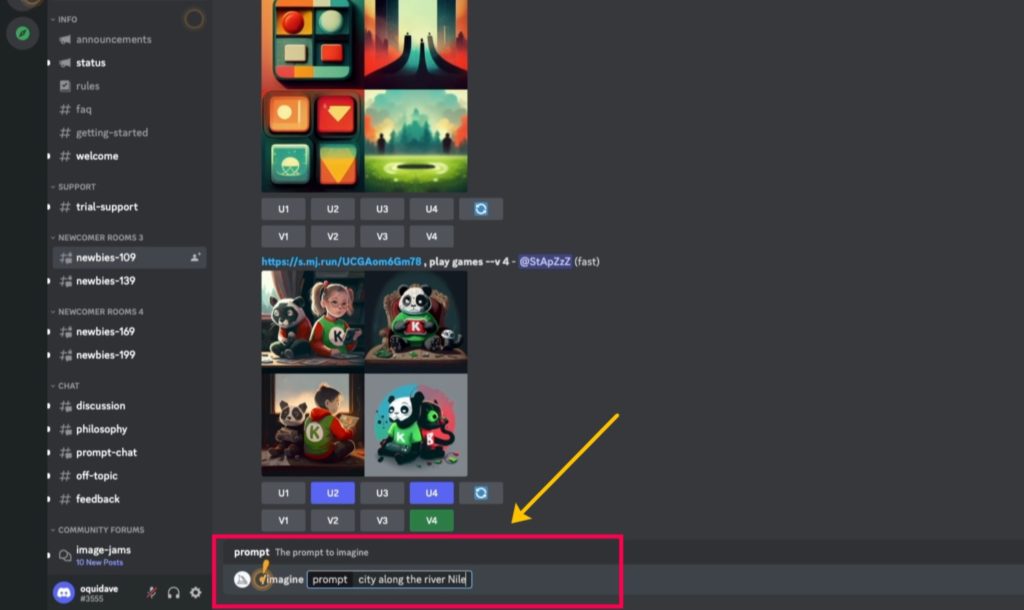 The bot will send you 4 images in a 4×4 grid in about 60 seconds. This will come along with other images generated by other users on the channel. This makes it really hard to keep track of your response. But just keep scrolling and looking for yours.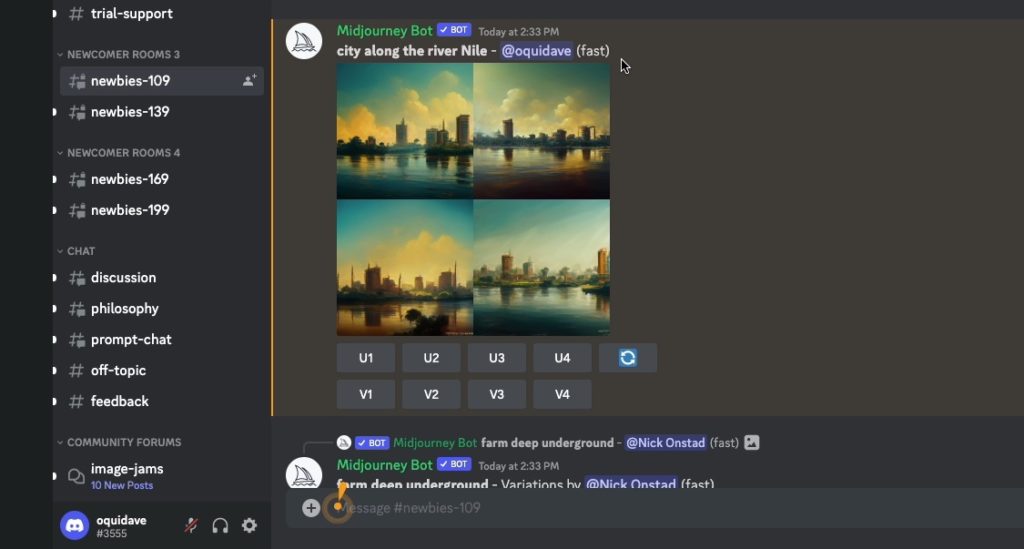 Click numbered buttons underneath to get upscales (U) and variations (V).
It's easier to keep track of your images by sending them to your inbox. You can do this by clicking on reactions and searching for the envelope emoji. Discord will inbox you results of your prompt from MidJourney.

You can then upscale your image. The top row buttons U1, U2, U3, and U4 are for Upscaling your chosen image. Upscaling an image generates a larger roughly 1024×1024 pixel version of the selected image.
The bottom row buttons V1, V2, V3, and V4 are for creating Variations of your chosen image. Creating variations will generate four new images, similar in overall style and composition to the image you selected.
After you use a U button to upscale, you will have a few more options; for instance you can Upscale to Max which upscales the image to an even larger resolution of roughly 1664×1664.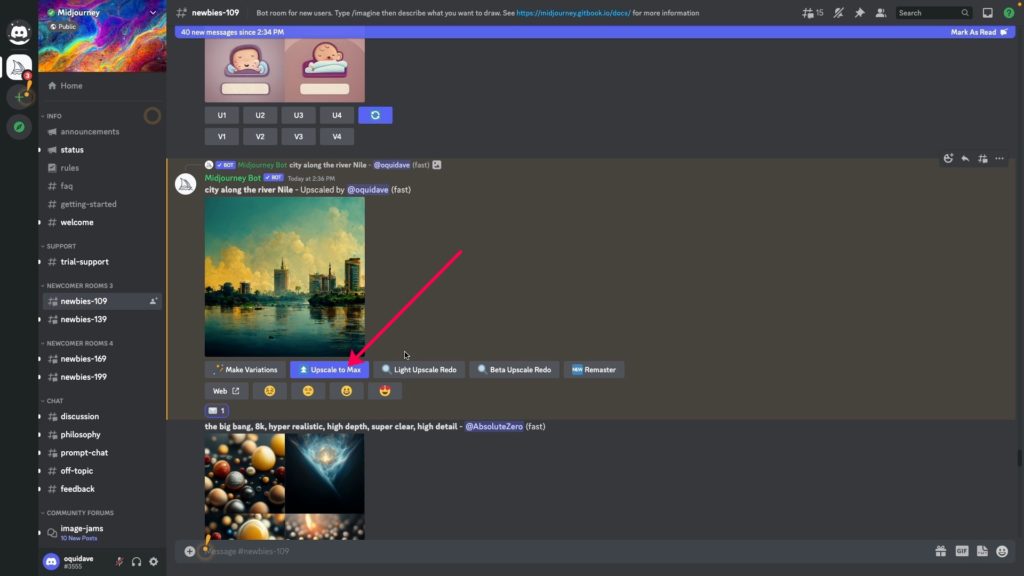 To save an image to your computer, click on the image to open it to full size, and then right-click and choose Save image to save it to your local computer.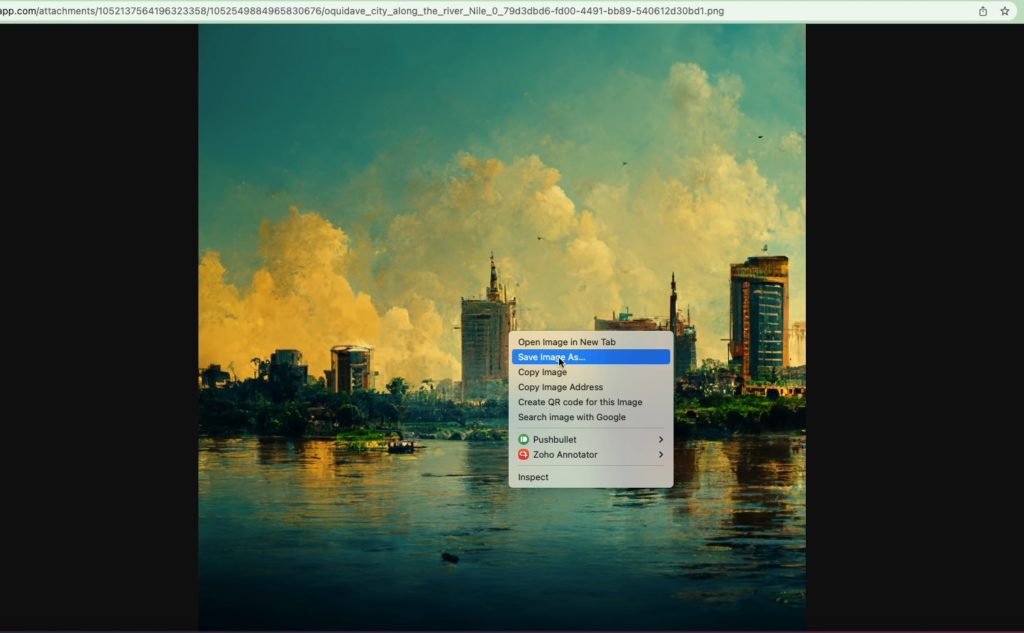 Your 25 free jobs do not presently expire but will also not renew. Once you have used all of them, you can send the /subscribe command to any Bot channel to purchase a membership. Follow the link Midjourney generates to go to your subscription page. If you are a paid subscriber, you can use the bot in your Direct Messages instead of a public channel with other people.
We also made a step-by-step Youtube video tutorial on how to generate AI Art with MidJourney. You can watch it below;
Advertisement - Continue reading below