The Redmi Smart Fire TV is the latest Smart TV offering from Xiaomi made in and for the Indian Market. Xiaomi launched a 32″ Smart TV powered by Amazon's Fire TV OS last month. This is a new direction from the traditional Android TV offerings that Xiaomi is known for making for both TVs and Streaming players.
So if you are in the market for a budget-friendly small screen-sized Smart TV for about ₹12,499 or $155, then The Redmi Smart Fire TV 32″ is an option to consider.
Advertisement - Continue reading below
Starting with the weight, at just 3.9kg, the Redmi Smart Fire TV is lightweight and easy to move around. This TV boasts an HD-ready resolution of 1366 x 768. If you asked me, that's a letdown given that most content today is in 1080p Full HD. I understand Xiaomi had to cut corners to fit the price, but this shouldn't have been one of them. With a viewing angle of 178°, everyone in the room can enjoy the same great picture quality.
The TV itself has an expertly built metal bezel-free frame and a 95.72% borderless design on three sides. This means that you get a larger screen of real estate and an overall better viewing experience.
In terms of connectivity, the Redmi Smart Fire TV comes with one antenna, one ethernet port, two HDMI ports, AV input ports, and two USB 2.0 ports. This gives you plenty of options to connect external devices like gaming consoles, WiFi routers, Set-top boxes, Blu-ray players, or USB drives. Compared to a standard Smart TV today, this TV actually packs more ports than usual.
The Redmi Smart Fire TV also boasts impressive audio power with 20W and 2 speakers, as well as Dolby Audio and DTS Virtual:X | DTS-HD. With wireless connectivity options of Bluetooth 5.0 and WiFi Wi-Fi 802.11 a/b/g/n/ac(2×2 MIMO), you can easily connect your TV to other devices for an even better audio experience and fast internet connectivity respectively.
Under the hood, the Redmi Smart Fire TV is powered by a Quad-core Cortex A35 CPU and a Mali G31 MP2 GPU. With 1GB of RAM and 8GB of storage, this smart TV is more than capable of running your favorite streaming apps and games smoothly. The video decoder supports AV1, H.265, H.264, Real, MPEG1/2/4, while the audio decoder supports Dolby and DTS-HD, and the image decoder supports JPG, PNG, and GIF. So no advanced features such as HDR and Dolby Vision are supported.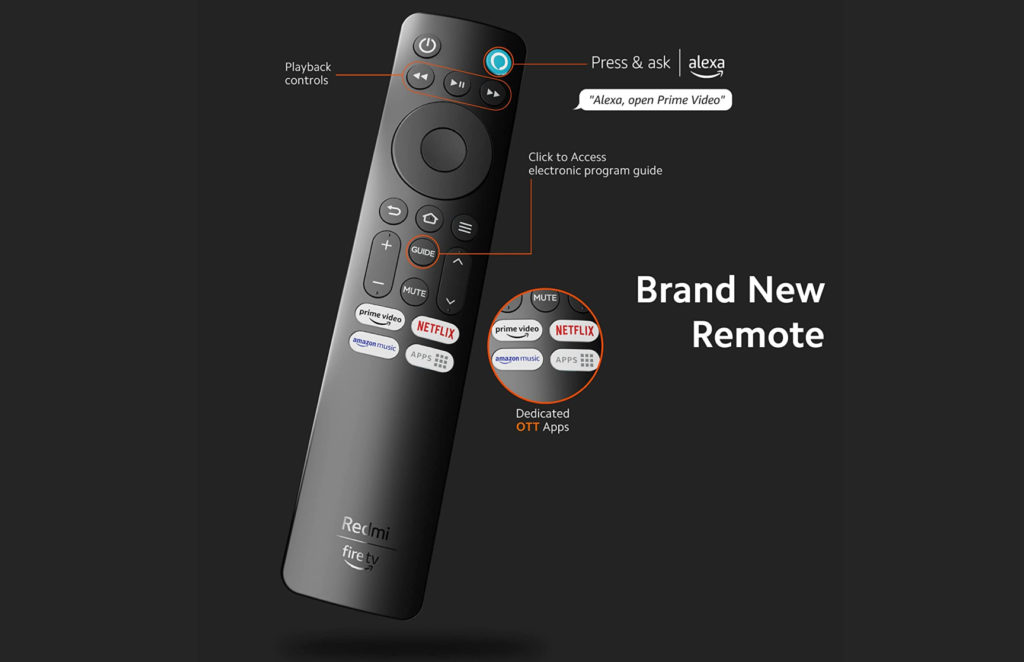 Advertisement - Continue reading below
The Redmi Smart Fire TV is powered by Fire OS 7 which comes with 12,000+ apps like Prime Video, Netflix, Disney+Hotstar, and many more. Fire OS is a Smart TV operating system developed and run by Amazon and it's based on Google's Android TV. This makes this TV particularly ideal for users who are already invested in the Amazon ecosystem and services such as Prime. The TV also comes with Fire TV remote which features a minimalistic design with a dedicated Alexa Button, Guide Button, Navigation Buttons, and dedicated OTT app buttons like Prime Video, Netflix, and Amazon Music.
Price and Avaialability
While the Redmi Smart Fire TV may not have all the bells and whistles of more expensive models, it certainly delivers in terms of value. You can get this TV from Mi store for ₹12,499 or from Amazon India. If you don't live in India and are still interested, Xiaomi has other Fire TV models under its "Xiaomi" brand in 43″ and 50″ sizes made for the global market. But of course, don't forget, that you can just get a Fire TV stick and plug it in to your existing TV as well.