In Kenya, the National Transport and Safety Authority (NTSA) is the government agency responsible for regulating, licensing, and overseeing the road transport sector in Kenya. The agency is mandated to, among many other things, offer online services such as driver testing and licensing, motor vehicle registration, motor vehicle inspections, and more.
These services are readily available via eCitizen, the government's online one-stop shop for many of its services. Through that platform, you can apply for and renew your driving license but like many of us, you find yourself not having your driving license with you while you're out and about.
Advertisement - Continue reading below
Sometimes you get flagged down by the boys in blue who want to ascertain the validity of your driving license and if you don't have it with you, this post is for you. In this post we show you how to check your driving license validity.
---
Related:
---
How to Check your Driving License validity via the app
Download the NTSA App from Google Play Store
Click on View Application Status
Select Verify License
Enter your ID Number and that's it.
You'll see either VALID! of EXPIRED!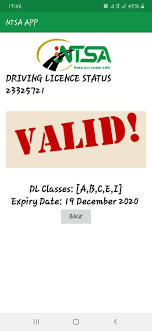 How to Check your Driving License Validity via SMS
Using your mobile phone start a new message.
Type the driver's national ID number starting with the letters DL for example DL 1234567111 .
Send the text message to 22846.
You will receive an SMS showing either DL Valid or DL Expired.
Under Section 30(1) and (7) of the Kenyan constitution, Driving without a valid driving license endorsement in respect of the class of vehicle does attract a fine of Kshs 7,000.
Under Section 30(4) and 4, Failure to renew a driving license, if caught, will cost you Kshs 1,000. Considering that renewing this crucial document costs a lot less than that and can be done online at the comfort of your office or home, it is worth knowing your status and keeping it valid.