Old Kampala, an adornment of the city's past glory flanked by Gothic and colonial style architecture, rests on one of Kampala district's hills. A quick glance shows that there is generally less traffic and economic activity on the hill.
She kind of looks like a deserted battlefield.
Advertisement - Continue reading below
But not for Simon Kirumira, a meticulous young man who pays homage to the revolutionary ideas he has conceived on this hill. Most notably, is the idea turned into product targeted at improving lives of more than 2 million people in Kampala and the neighbouring outskirts.
Sure, at least every homestead in the greater Kampala metropolitan or even Uganda at large uses alternative energy to cooking; be it LPG (Liquefied Petroleum Gas) popularly known as gas, firewood, charcoal and of recent briquettes.
LPG is usually for a select few and that's why the majority opt for the aforementioned alternatives. But there is a trick. Powering up or igniting the fire to enable cooking is a heinous task. It's not like electricity where you switch on and off for food to get heated or cooked. It's the opposite. It involves using ash, a little paraffin, some old newspapers maybe, polythene bags, oi, I also heard that condoms speed up the fire much faster. All these are tiny components that can be used to start a fire for charcoal or even firewood.
They suck, they're tedious, they're time wasting and the most annoying bit is that they give off a trail of offending smoke. Here is a classic elaboration; charcoal stoves are taken out, aligned to face the direction of the wind, several rolls of papers are lit and put beneath the charcoal for about 10 to 15 minutes depending on the intensity of the fire, from where the red hot charcoal is self-sustaining. To be more clear, smoke emanates from the burning paper until its role of lighting the charcoal is accomplished. The hot charcoal stove can now be carefully carried back to the kitchen.
Yikes.
But here we are; in 2015, with refined products that can help us light charcoal faster and easier. With Fire Fountain, also known as Kuma essigiri – a luganda phrase loosely translated as to light a charcoal stove – you can ignite fire on your charcoal stove with such ease. The instructions are: Break a pellet (of Fire Fountain) into half, light it by use of a match and then place it in a heap of charcoal on a stove.
Advertisement - Continue reading below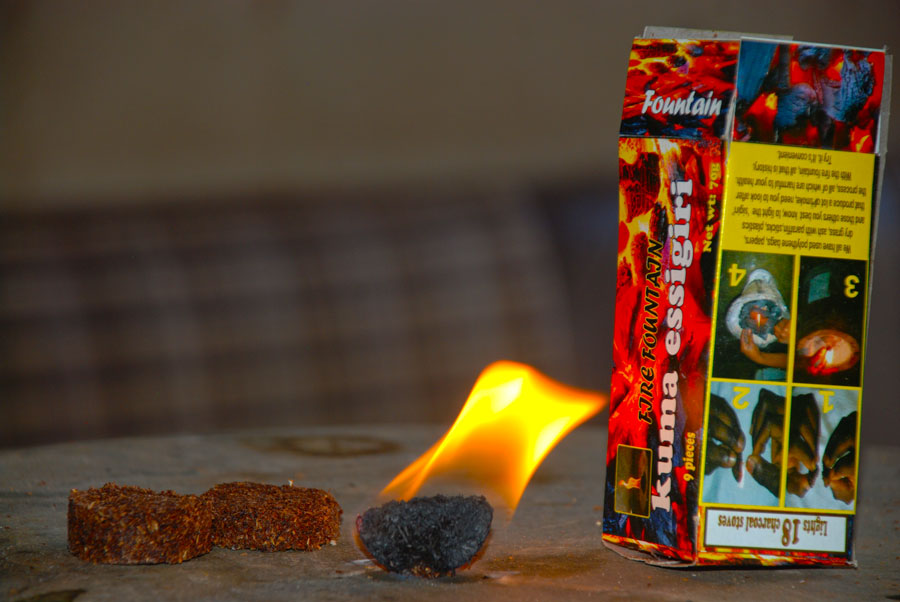 At the time I tested there was minimal smoke, contained burning that lite the charcoal in less the 7 minutes. Brilliant.
Solving any problem is predicated on understanding it well
This is Simon's creation. It's revolutionary and a profitable venture for the 24 year old lad. The story behind it, however, is one you want to remember and retell to any budding entrepreneur.
In 2011, during his S6 vacation he was challenged by his elder brother to come up with *something*, an innovation, a business, anything, as long as it involved some creative thinking and impacting the users productively. The eons of old practice dictate that one follows the hand of the master, to learn, copy and then replicate. He didn't. In fact, he wasn't interested in the ghee project his elder and inspirational brother had started but instead looked at a pressing need they were experiencing first hand at home, a need for finding alternative ways of igniting fire on their charcoal stoves without choking themselves on poisonous fumes.
Like any entrepreneur, a new idea is so exciting, it's like a revelation that changes your life at the snap of a finger. But for Simon's case, it was an unexplored field, his Fire Fountain idea was virgin and thus required vast amounts of research, try and error coupled with patience in equal measure. He started with a wax based product which sadly didn't materialize. It was frustrating but he didn't budge in resolve.
Joining undergrad school in fall of 2011 was a dream come true, an opportunity to study Bachelors of Science as always wished. It came as no surprise that he majored in Economics but what is surprising though, is that he harboured an industrialist's motives, in manufacturing to be precise.
"Manufacturing is here to stay, it's not going anywhere," an enthused Simon said. Even in the country where the service industry dominates and manufacturing contributes less than 4% to the economy, Simon is highly optimistic.
Two heads are better than one, they say. In his first year on campus Simon met two young men who shared similar beliefs and ambitions, they were in the same discussion group all doing the same course. The dynamic trio is one that wears several hats; from ideating to product development and marketing. There is no Steve Jobs and Steve Wozniak, it's just a plain combination of the best traits of the two luminaries.
Advertisement - Continue reading below
Simon Kirumira, Allan Lubowa and Jansuk Joshua helped kick off the product development in the first half of 2013. Up until this time, Simon, the CEO, had invested in about UGX 700,000/= in research and prototyping. The first batch of inventory was sent into the market starting in late 2013 stretching to 2014. Even though the sales were meagre then, the prospects were promising.
The marketing mix
For anybody in manufacturing, scale and scope are key terms; where scale is the capability to produce for a given market and scope is the capability to distribute the manufactured goods. So here is the Fire Fountain team (registered under Sales Parrot Ltd) pondering with limited resources to serve a projected demand.
Simon recounts how the team set out on a strategy of bootstrapping their business from the word go. They had to figure out their distribution channels without spending a penny on marketing, they had to educate the masses on how to use the product and above all, they had to manufacture for profit.
When they pivoted from a wax based product to a sawdust based product, they knew that they had a gem right in their hands and the onus was unto them to make it fit in an already populated market. "Sawdust is the eureka for any product that involves burning," Simon added, "It [sawdust] burns wildly and generates enough energy." Undeniably, there are a slew of direct competitors to Fire Fountain with seemingly the same product ingredients but the major difference comes in how the belligerent flames of sawdust are contained, how smoke is minimized and of course the pricing of the final product. Fire Fountain beats competitors like Super Finetuner on all the mentioned frontiers. When team heads out to the field they use price for product differentiation which they tout as friendly and affordable to the average person.
So I pause a question whether, Fire Fountain is patented. After careful thought, Simon answers and says that there was no reason for someone patent something that anyone could easily come up with after a few Google searches. The irony in his answer is unmasked by the product's ingredients on its packaging; sawdust and inflammable oils. The science of the ingredients lies in the mathematics of the manufacturing. It's a secret formula which definitely Google will not give you. The magic is in the ratios of the constituent ingredients in the product, they are preconditioned to burn in 7 minutes or less, give off NO smoke and burn controllably in limited oxygen. It looks simple but it took the trio close to two years to figure out.
With a winning product in tow, consumer awareness and sales conversion are the daily bread. Every day, the team ventures out on how to educate a prospective consumer, convert them into sales. Through planned routes in the greater regions of Kampala, they conduct their distributions to small scale retail shops that they have established relationships with. On their sole motorcycle locally known as boda boda, one of them traverses the definite routes to distribute, scout for reviews and report back to office. On the other hand, Simon, a prolific speaker oft gets gigs with some NGOs he liaises with. They tour secondary schools around Kampala creating awareness about issues such as HIV/AIDS prevention, empowerment of the girl child among others. Simon is the entrepreneurship firebrand, he gives motivational talks using stories from personal experiences. Students love it, they love his stories and explicitly act as ambassadors for Fire Fountain when they return home. From this, word spreads from one person to another and the chain grows longer and longer. The team alludes word of mouth as the single most important method that has brought in more sales.
On other days, where there are exhibitions at universities, public spaces, the team is represented. They believe that exhibitions are prime ground for not only making sales but stamping a position as a legitimate brand before the public eyes.
Of legitimacy and effecting brand awareness, the team ventured into distributing Fire Fountain in supermarkets. The deal is that products are displayed on the supermarket stands for free and then sales are split as agreed. Arguably, this is the most effective strategy for mass consumer goods in Uganda, renowned ICT and agriculture consultant James agrees, he says that supermarkets are the most suitable channels for trading of physical goods in Uganda. The team targets supermarkets strategically placed in various places all over Kampala. So far, they have 40 supermarkets on their distribution channel list, and notably they have figured a sweet spot in this list.
They call it the Triangle Confluence.
Advertisement - Continue reading below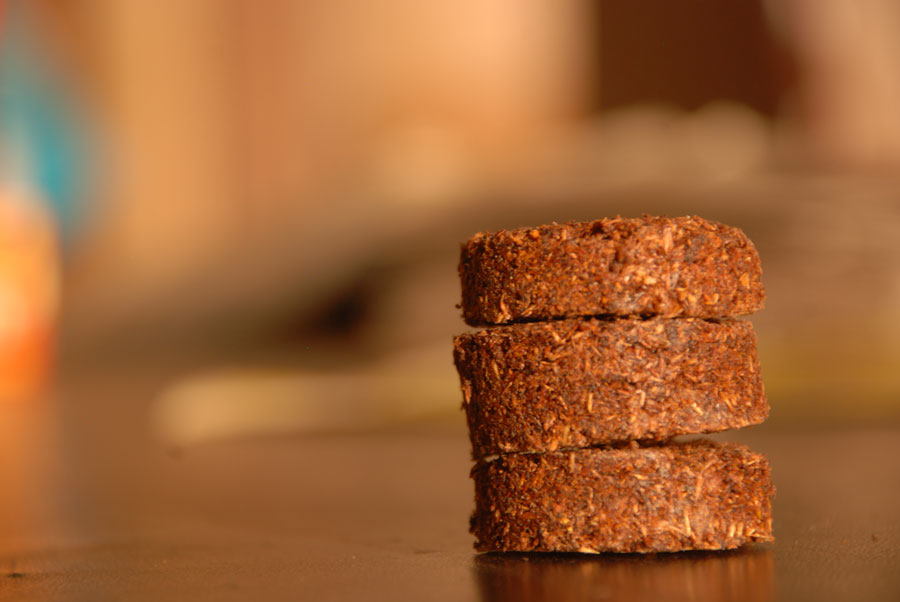 It consists of 3 supermarkets located equidistant to each other; Mega standard supermarket, Standard supermarket and New city (Quality) supermarket. The area where these supermarkets operate in, downtown Kampala, is a beehive of activities. They serve more than 1.5 million people daily and having a less known product in their stands is like hitting gold. No wonder, Fire Fountain has seen a recent surge in demand. Demand has risen from 4 dozens per day. Each dozen has 12 packs and each pack (9 pellets) of Fire Fountain sells for a recommended retail price of UGX 1,500/=. This is where the issue of scale and scope comes back. Whereas they seem to have figured out the scope, the scale is still a thorn in the flesh.
For a team that produces a product as a side business, a side hustle. The strides undertaken so far are remarkable. They have turned theories from the business and academic worlds into practice. On plot 6, Gadaffi Road, Old Kampala, sits the company office-cum-factory. The only thing missing though is a chimney, well for a factory whose product doesn't give off smoke, I guess a chimney is not needed. To be precise they're brewing their products in a garage, cliché? Great companies like Apple and Google started up in garages, even one of Uganda's finest design studios, Addmaya, started in one, so it is no surprise. And neither is it done on purpose, garages in most cases are cheap or even free of rent and companies that start out small find them convenient.
Whereas it takes one person 1.2 hours to manufacture 4 packs of Fire Foundation, it would take a machine even less to produce much more. The famous assembly line introduced by Henry Ford saw a paradigm shift in manufacturing, as a matter of fact, Ford industries started assembling 8 cars in 6 hours yet the same quantity would have previously taken them 48 hours. Revolutionary!
Simon tells me that he drives strategic inspiration from this, he says that they have designed a low cost machine to help them to increase productivity and serve the growing demand. But unfortunately, scaling is a time function which they seem not to have, or perhaps, they're dreaming a dream too big.
On the other side of the hill, belies, Nakasero and Kamwokya, home of Uganda's league of entrepreneurs who mostly develop digital products commonly known as apps. As the code wielding entrepreneurs grind, the old hill will be watching, it's not sleeping as you may want to think.
Something is cooking. And it's coming to a charcoal stove near you.
Photo credit: All images taken by Viki Soleil for Dignited.
Advertisement - Continue reading below