The Uganda Communications Commission blocked access to popular social media avenues Facebook, Twitter and WhatsApp on Election Day 18th February 2016. What happened next was unprecedented online traffic on Twitter and Facebook originating from Uganda. This classic example of cause and effect is something known as the Streisand effect, named after the famed American musician Barbara Streisand.
Forbidden Fruit?
'The Streisand effect is the phenomenon whereby an attempt to hide, remove, or censor a piece of information has the unintended consequence of publicizing the information more widely, usually facilitated by the Internet.' Sound familiar?
Advertisement - Continue reading below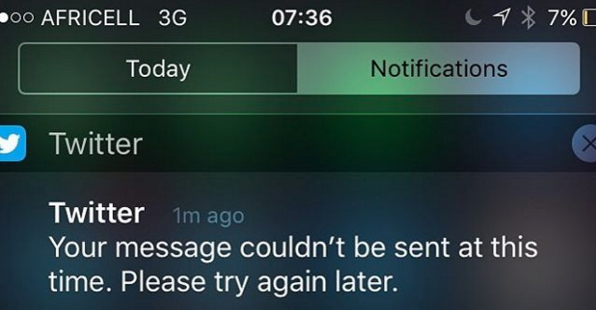 Image: motherboard.vice.com
The explosion of social media usage therefore was not unexpected. Ugandans suddenly wanted to know what exactly it was that the Government was afraid of them finding out. This speculation led to a resurgence in popularity of Twitter hashtags such as #UgandaElections, #UgandaDecides, #MuseveniDecides and on the comical side of things with #UgandaPoliceDecides which were widely used during and after the presidential elections. #UgandaDecides soon became the go-to hashtag of choice buoyed by notable public figures such as Winnie Byanyima and Media News outlets NBSTV, NTV along with a horde of concerned citizens.
Quick Dissemination of Information
Among other things, Ugandans wanted to keep abreast with developments in the political atmosphere of the country like never before. It became impossible to quietly wait for the 9 o'clock news on TV or the top of the hour on radio stations. Twitter users kept up a live commentary of news as it broke spiced with a healthy dose of educated/uneducated speculation which gave a feel of the general public sentiment of Ugandan citizens.
These are the Twitter handles that influenced the usage of the #UgandaDecides hashtag the most either by original tweets or by retweets to reach a wider audience:
DailyMonitor

NTVUganda

BBCAfrica

AJEnglish

Xtiandela

CitizentvKenya
Below is a representation of the most popular hashtags with #UgandaDecides as the nucleus. Save for the #Uganda hashtag which for obvious reasons will always have a following, the rest are relatively newly trending. The bigger the bubble, the more it has trended.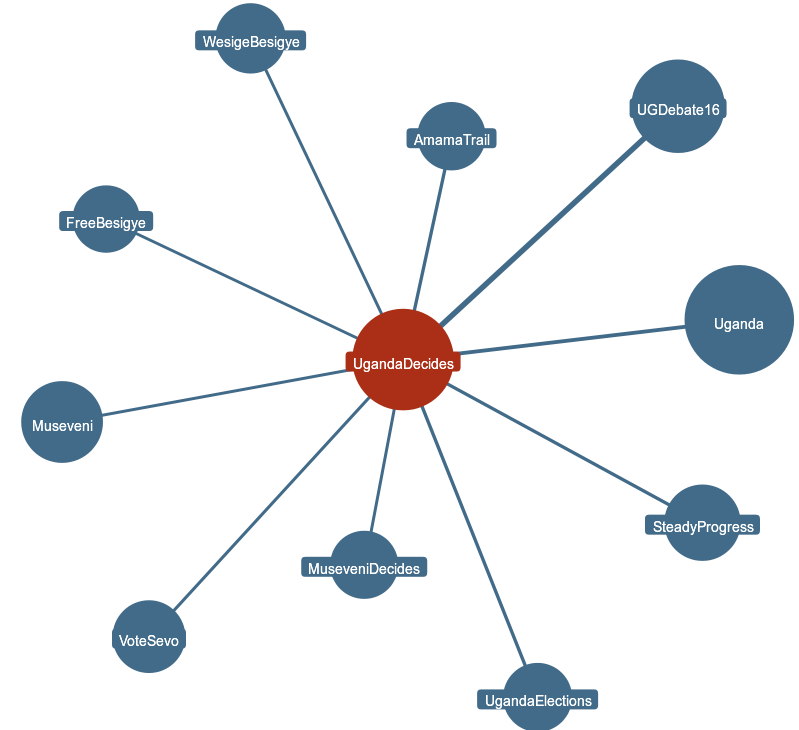 Image and data: Hashtagify
Understanding Hashtags
A hashtag (#) categorises content on Twitter – and Facebook if you know where to look – based on a particular keyword. A keyword such as UgandaDecides can be easily looked up by typing the hash symbol (#) before the keyword making sure to leave no spaces in between. Social Media sites will then be able to reference any bit of information that featured #UgandaDecides and curate it for easy perusal. A number of specialised websites like Hashtagify make sense of these hashtags and come up with charts to show developing and dying trends, sentiments and possibly an inkling as to what people in certain demographics are thinking. Go ahead and look up your hashtag.

Feature Image: ABCNews
Advertisement - Continue reading below