Summary
The Innos brand – manufactured by JSR Limited – is a relatively new player in the Smartphone arena, better known for their hot-swappable duo battery(2 batteries in one phone) flagship, the D6000.
The Innos M34T on the other hand is basically an entry level Smartphone. Not to be fooled by the pocket friendly price tag, the Innos is powered by a quad core Qualcomm processor delivering an enviable snappy and fluid user experience.
Advertisement - Continue reading below
We spent sometime with the device and now bring you a review of our experience with it.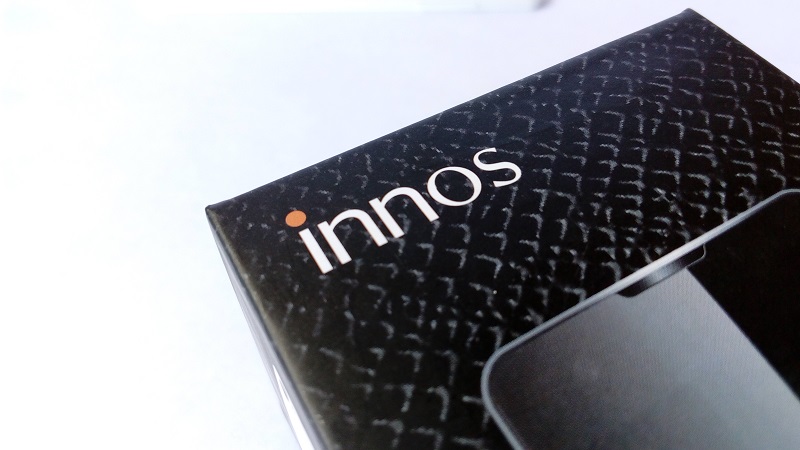 Unboxing
The Innos M34T comes with the usual accessories included in the box: A 5.0V USB Charger head and USB cable; 1800mAh Battery, Earphones, a User Manual and the device. The SsabaSimu is retrofitted with a Screen protector right out of the box.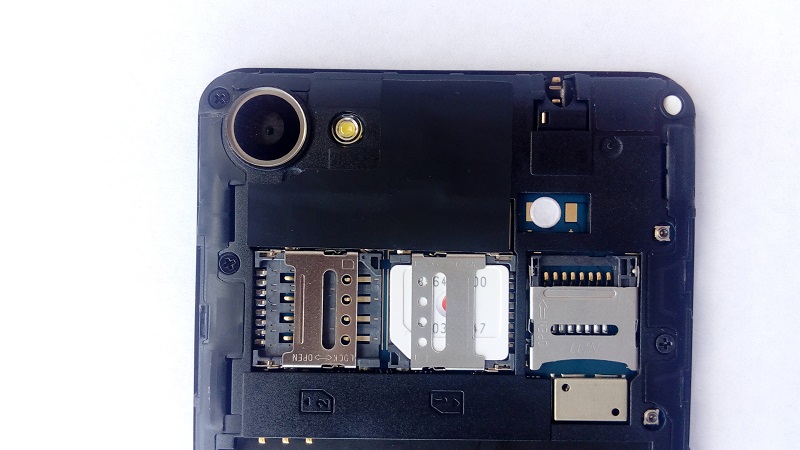 Setting it Up
Removal of the back cover is relatively hustle-free thanks to the tiny depression on the bottom right of your device. Two carefully labeled slots accommodate micro SIM cards as shown in the image above. The slot on the right is reserved for a micro memory SD card. After you have properly inserted the battery you can now snap the back cover on and switch on your device.
When you switch on the Innos M34T for the first time, you are prompted to connect to the Internet only via Wi-Fi. Without an active Wi-Fi Internet connection, the option to skip is grayed out which means the startup process cannot continue any further. There was no option to use Mobile data. We found this to be unfriendly for the non geeks who want their smartphone to just work straight out of the box.
Advertisement - Continue reading below
Luckily we had a Wi-Fi Internet connection on hand. As is the case with all Android Smartphones, one has to sign in to a Google account to personalise or restore backed up settings and contacts. After you are done signing up your email, you are well and truly done. Congratulations!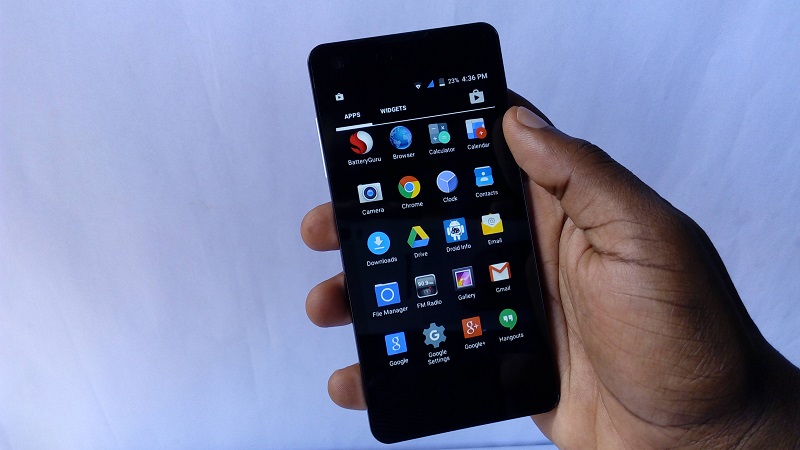 Pre-Installed Apps
Stock Android Apps come preinstalled in the M34T such as Browser, FM Radio, File Manager, Camera, Music, Videos, Gallery and the rest of the usual suspects. Also included are Google Apps: Chrome, Gmail, Drive, Google+ and Hangouts alongside Play Store, Play Games, Maps, YouTube, Photos, Play Music, etc…
Clicking on the Battery Guru icon prompts you to download the battery life saver app from the Play Store. Vodafone Uganda added another list of twenty five (25) suggested essential apps like SwiftKey Keyboard, Brightest Flashlight and Amazon Shopping. You can however choose to opt out of downloading these apps as they will eat into your data plan. These apps could also be annoying always asking to install or update especially if you do not know how to opt out.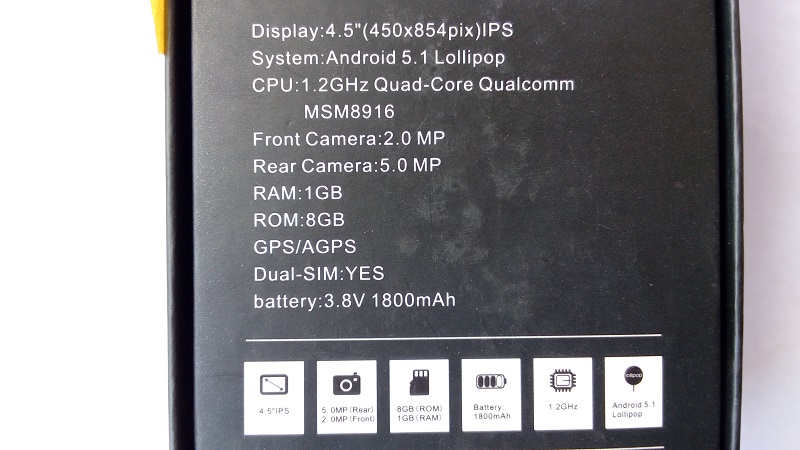 Specifications
Announced: July 2015
Available: Available
Colors Available: Black, White
SIM: Dual SIM (Micro)
Operating System: Android 5.1.1 Lollipop
Network: GSM/WCDMA/LTE Band
Band: GSM: 900/1800 WCDMA: 900/2100 LTE:Band3/7/20
CPU: 1.2GHz quad-core Processor (MSM Qualcomm)
Memory: 8GB ROM, 1GB RAM, Micro SD Slot expandable up to 32GB
Battery Capacity: – 1800mAh, Talk time – Not Verified, Standby time – Not Verified
Data: GPRS, EDGE, 3G, 3.75G, 4G LTE
Dimension: 137.5*69.3*8.6mm
Weight: Not Verified
Camera: 5 MP back Camera with flash, 2 MP front Camera without Flash.
Display: 4.5 inches, Resolution:450 x 854 pixels (240 dpi)
Design
Some soul-searching evidently went into designing the Innos M34T. The 4.5 inch screen sits snug in the palm of your hand with the thumb retaining mobility to fiddle around with the device. The white back cover (in our piece) has a comfortable smooth, curving finish.
Advertisement - Continue reading below
Your phone won't dig into your flesh with its sharp edges. The Camera, Flash, Audio jack slot and USB port are conveniently placed at the top. The Volume and Power buttons are situated at opposite sides within easy reach of the thumb and forefinger.
A good chunk of space not occupied by the touch screen at the top and bottom of the M34T takes away points from the overall design. In our experience, smartphones look more aesthetically pleasing when the touch screen fills up most of the space at the front allowing you to immerse yourself fully into what the device has to offer.
Features and Functionality
The stock Android 5.1.1 Lollipop powering the Innos M34T has not been customised at all, leaving a fast bare bones OS unencumbered by the usual bloatware. Apart from the Vodafone Uganda animation at startup, the Ssabasimu is largely unchanged. Android Lollipop has obvious performance improvements over previous Android flavours.
Like we said earlier, we were able to run all installed apps in the background without any marked change in performance. You can set up more than one user account in Lollipop very much like personal computers and users on those accounts get to download and use their own apps (again, very much like personal computers).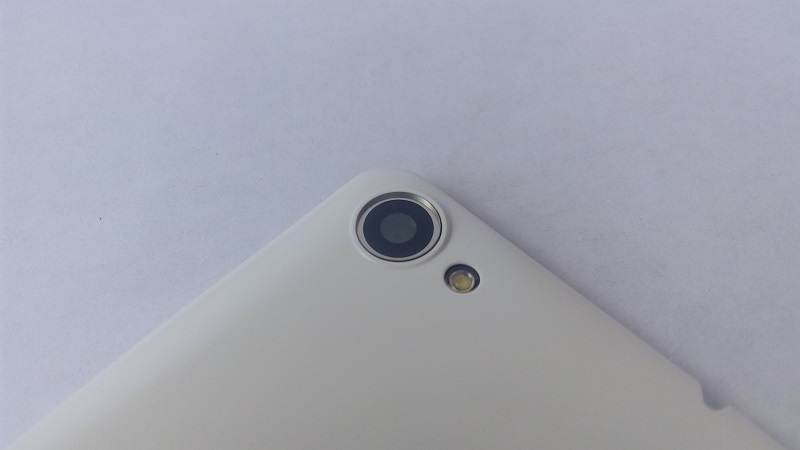 The Camera
The 5 MP front camera with LED flash is nothing to write home about. The picture quality while not terrible remained low despite efforts to take that killer shot. The pictures appear bleached out and dull. The Innos camera takes sub par shots under poor light and only marginally better ones in full light.
Overall we are not wowed by both front and back cameras but keep in mind that the M34T is indeed a budget smartphone built with certain limitations to keep it competitive. For what it's worth, the camera is fast and responsive and gets the job done.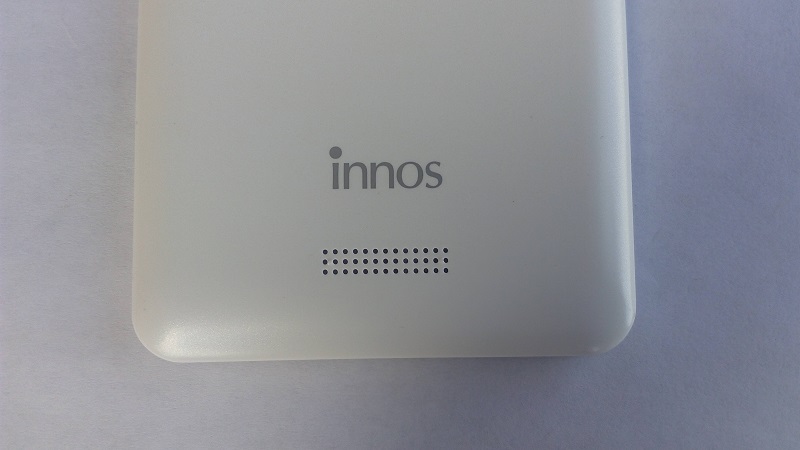 Advertisement - Continue reading below
Entertainment
The SsabaSimu comes with all the basic entertainment tools that you will need. The 4.5″ screen is enough for you to play Games and enjoy Videos. We enjoyed Temple Run mostly giving us a mostly fluid performance with only a few negligible glitches every once in a while.
The Innos also comes with SD card slot so you can upgrade your memory should you need to carry music and videos on the go. The FM Radio also comes in handy for radio lovers. The phone has an average sound quality using the inbuilt speaker while playing media at normal volume. At full volume though it spits out an unpleasant jarring dry stereo sound. The stereo earphones are decent enough.
Battery
Smartphones are notorious for having batteries whose endurance doesn't quite match the ferocity of battery-intensive apps ever running in the background. The Innos M34T packs a 1800mAh battery which is quite good considering the phone price.
A full charge will last most of the day of medium device use with the battery saving feature turned on. You can get more juice out of your battery when you turn off power hungry apps like GPS and Facebook. A power bank will also come in handy if you want to stay online all day.
Performance
The general performance of the Innos M34T is impressive. It comes with a 1.2Ghz quad core qualcomm processor running Android 5.1.1 Lollipop on 1GB of RAM. The device is snappy and responsive. With all apps running in the background, the Innos showed no noticeable lag.
The stock browser is quite capable of satisfying your Internet surfing needs but Innos decided not to take any chances by including Google Chrome browser; the new standard for quality browsing experience. And that is only the icing on the cake. The Innos M34T is an LTE device which means faster download and upload speeds. Downloading apps in the Play Store took us an average of 3 to 4 seconds.
What we Like
Unlocked Dual SIM device
Pocket friendly price
Fluid performance
LTE Internet enabled
What we don't Like
Requires an active Wi-Fi Internet connection to set up
Automatic Network-provided time not accurate
Stock Android UI looks commonplace
Lacks notification LED lights
To Wrap It Up
Even if it's a relatively new brand, we loved the Innos. It is an amazing 4G LTE smartphone at a good price point. If you are looking for a first smartphone for yourself, or sibling, the Innos is a perfect fit. If you are looking for a replacement after you've lost your smartphone, the Innos would be perfect.
Advertisement - Continue reading below