Vodafone Uganda has finally launched, unveiling their new SIM cards to the public. The much anticipated SIM cards will see more people subscribe to the new telecom as there are more voice users than data users. With these SIM cards, Vodafone customers will be able to access voice calls plus 3G/4G internet within Vodafone coverage. What is interesting are the new tariffs and bundles that Vodafone is offering.
Vodafone Uganda Voice/Call Tariffs:
Vodafone has started with a flat rate of Ugx 5/= per second to any network. All calls are charged per second and they are not offering any other tariff.  It's also ridiculous that Vodafone is charging 99/= per SMS in the era of WhatsApp. The tariff is affordable and it might work for many seeing as it amounts to about UGx 330 for every minute to any network. On whether this will be enough to entice customers to abandon their current network or adopt a Vodafone line is another question.
Advertisement - Continue reading below

Vodafone Uganda Voice Bundles:
The Vodafone Voice bundle is similar to what the competition is offering except that it has no Twitter or Facebook or Off-net calls. With their new "FREE 0723 Talk and Chat" promo, one will also be able to enjoy free on-net calls and WhatsApp at UGx 3000 for a day, UGx 10,000 for 7 days and UGx 50,000 for 30 days.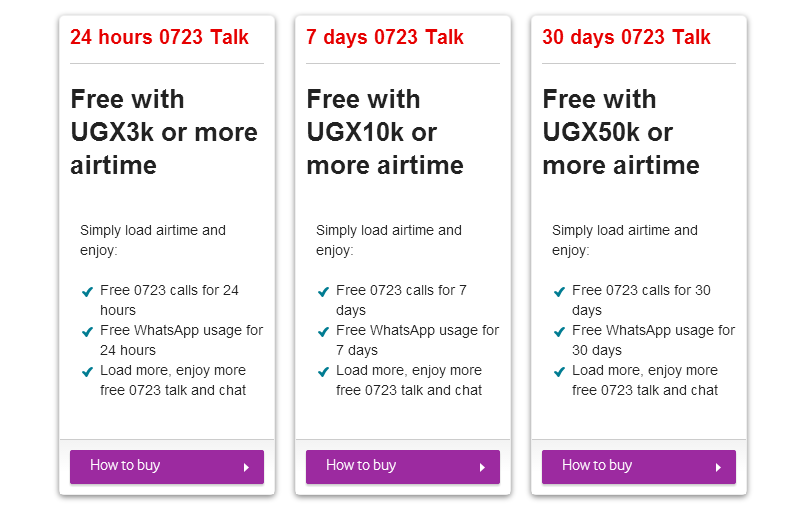 What is frustrating with these bundles is that apart from WhatsApp, they offer no data or Off-net minutes. This means that someone has to spend more money buying data after buying the bundle. I do not see how that is going to work but that is just opinion. We shall keep tracking any new developments while observing how Vodafone intends to penetrate the Ugandan telecom sector.
Update:
We have just got more information clarifying that when you load Ugx 3000 airtime, you automatically get 24 hours of Vodafone-Vodafone minutes and free WhatsApp. You still retain the 3000 to make calls and or buy data should you so wish.