It is one thing to download an application and install it on your device. It is also another thing to buy your phone and find it already with pre-installed apps that you can't even get rid of. Do you have any apps that come already installed by default on your Android phone and cannot be uninstalled? Freezing an app is basically the process of rendering an app inactive without uninstalling it, mainly helpful with bloatware.
If you want to freeze an app on an android phone, then it must be rooted. Rooting is the process of allowing users of android devices to attain privileged control also known as root access over various sub systems. Rooting can be done by using the mobile app KingoRoot.
Advertisement - Continue reading below
There are so many apps on Google Play Store that you can use to freeze apps. For example, Quarantine, Greenify, Brevent among others. Other phones such as Infinix and Tecno come with a "Freezer" app pre-installed, so you simply have to drag an app to the freezer folder to freeze it.
I will discuss how to use App Quarantine since it's quick and very easy to use. Download it from play store and install it.
Open the App Quarantine
Select an App
Click the lock icon at the top right hand side. Just as simply as the above steps, the app will be frozen.
Related Article: How to Get rid of Android bloatware on your smartphone.
If you froze an app by mistake or you want to unfreeze a certain app, follow the steps below.
Advertisement - Continue reading below
Open the App Quarantine
Click on the tab "Quarantine"
In the tab Quarantine, you will see all the frozen app
Select the app you want to unfreeze and click the unlock button on the top right side.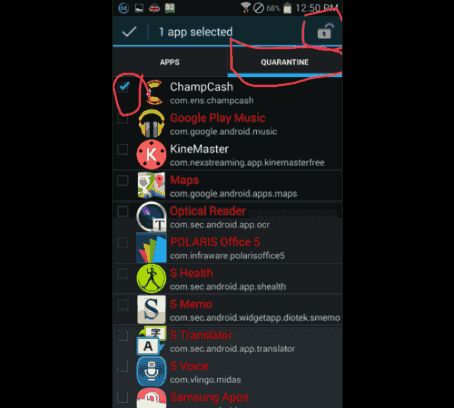 By removing these apps you don't use, you can optimize your device to run better and faster. You are also able to create more space for storage of files. Also, a reduced number of running apps on your device saves a lot of battery. Above is a simple guide you can use to freeze bloatware on rooted Android devices.
Image Pixabay