Not so many years ago in 2010 I was attending an innovative class. Our class assignment was to come with innovations centered on software engineering and data communications that would really simplify our day-to-day life. A classmate pitched what I thought was a brilliant idea but somewhat overly wishful; a town that is a complete Wi-Fi hotspot. Imagine if you could have an active internet connection no matter where you are? Yes, that is currently possible using packet data over GSM. 3G and HSPA data access is possible thanks to the Airtels, MTNs and Oranges of this world.
How about over Wi-Fi? Well, that seemed like an insurmountable exploit until MTN launched the MTN HotSpot. When my classmate pitched his idea, most of us were skeptical about its feasibility. How was he going to pull it off, knowing the limitations of Wi-Fi to mention a few: range (typically 32 meters to 100 meters), device compatibility, management and interference? Since then there have been some advances to solve some of these limitations such as use of range extenders and Long-range Wi-Fi. Also, a significant percentage of mobile devices available in Uganda today are Wi-Fi compatible. May be after all it can still be done.  So it looks like MTN went ahead of him and pulled it off. Or did they? I decided to go out in search of  the MTN Uganda Wi-Fi Hotspots experience which I will tell you about, so brace yourself.
Advertisement - Continue reading below
How does it work?
As long as you have a Wi-Fi enabled device; phone, tablet, phablet or laptop (even watches I heard!) you are good to go. But first you have to find the HotSpot.  You also have to register as a user. You don't have to be an MTN subscriber because it has an interface which allows for you to purchase MTN airtime and load data bundles using the account you create as a user.
And how wide is this HotSpot?
Well, the hotspot map of Kampala I got from one of the MTN service centers seemed impressive, on paper at least. 36 hotspots covering a circumference all the way from Kawempe, Kyaliwajjala, Kireka, Kyambogo, Nakawa, Lugogo, Bugolobi, Namuwongo, Muyenga, Kibuli, City center, Kololo, Makerere up to Kikoni and Katanga.  Also from the map, the hotspot covers other towns like Wakiso (Entebbe town, the airport and Kitooro),  parts of Mbarara, Jinja, Hoima, Mbale and Fort Portal.
Time to find the HotSpot
Now that I had determined the scope of this hotspot it was time for me to test the service. Since I was in Lugogo I turned on my Wi-Fi. It was now time to me experience internet on the go using Wi-Fi. My Samsung Galaxy was quick to pick up the MTN HotSpot access point. So far things were looking great. Before I knew it the access point disappeared as fast as it showed up on my radar! My dashboard showed that the signal quality was poor even though I was standing inside the service center at Forest Mall Lugogo.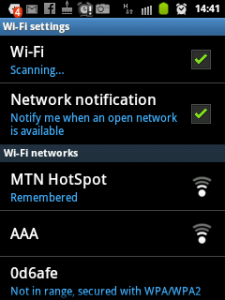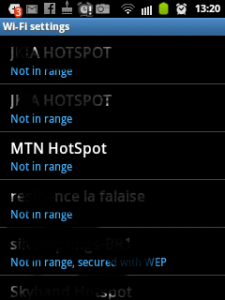 Where is the Access Point Mr.  Help desk techie?
The typical user would have frowned and snubbed the service by now, but I was very eager to try it out because I honestly think it is a cool innovation. Wi-Fi on the go is exciting for me. I decided to seek technical assistance from the service center. To my surprise, the technician on call told me there was no hotspot set up around there. My Wi-Fi dash board was showing the access point even if it kept coming in and out of range. I was still determined to find and use this hotspot, so like Agent 007 James Bond I kept scanning for a good signal.
Advertisement - Continue reading below
The signal hunt took me to the next service center at Lugogo Mall next to Shoprite. The stats on my dashboard showed a fair signal. I was able to connect and obtain an IP address and now I had a smile on my face. The hunt was starting to pay off. I launched my browser only to get a rude notification that there was a problem with my connection. My smile faded away quickly and so did the access point. By now I was furious but I had to stay calm as I talked to the help desk support techie at Lugogo Mall.  He too wasn't  sure about how the service worked but he informed me that the access point was available and set up at the Forest Mall service center where I had just come from.
The HotSpot Mirage
My patience had run out. Like a mirage in the desert the MTN HotSpot has thus far turned to be an illusion to me. I see it, I can almost feel it but just when I think I have found it, alas it eludes me! The idea of connected city over Wi-Fi still seems like a distant reality. Judging from the responses I got I doubt that those help desk techies at those service centers I sought help from have had a chance to even use this HotSpot service. This appears to be another of those products from the telecos hurried to market; a case of over promising and under delivering.
I believe MTN has a great opportunity to provide a much needed service to the Ugandan market and contribute to increased internet penetration to the masses which will open up opportunities for more innovative ways to use mobile devices.  But until I can find a hotspot that actually works I am ranting, raving and rancouring.