Airtel Uganda customers have reason to smile, following the telecom Company's launch of a new promotion that will reward all subscribers transacting on the Airtel Money platform.
The campaign follows a recent country-wide upgrade of the Airtel Money platform that has greatly improved service to match the increased number of Airtel subscribers. The 5- day campaign will ran from Wednesday 22 June to Sunday 27 June, 2016.
For the next 5 days, registered Airtel Money subscribers will enjoy:
Advertisement - Continue reading below
No charges on sending money to other Airtel Money users.
Free bill transactions for power, water and Pay TV.
50% bonus airtime when they load Airtime through Airtel money.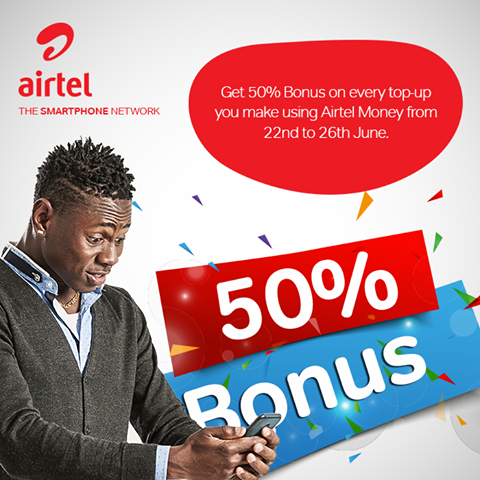 Speaking on the promotion, Airtel Money Director Paul Langlois said,
We are excited to announce this promotion because it will allow our subscribers to both enjoy the upgraded Airtel Money service and reap massive benefits and rewards from their use of the platform. The upgrade of the Airtel Money system means that our customers can now enjoy a faster and seamless experience on our mobile money platform which includes the option of using our dedicated Airtel Money App
To start using Airtel Money, dial *185# or download the Airtel Money App