MTN Uganda has introduced a new promotional offer to automatically double the Internet bundles of its 8.9 million subscribers in the country. Dubbed Juzza Internet, subscribers loading 100 MBS or more of data will receive 100% extra free of charge. Therefore, when you load 100 MB, you will get 200 MB and if you load 1 GB, you receive a colossal 2 GB worth of data at no extra cost. This naturally means you get more browsing done on MTN Internet at half the usual rate.  The Juzza Internet promo is slated to run for 3 months.
---

Quotables: "We recognize that the Internet is becoming more and more important for nearly everybody, and as such, it is our goal to enable as many new connections as possible. Juzza Internet is yet another step towards realising this goal.

Advertisement - Continue reading below

"We know that our customers want value for money and we have thus introduced an offer that will enable our customers to enjoy a significant reduction in the costs of their Data, to satisfy their needs." ~ Mapula Bodibe, MTN's Chief Marketing Officer

---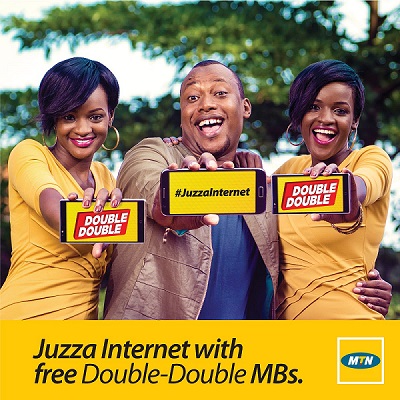 What you need to know about the Juzza Internet Promo
The promotion will run for a period of 3 months
To subscribe for Juzza Internet promotion, dial *150*3*1#
You can load data using airtime scratch cards or mobile money.
This offer is not valid for MTN Social and Tooti Bundles.
To opt out of the promotion, dial *150*3*2#
A Bold, New Digital World
MTN also announced the completion of a scheduled system upgrade that will make all its bundles more durable and user friendly, delivering a much better Internet experience for all its customers. Coupled with a countrywide 4G network infrastructure and the fact that MTN arguably has the widest coverage in the country, the Juzza Internet promo will have a large impact on millions of subscribers.
According to the Chief Marketing Officer, Mapula Bodibe, Juzza Internet is one of the ways through which MTN is demonstrating its commitment to the delivery of a Bold, New Digital World. Whereas we are not sure whether this slogan is replacing Everywhere You Go, we appreciate the new exciting offer. Be sure to subscribe. Who can surely say no to free stuff?
Advertisement - Continue reading below