Prepping oneself for another week at the office after a long weekend as we had is sure to be met with some lethargy. Our Muslim brothers no doubt had a hand in it. Not with all that pilau and meats we feasted on to celebrate Eid al-Adha. Going into the weekend, there was an announcement we found interested and thereby bookmarked for after the festivities. The Big Yellow held a press conference to launch their newest product: the MTN Uganda Guide app.
Basically what this app does is highlight those unique features which make Uganda a true gem on the African continent. The exquisitely developed app follows the template of the MyMTN app, only re-purposed to be as informative as possible. The app has a rather well-written crash-course in the history of Uganda.
Advertisement - Continue reading below
Tourists fresh off the plane are given navigation , customs and money conversion tips right off the bat. MTN Uganda Guide app users can also browse through top 10 things to see, where to go, useful phrases; where to stay, eat, shop. Like we said, the app is rather informative. And naturally, you also get to explore MTN services. MTN has included its service centers countrywide.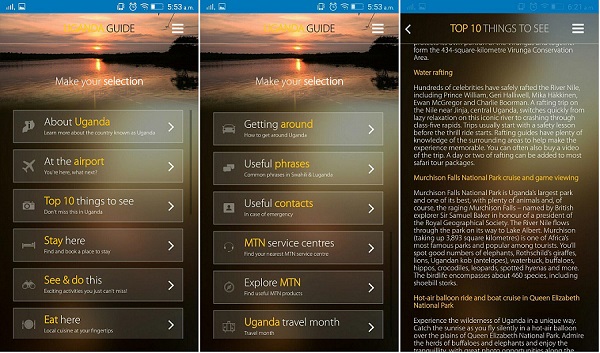 Pearl Guide
The Pearl Guide has been one of the best Ugandan travel guides for the longest possible time. WebSimba, the financiers behind the famed EatOut brand name in East Africa bought out Pearl Guide in back in May. Pearl Guide users can even get 50% discounts on meals at restaurants when they use Eatout Yummy cards!
---
Interesting Trivia: The Pearl Guide was known as Uganda Guide when it launched in 2013! Coincidence?
---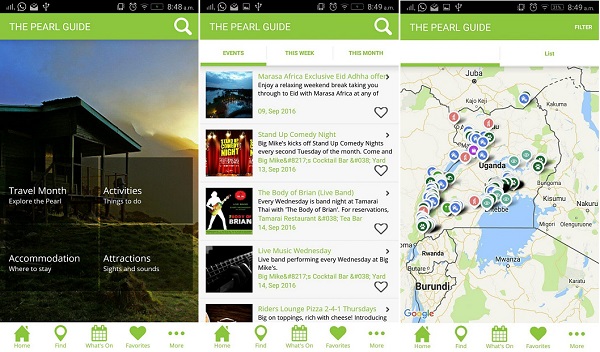 Much as the Pearl Guide app isn't as glitzy as the MTN Uganda Guide, it comfortably holds its own where information is concerned. Our main issue with the app was the icons and image resolution which was rather low. Much as these two apps are very similar in functionality, they are not the same in presentation. Here's a break down of the two apps
Advertisement - Continue reading below
MTN Uganda Guide vs Pearl Guide (Google Play Store)
| # | MTN Uganda Guide App | Pearl Guide |
| --- | --- | --- |
| Website | No website | [http://thepearlguide.co.ug/] |
| User Interface | Beautiful design: glass effect, great fonts, perfect colour contrast/balance. Smooth snappy performance | Horrible pixelated icons, low-res images, moderate app performance |
| Functionality | App crashed numerous times during our test. Especially after being minimised. Otherwise very fluid perfomance. User friendly. | Very stable and informative. Kudos for 'What's On' feature for proggie. Maps open Google Maps to show directions |
| Developer | Metropolitan Republic Integrated Communications: South Africa | Kola Studios for Pearl Guide Uganda Limited: Uganda |
The MTN Uganda Guide app gets extra points for aestheic user interface and professionally written content. Unfortunately, it loses points on being buggy. Clicking on the app at times returned a white screen before the app crashed. When it worked, it was smooth and fast. The content is very well organised. We found ourselves reading every single word!
What the Pearl Guide app lacks in appearance, it more than makes up for it in content volume. The app has a comprehensive list of tourist attractions, social events for anybody interested to attend. These can be paid of free. The content is extensive but unfortunately, the app loses points on sub-par content writing. The images used are also of a low resolution and don't appear to be professionally taken. The color contrast between green and white wasn't well executed and the icons are just horrible.
In conclusion, whichever app you pick, you will have in your hands a guide to help you map out fun activities you can do when in Uganda. Ugandans themselves will find those these apps useful. We frankly had no idea all these activities were happening around us. And the costs for tourist packages are quite affordable. who knew. Our suggestion? Get both apps! Bookmark this post for the weekend!