Summary
This is the first amongst Alcatel's single SIM feature phones that comes with a few pre-installed features like Opera mini browser, Facebook, Twitter, Palringo,  Hi5, flicker, bebo and a few others that give it a feel of a smartphone. It comes with a with a 850mAH battery, 3.5 Mb internal memory and a QWERTY keyboard. This is a feature phone available at Orange Uganda shops.
Unboxing
The Alcatel OT 585f comes with a travel charger, manual and earphones
Advertisement - Continue reading below
Appearance
Unlike most phones from Alcatel this one has a sleek look, a nice curvy shape, portable size and is easy to carry by since it is light. It comes with a full QWERTY keyboard with a direct Facebook shortcut button at the bottom right. It has a screen size of 220 x 176 pixels, a standard 3.3mm audio port at the top, a Micro USB Port on the right side which doubles  as a charger port, and a shortcut button to the camera on the left side. It also has a 2.0 Mega Pixel Camera at the back with no flash.
Applications and Functions
This phone comes with quite a number of applications pre-installed. We found this so convenient and so thoughtful of the end user.  Some of these application include, Facebook, Twitter,  Opera mini browser, Palringo ,bebo, friendster, Hi5, Myspace and Flicker.  All these are java power applications.
The Alcatel OT 585f also comes with an email function. You could configure up to 10 email accounts to be received directly on the phone. However, it took us awhile and some technical knowledge before we could figure out how to do that. This is a good reason as to why this phone needs an operation manual. We were unable to install any other applications on this phone.
Performance
We found the performance of this phone way above the average feature phone's performance. The best way to judge the performance of this phone is by not comparing it to a smartphone because it is not one. It is powered by a 104 MHz processor and a JAVA operating system which we found quite good as compared to other phones that fall within its category. This phone uses only one sim card and also comes with EDGE for internet access and Bluetooth Version 2.0.
However, just as expected, we were not able to flip through from one application to another without closing first which is so typical of Java powered phones.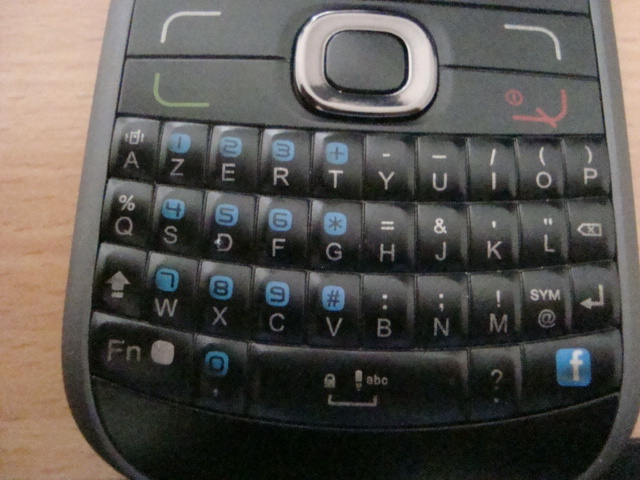 Advertisement - Continue reading below
The applications like Twitter and Facebook don't have an auto-refresh functionality.  We also later noticed that the QWERTY keyboard was not so well labeled. For instance, the position of the letters "Q" and "A" then "Z" and "W" were interchanged respectively which affect the typing efficiency for people who are not so conversant with the position of those letters on the correct QWERTY keyboard.
Multimedia
The phone also comes powered with a 2 Mega Pixel camera which has a convenience button on the left side. The camera takes pictures of 1600×1200 pixels which we found of a better quality than we expected.  This same camera can also take good quality videos. However, we found out that the audio quality of the video was not so good.
It also comes with a music player that is capable of playing MP3 and MIDI format and the speaker has a fair audio quality output.
The OT 585f also comes with an FM Radio which requires earphones plugged into it in order to play.
The limitation we found is that this phone comes with internal memory of 3.5Mb. so if you are a person who loves making pictures and recording videos, you need to have a Memory card inserted into it. It supports memory cards of up to 8GB.
Battery Life
This phone is has a battery rated 850mAH which quite good for a feature phone. When used for calls and SMS only, this phone last for about 4 to 5 days without need to charge it, when used for radio the whole day it takes 1 day and a half to need to be charged again.
Operator Support and Pricing
This phone is supported by ORANGE UGANDA and is now at a discounted price of 89,000 Shillings($34.32) and comes with super combo for 1 week.
Advertisement - Continue reading below