In general, smartphone shipment has been on a decline for a while now and the premium segment is not immune to this development. A number of factors contribute to the current decline in the sales of premium smartphones lately. According to a report from Counterpoint, the premium smartphone shipment for the 1st quarter of this year had an 8 percent decline. Moreso, there was a 5 percent decline in the total shipment of smartphones for the first quarter of the year.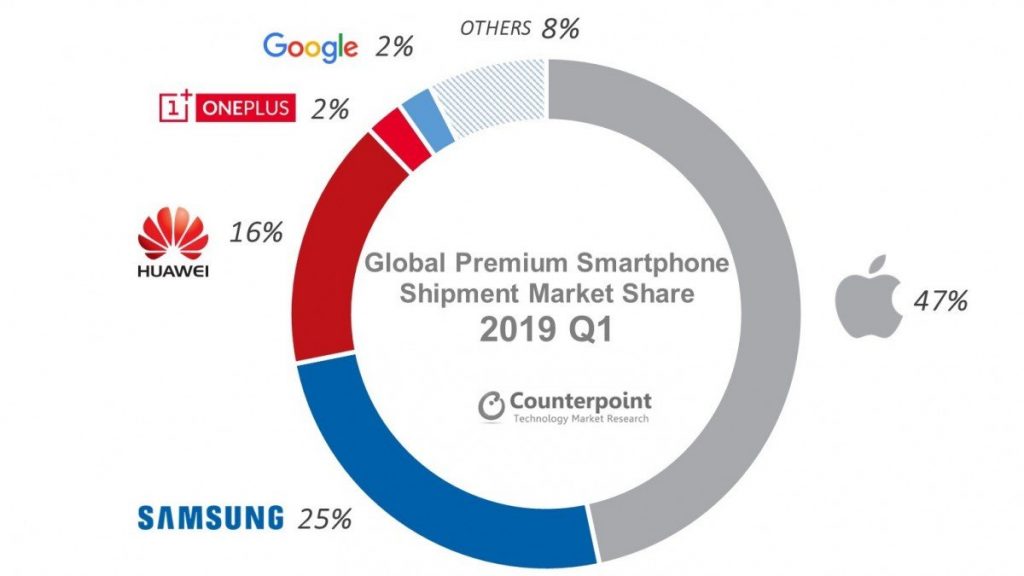 Firstly, there is the 20 percent decrease in the shipment of the Apple smartphones which hold the major percentage of the premium market. This inadvertently affects the total premium smartphone shipment even if it still holds 47 percent thereof. This is because the previous owners of iPhones are not replacing it with the recent ones probably because of the lofty price tag and hardly any change in design they come with. According to Counterpoint, the replacement cycle for an iPhone user is now three years up from two years before and this affects the sale of new releases.
Advertisement - Continue reading below
Read More: Death of the flagship smartphone is coming
Furthermore, the average price of a premium smartphone has gone up so much that most users don't go buying a new one the year later and even a group of others can't even afford it. Basically, this allowed brands like OnePlus to break into the flagship space with its more value for your money approach and also why some are going for high-end mid-rangers. Talk about top of the shelf mid-range smartphones that are continually becoming a more convincing option for expensive premium smartphones and this causes a decline in the shipment of the premium smartphones.
Consequently, China which is one of the top premium smartphone markets is experiencing a slow season where there is somewhat of a slow market and this also affects overall smartphone shipment as well. For the most part, a number of people feel the new flagship doesn't have a significant upgrade to make them attractive enough to spend a high price for. Hopefully, the arrival of 5G data speed will change the tide of things in the nearest future.