It is Black Friday today and there are lots of deals across many online shopping platforms in Uganda and world over.  Kilimall Uganda is offering upto 90% discounts on select items but many are wondering how to take advantage of these deals.
The first step is to register with Kilimall either  on their website or via the mobile app. after you register, you can then place an order and have it shipped to you or you can choose to pick it up from Kilimall.
Advertisement - Continue reading below
In this post we shall guide you on how to register and shop on Kilimall in Uganda.
Signing Up for Kilimall on the Web
Log onto Kilimall.co.ug  and Click on "Register" in the left  hand corner to Create a Kilimall Account. When you click on register, you will be prompted to fill in some details like username, password, email and mobile number. After you have filled in all that, click on "Sign Up for Kilimall Account"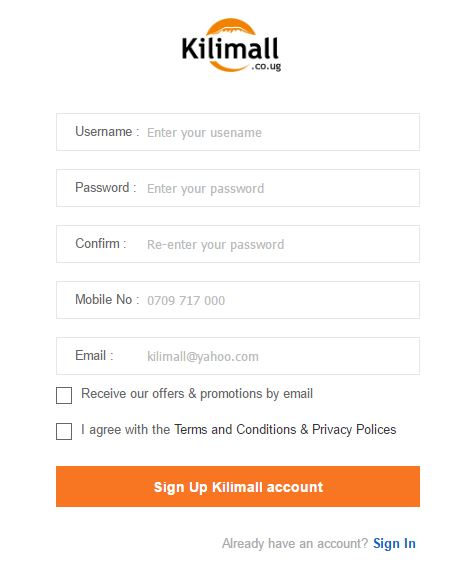 Once you click on that button, you will be signed up instantly for an account.
Signing Up for Kilimall on the App
Download the app on your device (It seems that it is only available for Android currently)
After downloading the app, click on "Account" in the lower right hand corner. It will bring another interface with login and Signup. Click on Sign Up
Advertisement - Continue reading below
You will be required to enter details like Username, Password, Phone number and email. After you submit those, click on "Sign Up" and you are good to go.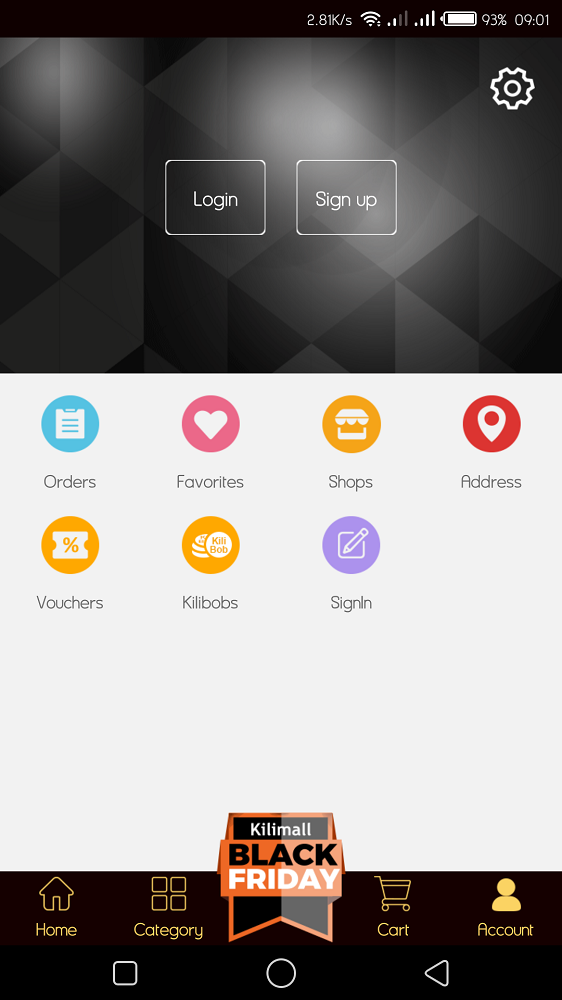 How to Order on Kilimall Uganda
Step 1: Browse Kilimall website or app for what you want to buy. When you find it, make sure you detail the specifications you want like colors, size, quantity among others.
Step 2: After filling in the specifications, click on "Buy Now". After clicking on"Buy Now" you can "Add to Cart" to continue shopping or "Check out" to place order and pay.
Step 3: Add shipping or delivery information. You can choose to pick it up from Kilimall stores or have it delivered to an address.
Step 4: You have to choose a payment method. The options are "Pay on Delivery" or Pay online using Airtel or MTN Mobile Money. If you choose Online payment, Kilimall waives off the delivery fee. After choosing payment method, click on the "Submit" button.
Step 5: When you choose online, you can pay with either MTN or Airtel Mobile Money. The process is the same as when you are paying for bills. On Airtel Money, Dial *185# >> Press option 4 (Pay Bill) >> Press Option 9 ( Others) >> Enter Business Numbers eg. 550201 >> Enter amount to be paid >> paste the payment code from Kilimall e.g HPFERX4C >> Confirm payment with PIN.
Step 6: When you choose "Pay on Delivery", go ahead and click "Submit". After you do, there will be a pop up notification showing that your order has been successfully placed. It will also show you your order number, item ordered and the fees to be paid.
You will then have to wait for either 3-5 days if the your order is being fulfilled by Kilimall. It is important to note that Kilimall also allows you to order some items directly from China and that takes 30 days plus to deliver.
Advertisement - Continue reading below