For the longest possible time, Full HD (High Definition) home entertainment has been defined by a pixel density at 1920 × 1080 (1080p) as the standard. Now the next generation of flat panel displays turning heads is what known as Ultra High Definition aka 4K display. In a nutshell, Ultra HD pack double the pixel resolution of HD at 3,840×2,160 pixels (or what you would call 2160p or 4K). Let's put it this way, where 1080p is roughly about 2.1 megapixels, 4K packs an impressive 8.3 megapixels (8 million pixels); four times the pixel density of a 1080p display played at 60 frames per second.
Obviously the image quality is twice as clear as 1080p. This in turn increases on the download size of the media you are watching. As is the case with 720p versus 1080p, the size doubles or triples, the higher the pixel density of the content. In countries with slow/or expensive internet connection, 4K streaming is out of our reach, but it doesn't hurt to dream, right?
Advertisement - Continue reading below
4K versus Ultra High Definition
For all intents and purposes, 4K and Ultra HD are interchangeable words to refer to the successor of 1080p. As such, these two are used indiscriminately, when in fact they are different. In truth, 4K refers to a pixel density of 4,096 x 2160 which you will find in cinemas; whereas Ultra HD refers to 3,840×2,160, a standard you'd normally find in your living room. For this write up, we will use both Ultra High Definition and 4K to mean 3,840×2,160. At least you know now know the difference.
High Definition versus Ultra High Definition
| High Definition | Pixel density | Ultra High Definition | Pixel density |
| --- | --- | --- | --- |
| 720p | 1,280×720 | 2160p (aka 4K) | 3,840×2,160 |
| 1080i/1080p | 1,920×1,080 | 2540p | 4,520×2,540 |
| 1440 | 2,560×1,440 | 4000p | 4,096×3,072 |
Application of 4K resolution
Where 1080p content and displays have been the norm, increasingly, original TV content is shot in 4K for those who wish to view it. The likes of YouTube, Netflix, Amazon and even British broadcaster BBC, to name a few, have jumped on board to offer 4K content. There is now an option to stream in Ultra HD on most online streaming sites. You will also find 4K being implemented in high-end smart TVs, laptops, smartphones, cameras/film making, games, e.t.c to display that immersive detailed image quality. With this standard, you will need to have eagle eyesight to pick out individual pixels on your display. The images will appear almost lifelike, or so we are told.
What you need to watch 4K content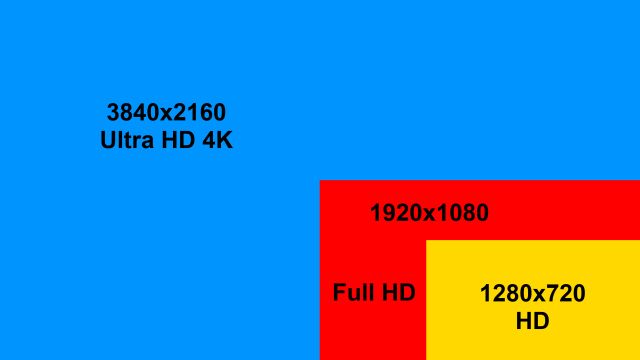 Viewing 4K content will require you have two things: A 4K device such as 4K TVs (i.e from Samsung, LG, Sony, Toshiba, Hisense, e.t.c) or smartphones with 4K resolution or such like. 4K smartphones have the ability to shoot video in 4K which you can then playback on the phone or on the aforementioned 4K TV. But not so fast. Regular HDMI will have a hard time playing the some 4K content, obviously. HDMI v1.4 in earlier 4K TVs could only support 4K content at 24 to 30 frames per second. These days, that's up to 60 frames per second with HDMI 2.0.
4K TVs will enhance the image quality for other standards but unless its 4K media, it won't be the same. You will need to either have 4K videos downloaded already or alternatively, if you could stream 4K content online. This though will consume some serious data on top of requiring a very fast internet connection owing to the size of 4K content.
As we said before, if you live in regions with expensive internet, you don't have to. 1080p is good enough. Otherwise you need a constant internet connection at 15Mbps minimum to stream 4K on Netflix, although the recommended speed is 25Mbps. I don't know about you but I have never experienced those speeds where I live.
Advertisement - Continue reading below
Do you need 4K devices?
The short answer is no. For now, 4K is all the rage. You'll have to pay through your nose to own a 4K device such as the 4K TV, laptop, smartphone. The cost implications of all these devices and others in the 4K category is rather obvious. And the technology is ever changing. Early adopters are stuck with dinosaurs as the technology has gone through another metamorphosis in the few years since. The shift from HDMI 1.4 to 2.0 to squeeze in more frames per second translates into already obsolete hardware on your brand new TV. Hence, it would be prudent to first wait for the dust to settle.
We already talked about how bulky 4K content is to stream or download. The recommended internet speeds are not something many people can boast to have. Then what use would be to own a 4K TV when you watch 1080p and 720p content?