It's Friday 5pm and myself and the boys agreed to meet over a drink and catch-up. Am just leaving town after a long days work to JazzVille in Bugolobi. The Jam is at its peak, so using public means is out of the question.
I pull out my phone and start the safe boda App. I enter my destination and Safe boda gives me my estimated fare. I notice it is slightly less than what I usually spend on regular Bodas, so I immediately request for a ride. Safe boda polls 5 drivers and within an instant I receive a call from Richard. He's the closest driver who will be taking me. I tell him my location and boom, within  3 minutes he arrives.
Advertisement - Continue reading below
---
Related post: SafeBoda is the uber for motorcycles in Kampala
---
Safe Boda is the new Uber for Motor Bikes commonly known as Boda Boda that gets you around town with ease. Boda riders are notoriously known for being rowdy and reckless on the road riding on pedestrian sidewalks, ignoring traffic lights is just the norm for Bodas in Kampala. And that's not all. Bodas also don't have standard fare. You simply have to bargain and agree on the cost. By the time you are done, one of you is being cheated — and it's usually the passenger.
---
Related Post: Why are we still hacking mobile apps — and not boda bodas?
---
Safe Boda a social enterprise saw this problem in 2014 and came up with a simple yet effective solution; create a community of Boda Boda riders, train them on road safety standards and equip them with safety gear such as Helmets and then connect them to  roaming passengers around the city via a mobile App. The result is a community of professional, trained motorcycle taxis drivers (boda-boda), offering a safer experience to passengers.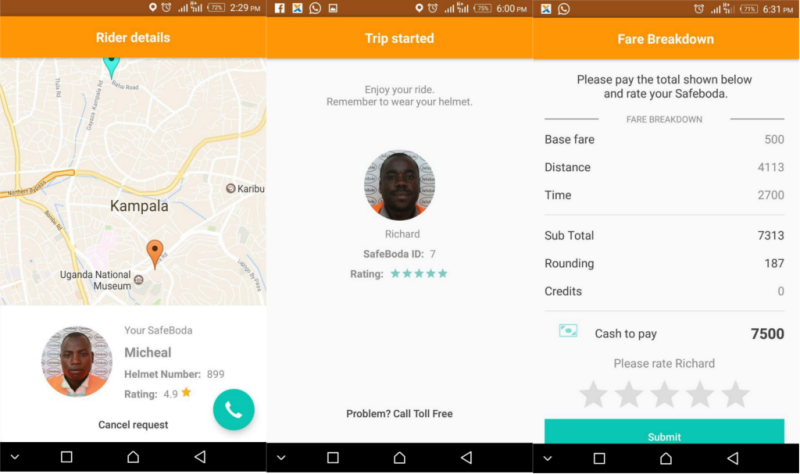 ---
Related post: Lease-to-own Boda boda venture, Tugende, joins the battle of uber-izing motorcycles in Kampala
Advertisement - Continue reading below
---
Safe Boda is currently operational only within the city center. So you can not hail a ride in most Kampala Suburbs which is a bummer. They are operational in Nakasero, Central Business District, Kololo, Bugolobi, Mulago, Naguru, Bukoto and Ntinda . However, you will be able to request a SafeBoda in any of these areas but the destination can be anywhere in Kampala. Safe Boda also says that they be adding Muyenga, Najjera, Rubaga, Makindye and other areas in the coming weeks.
Safe Boda pricing
Basefare: Ugx 500
UGX/Km: 500
UGX/Min: 50
The app accepts only cash at the time of this writing, so no debit/credit cards yet or Mobile money is accepted although our sources say that's in the pipeline. The other payment option is use of credits which acts like virtual currency although this feature is only available to business clients, Robin from Safe Boda told me.
Safe Boda backed by Shell foundation, Global Innovation fund, USAID and they hope to scale our innovation to the 5+ million motorcycle taxis on the continent.
Image: Safe boda Facebook page
Advertisement - Continue reading below