The internet is a wonderful tool to have and use. Many of the services we rely on for our daily convenience have since moved online. Every day, we find ourselves needing to download various things from the internet; documents, music, videos, ZIP files, you name it.
Of course, all internet browsers have built-in download managers that do serve their intended purposes well. But sometimes, you need a little bit more functionality—scheduled downloads, control download bandwidth, resume capabilities, and so on.
Advertisement - Continue reading below
Oftentimes, the need for a dedicated download manager arises. On Windows, many users use and swear by Tonic's Internet Download Manager.
So you're a Linuxer, what options do you have at your disposal? Well, thanks to the Free and Open Source Software movement, there are some tools (download managers for Linux) to help you in this regard.
1. XDM
Xtreme Download Manager (XDM) is a pretty versatile tool that is available on Windows as well as all major forks of Linux. It offers users a range of tools to help them manage their downloads, from automatically taking over download links to saving different file-types into their respective folders.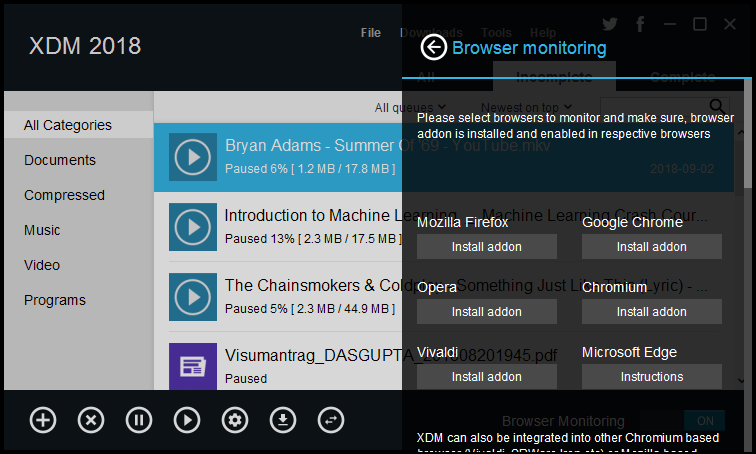 One of the features that makes this XDM very versatile is its compatibility with all major internet browsers in the market today.
The officially supported browsers by this download managers on Linux include:
Firefox
Chrome and Chromium
Opera
Microsoft Edge and so on.
---
Read More: How to Install Microsoft Edge Developer Preview on Linux
Advertisement - Continue reading below
---
You can download and install Xtreme Download Manager on your Linux by grabbing your appropriate installation file from the project's Sourceforge page here.
Alternatively, you can install it via Terminal from Noobslab's repo using the code below.
sudo add-apt-repository ppa:noobslab/apps
sudo apt-get update
sudo apt-get install xdman
2. uGet
uGet is another multi-platform download manager that just so happens to have a very capable Linux client. This one offers all the features you'd expect from an internet download manager: resume capability, auto-categorization of downloads into file-types, and more.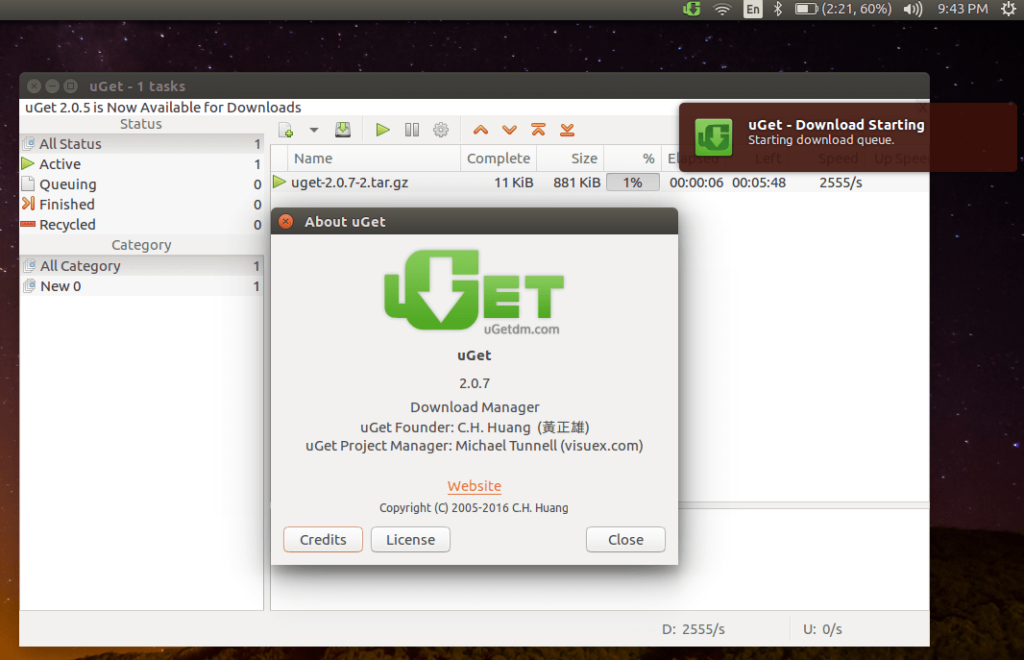 uGet is available across various platforms including Linux, Android, BSD, and Windows with more platforms set to get supported pretty soon.
This is a must-have download manager for any Linuxer as it is available across all major distros including but not limited to Ubuntu. Fedora, Debian, Arch Linux, elementary OS, OpenSUSE, Linux Mint, Mageia, Slackware…you get the idea.
You might want to visit uGet's official website for your platform-specific installation instructions and guides. You can also copy-paste this into your terminal to install on Ubuntu.
sudo add-apt-repository ppa:plushuang-tw/uget-stable sudo apt update sudo apt install uget


3. DownThemAll
DownThemAll is a little different from the other ones we've highlighted. It's a browser extension that supercharges your in-browser download experience as opposed to being a standalone application.
DownThemAll is a powerful yet easy-to-use extension that adds new advanced download capabilities to your browser. It lets you download all the links or images on a website and much more. You can also refine your downloads by using fully customizable filters to get what you really want.
Advertisement - Continue reading below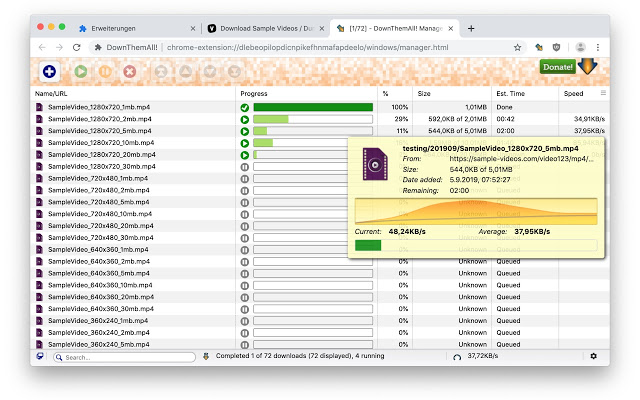 Since this one is available on browsers, it goes without saying that it works well on other operating systems (Windows and macOS) as well, not just Linux. Add the extension to your browser via the links below;
Wrap Up
Linux has grown tremendously over the years and it keeps gaining more and more users. It's only a matter of time before Linux-based systems start rivaling the established players like Windows and macOS.
Tools like these only go to make Linux a more potent platform and therefore, such developments are highly encouraged.
Now onto you, what download managers do you use on your PC? Is it available on other platforms as well? Tell us in the comments section below. We'd love to hear from you.