Just because an app is in the Google Play Store or Apple's App Store doesn't necessarily mean that it is an authentic app. Google is constantly removing fraudulent apps from the Android marketplace, such as fake antivirus, browsers, and games. Several people have discovered hundreds of counterfeit shopping apps in both App stores. Some have display annoying ads while others have more serious consequences. Sometimes you receive unsolicited texts, emails or sudden notifications that appear to be from a bank, retailer or other known institution and because many people take these notifications to be genuine, they end up sharing information with store apps and these could lead to dire consequences.
Scammers will try any means necessary to trick you into installing fake apps, criminals use emails and SMS messages that appear to be from your bank, Credit Card Company or other brands to trick people into downloading their apps that will compromise your data. Some of these apps will pose as security updates and clicking on their links may lead to your information being stolen. Here are 7 ways to tell if the app you want to download or install is authentic or not
Advertisement - Continue reading below
Check to see the Publisher
Before downloading the app, it is imperative that you do some research on the app publisher. Use any search engine like Google (being so friendly and all) and get more information on the app. Scammers copy-cat a lot of these apps by using same names with a tiny twist to the spelling or description for example if an authentic app publisher is Kelmart.com, a scammer will use Kelmart.inc. It may appear as if they provide the same services, but in actuality, one is looking to steal your info for fraudulent reasons. An authentic app will always have a web domain from the developer and will give a detailed description as to how the app works and what it is for.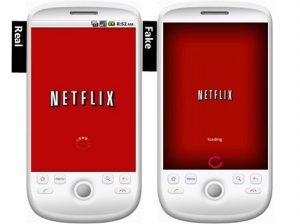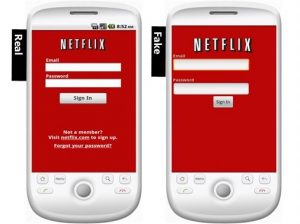 Check the App reviews
Authentic apps will likely have thousands of hopefully positive reviews while a fake app will likely have zero reviews or reviews from previous users who have been duped. Cyber criminals or scammers will try to fool you with fake reviews that are often short and generic. Just be sure to check out any other apps made by the same developer, chances are you will find that a developer that has created more apps is authentic. An example is King.com a subsidiary of Activision Blizzard, the creators of Candy Crush Saga and Candy Crush Soda, both great gaming apps.
Look at the app publish date
Authentic apps will have an "update on" date meaning it has been around for a while and has been updating its software from time to time allowing its users to have latest working app data and new look or appearance that s actually visible to the user while a fake app will have a recent publication date and it rarely updates with new data and if it does, doesn't seem to have any changes in it.
Check for spelling errors in the title or description
Take extra caution if it looks like English is not the developer's language. App coding knows no spelling errors or wrong English in the description panel. Many of these apps come from China, or most of them do but it's also worse if you, the user, do not understand the language either. Then you will be more prone to scamming app developers waiting to dupe.
Apps that promise shopping discounts.
Comes as a surprise, but it's true. App developers rarely promise shopping discounts, but if they do, then they notify you on their official web portals. If they haven't mentioned it anywhere, then do not, I repeat, do not give them any of your details.
Advertisement - Continue reading below
Visit a store's website.
Whenever in doubt, don't feel shy to visit the store's web portal in your browser. All the information you need to know is stored there and is updated every now and then. so you get to know if there is any change in any app that you use or want to use. Do not forget to look for an icon or the button that says "Get our App". This will take you to the App Store or Google Play Store where you can download the correct app.
Ask a friend or an expert
Seek opinion from a friend who may have used the app before or one who knows apps and their coding and all, or just go ask an expert. You will be saved a bunch once you do that. They will recommend what works best, what app to avoid downloading and installing, where to download from and all the nitty gritty involved. You will never go wrong with this because an app that's recommended by many, is the best to go with.
Beware of fraudulent App Scammers.