Africa's population is rising rapidly and so the rapid growth online. Internet usage in Africa is growing faster than in any other region in the world, giving millions of people access business opportunities, better communication, and information. Due to the rapid growth of mobile internet connectivity in Africa, 4G mobile subscribers are expected to hit 296 million by 2022 in all over African nations a research made by Dataxis
Advertisement - Continue reading below
The number of  4G  subscribers in 2016 were 24 million, and most of them come from a few leading countries in southern and northern Africa.
According to the Dataxis,  the  number of 3G enabled SIMS will continue to rise in countries with low broadband connectivity, but the growth rate will slowly decrease with the arrival of 4G network. Mobile broadband subscribers are therefore expected to grow into the main part of mobile subscribers with 54% of total mobile sim
4G penetration remains indeed very low in the rest of Africa and Dataxis forecasts that 4G subscribers in Sub-Saharan Africa (excluding South Africa) will reach 58% of total 4G subscribers in Africa in 2022 compared to only 3% in 2016.  The adoption of 4G goes along with another relevant change which is the increase in smart devices penetration. Dataxis research outlines a surge from 24% of the population in 2016 up to 60% of the population in 2022.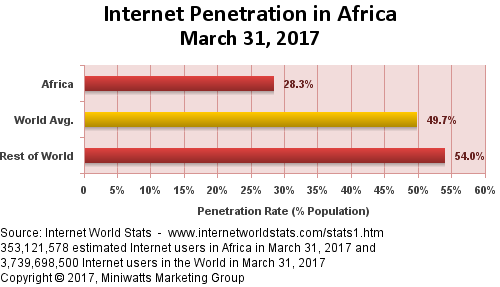 Broadband connectivity in Africa will be achieved almost exclusively through mobile, with only few households equipped with PCs and wireline broadband. Africa is estimated to have about 350 million internet users as of 2017 according to World Internet Stats with most users in South Africa, Nigeria, Egypt, Tunisia, Kenya.
Advertisement - Continue reading below