4G LTE is becoming an essential need in the daily life of any internet user, and with the costs being high for a few bytes in use, it's even much needed. Not so many users can testify of the fast speeds in every corner of the country but the Telecom industry seems to be ready to serve their best.
In a promotion dubbed #LiveThe4GExperience, Airtel Uganda has just launched its 4G Network on 404 LTE sites in Kampala and 128 LTE sites upcountry.
Advertisement - Continue reading below
With this 4G LTE technology, Airtel – one of Uganda's fastest growing telecom is now offering subscribers around the country with the fastest available speeds as well as an improved experience in internet-based activities such as video conferencing, mobile web access, among-st others.
Users will experience super fast internet without having location limits or having to switch to other connection options.
Speaking at the launch event, held at the Kampala Serena Hotel, the Airtel Uganda Managing Director Mr. V.G. Somasekhar said that customers will have an improved internet experience at the most affordable rates and the investment will further enable digital inclusion in Uganda.
"Our 4G launch comes just 2 weeks after a revision of our data bundle prices in a bid to remain Uganda's most affordable telecommunication company," he said.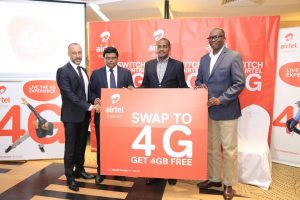 The Guest of honor at the event, Minister of ICT and National Guidance Hon. Frank Tumwabaze, Congratulated the management and staff of Airtel Uganda on the momentous achievement. He added that such milestones are a confirmation what the government has always encouraged innovative ICT development models.
Advertisement - Continue reading below
How to live the 4G Experience 
To join Airtel 4G, you will have to swap your 2G or 3G SIM card to 4G – free of charge. If you are a new customer to the network, 4G SIM cards are available for only USh 2,000 and come with 1GB of data.