African borders are notoriously porous and for good reason. Africans have historically been at liberty to travel between borders although the same cannot be said for sending and receiving money. Individual cross-border money transfer platforms across borders are just not…sympatico. They simply do not play nice with each other even within the same country.
This is where platforms such as Chipper Cash come in. If the homophone for cheaper doesn't give it away, I don't know what will. Chipper Cash promises instant cross-border money transfers in 7 African countries and counting. What isn't offered for free, you will get for a pittance.
Advertisement - Continue reading below
What I love about Chipper Cash, and the first thing you will notice is that there are no gimmicks. The Chipper Cash apps on Android and iOS are spartan in their simplicity and usage. At the end of the day, you either need money or you are sending money. End of story.
Before you sign up
The beauty of Chipper Cash is that you can send money to anybody, and I mean anybody whether or not they have an account. Accessing the money is when you need to have an account and it's getting one is as easy as 123. Here, we show you how:
Signing up and Registration
Chipper Cash offers two options for signing up: via mobile number or email. You will receive a 6-digit code to verify your account. This is only the first security verification. At this stage, you can still receive unlimited cash, but the amounts you can add onto your account are limited to roughly $1.
The verification process involves a passport or a government-issued National ID. What you do is you take a photo of either document along with a selfie of yourself. You know the drill. This is standard operating procedure for security-conscious money transfer apps. A testament to the stringent verification procedure, my account took an hour or so to verify. Good on them not to take security lightly. On completion, I earned the following perks:
Increased transaction limits
Priority customer support
Enhanced account security
Buyer and Seller protections
Step 1: Signing up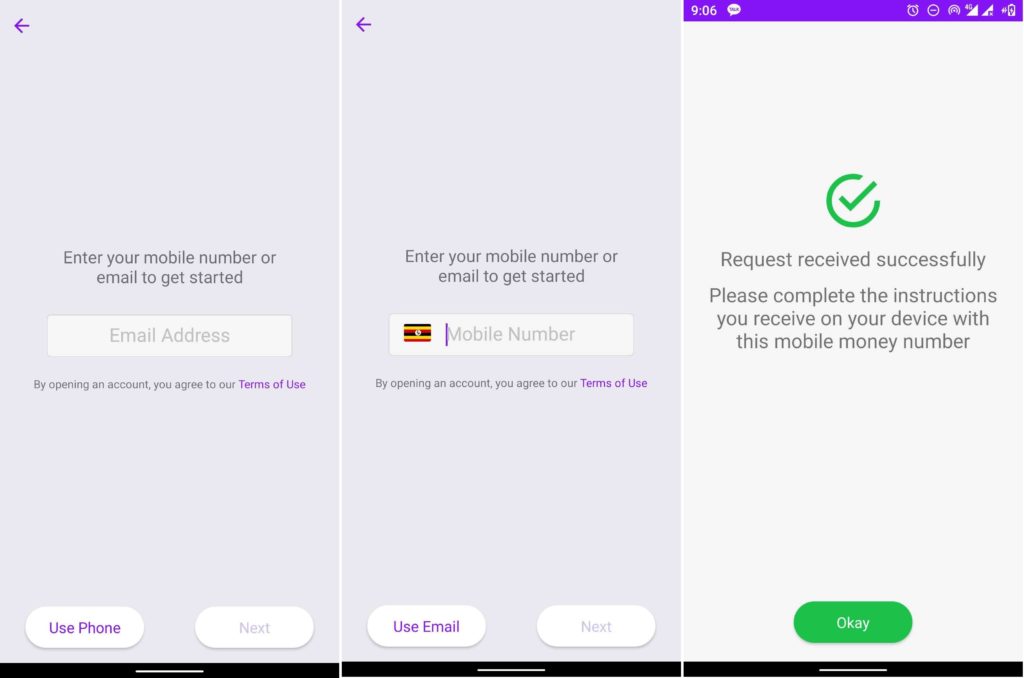 >>Download and install the Chipper Cash app (Android and iOS)
>>Tap on Open free account
>>Enter mobile number and tap Next or
>>Select Use email and then enter your email address
>>Enter the 6-digit code sent to your phone or email.
Advertisement - Continue reading below
Step 2: Setting up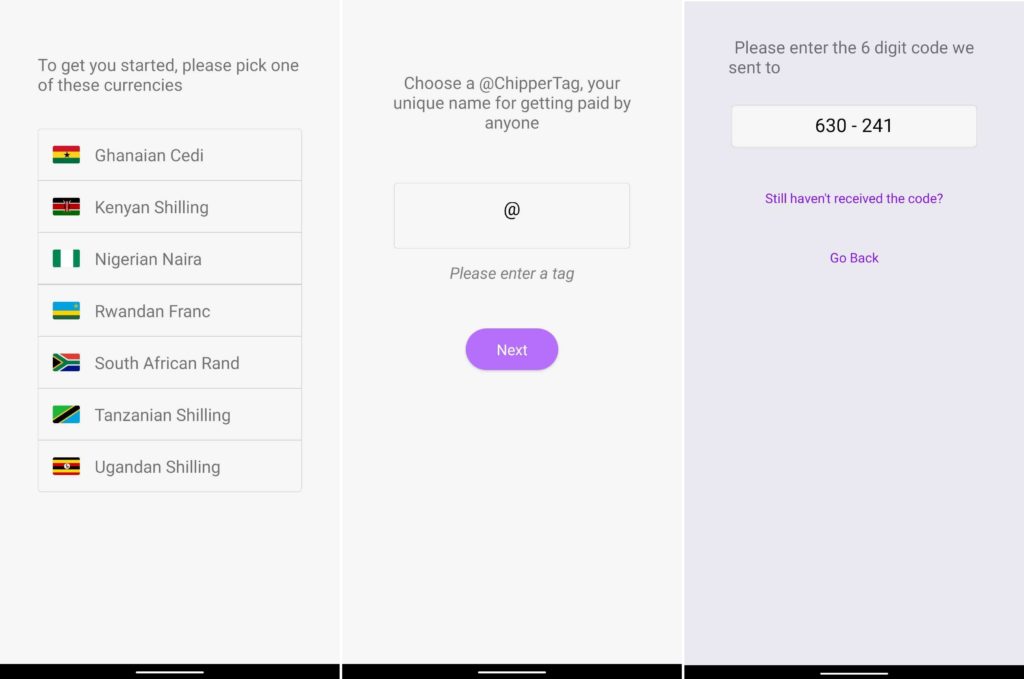 >>Enter Legal First and Last Name
>>Enter your birthday
>>Choose a @Chippertag to identify with.
>>Pick one currency to use from among Nigerian Naira, Ghanaian Cedi, South African Rand, Kenyan, Tanzanian or Ugandan Shillings, and Rwandan Francs
>>Create a unique 4-digit pin to keep your account secure
Step 3: Verification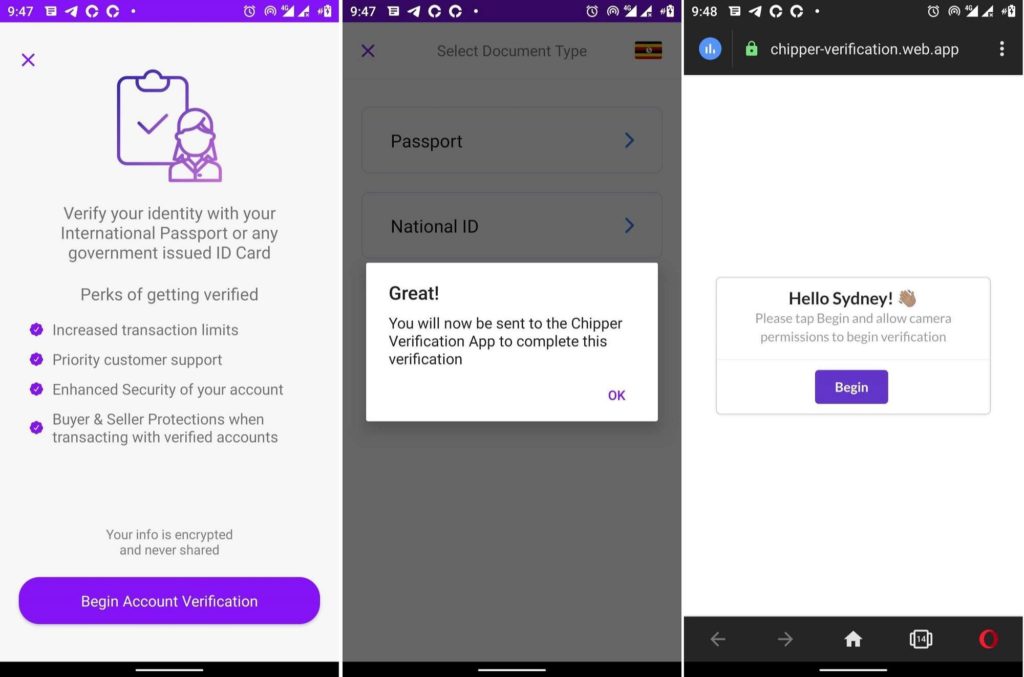 >>Tap on Next Step under Activity to begin the verification process
>>Tap on Begin Account Verification
>>Choose between Passport and National ID
>>If you used your email, you will be redirected to a browser to complete the registration process.
>>Tap Begin and allow camera permissions to begin verification
>>If you used your phone number, Chipper will prompt you to take a shot of your Passport or ID and then a selfie.
>>Once this is all done, kindly wait for the verification process to take its course
You are now Chipper Verified
Add Cash to your Chipper Cash wallet 100% Free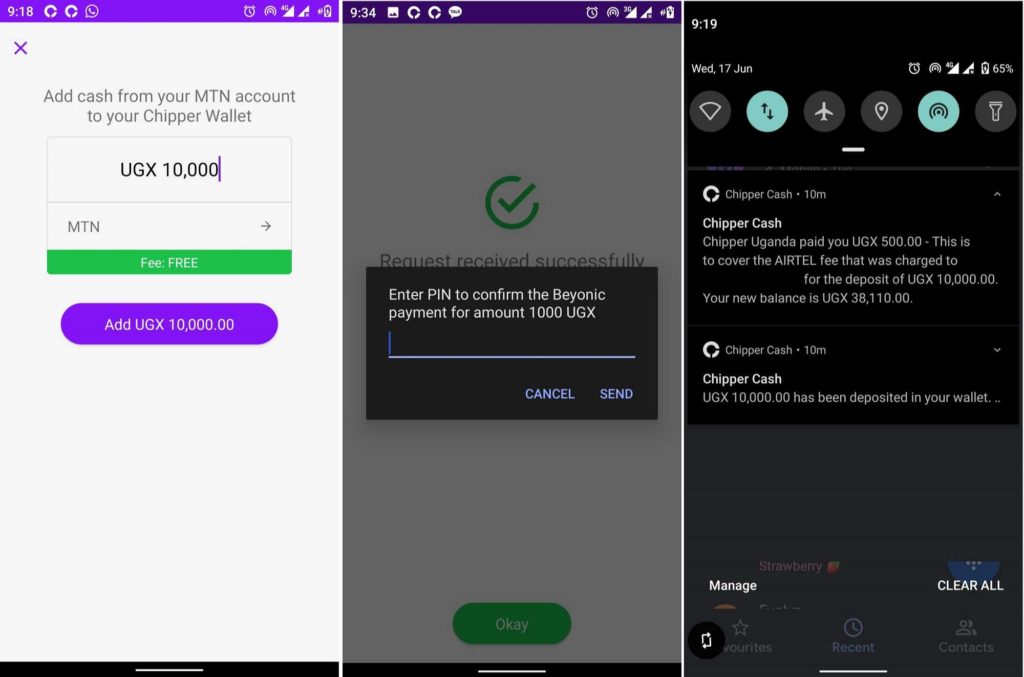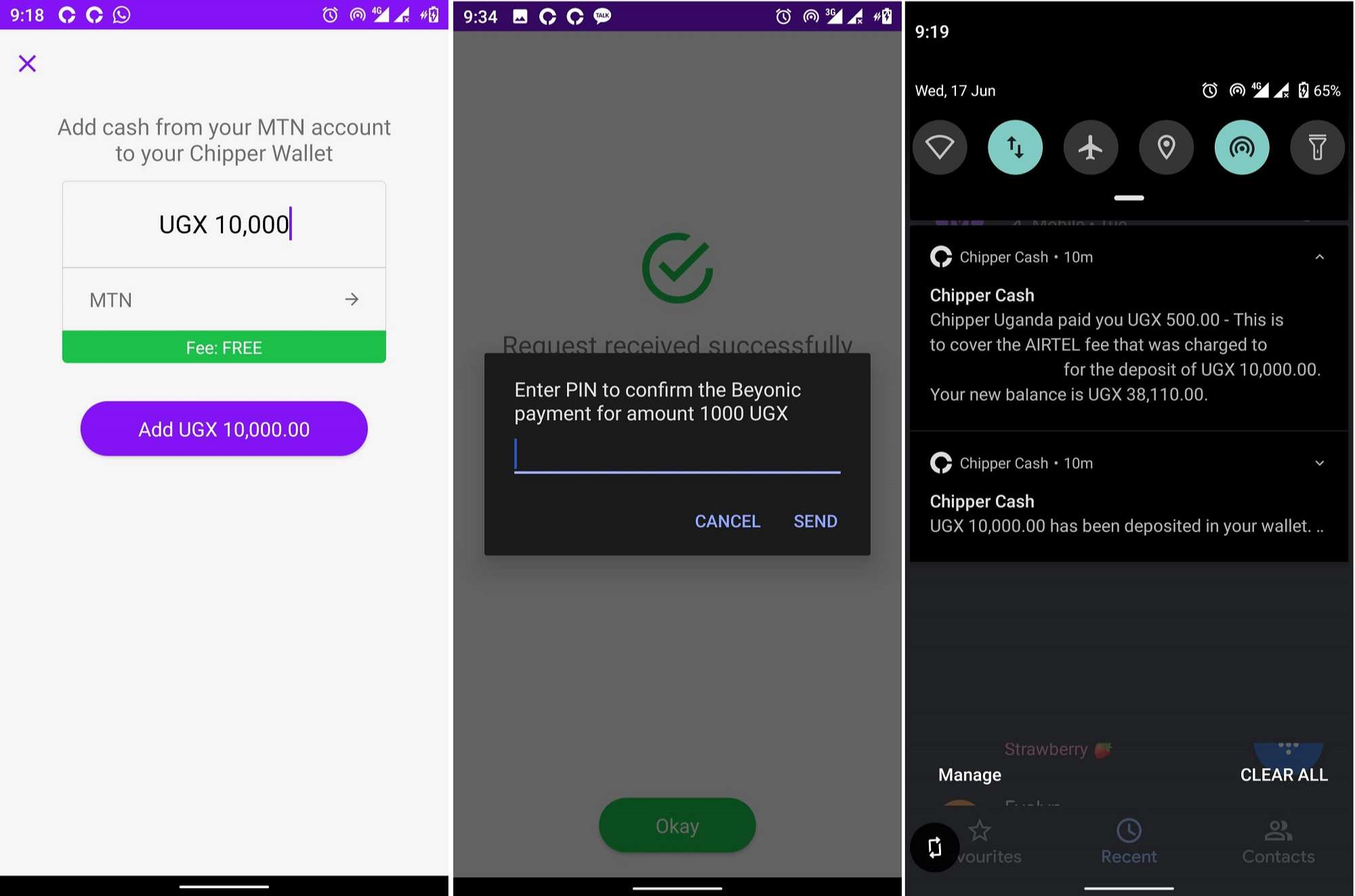 In Uganda, Chipper Cash currently only offers mobile money top-up via either MTN or Airtel. And what's liberating about this payment method is that you are not limited to just two numbers. You can add as many numbers as you like as long as you can verify them as yours.
Now, wait for it…It's 100 FREE to add cash to your Chipper Cash wallet. That's right. Chipper Cash does not charge you anything for adding cash to your wallet. The charges themselves come from the Beyonic transaction itself. For instance, Beyonic (last mile digital payment platform) charged me UGX 500 to transfer UGX 10,000 from my Airtel Money to Chipper Cash.
But guess what? Chipper Cash goes the extra mile and refunds this transaction charge. You read right. It's too good to be true, but it actually is. Don't take my word for it. Try it out yourself. I can only give you evidence of the fact.
Advertisement - Continue reading below
How to Add Cash
>>Under Activity, tap Add Cash
>>Enter amount to add.
>>Choose mobile money number to tap from. (only MTN or Airtel)
>>Tap on Add
>>Enter mobile money pin (in popup) to confirm Beyonic Payment
>>Voila
Read more:
How to send money using Chipper Cash
Now we come to the part where you make it rain for some lucky person. I bet you also saw that token Chipper contact Christine (@Christine) on your dashboard. Much as I am tempted to dole out some ka-money and send it to Christine, I am not exactly sure who she is or how much she wants. For that reason, I will stick to the people I know.
Sending money is pretty straightforward. It's no different from sending a text message, come to think of it. You can begin once you hit the Send button on your app. The recipients can be anywhere from East Africa to West Africa to South Africa.
Your contacts who have installed Chipper Cash have a little flag to set them apart. Chipper Cash tells you straight up if your contact has verified their account or not. If they haven't installed the app, they will still get the money, which will time out if they don't get with the program.
Here are the steps.
>>Tap on Send on the Activity page
>>Select recipient from your contacts or scan QR code
>>Alternatively, search for the recipient's name in the search box
>>Once you have tapped on a recipient, enter the amount to send
>>Give a reason for sending them money.
>>Confirm that you want to send the money
>>Great, Send
Advertisement - Continue reading below
Chipper Cash Transfer Limits
Theoretically speaking, you can request Bill Gates to sign over his $90 billion to you if you could get ahold of his Chipper tag. He's giving huge chunks of his wealth away anyway, so where's the harm? Jokes aside, Chipper cash has no limit on the amount of money you can receive.
As for the cash you can send, that's capped at UGX 25,000,000 a day and UGX 150,000,000 a week. Additionally, you can cash out UGX 15,000,000 a day and UGX 105,000,000 a week. Make no mistake, those figures are in the millions.
How to Request for money on Chipper Cash
In these trying times, it's not halal to die in your own movie. Not when you have family and friends willing to chip in here and there as the need arises. The good news is that the steps you take when requesting for money is more or less the same as when you are sending.
Here are the steps.
>>Tap on Request on the Activity page
>>Select recipient from your contacts
>>Alternatively, search for anyone on Chipper in the search box
>>Once you have tapped on the contact, enter the amount to wish to receive
>>Give a reason you're requesting for the money
>>Voila
Invite friends to Chipper Cash and earn money
On a last note, Chipper Cash makes it worth your while if you share the love. If you invite anybody who goes on to verify their account and send UGX 3000, you both to earn UGX 3,000. I won't lie. I love free money. On that point, feel free to create a Chipper Cash account with this link.
Chipper Cash is also active on social media for those with questions we might not have answers to. Join the discussion on Facebook and Twitter.
Advertisement - Continue reading below