Kwese Tv is slowly rolling out its suite of entertainment products across numerous African countries. A product of Econet media, Kwese is a combination of hardware and service products that work across web, mobile and TV platforms to bring premium content to millions of Africans.
We have been playing with the all-new shiny Kwese decoder for well over a week now. Once you get started enjoying Kwese TV, you might never look back. Kwese decoder feels like a premium solid hardware product that just works with a very polished and intuitive user interface. The decoder comes with several connectivity options that connects your TV to satellite service and your home media.
Advertisement - Continue reading below
Summary
+ What we liked
Full HD support
PVR support
Multiple connectivity options
Multimedia support
Very Affordable price
+ What we didn't like
Non-Customizable User Interface.
No Free-to-air channels.
Some Non-functional features such as internet connectivity, DLNA, Extras.
No onboard/inbuilt storage for storing shows.
Kwese TV decoder full specifications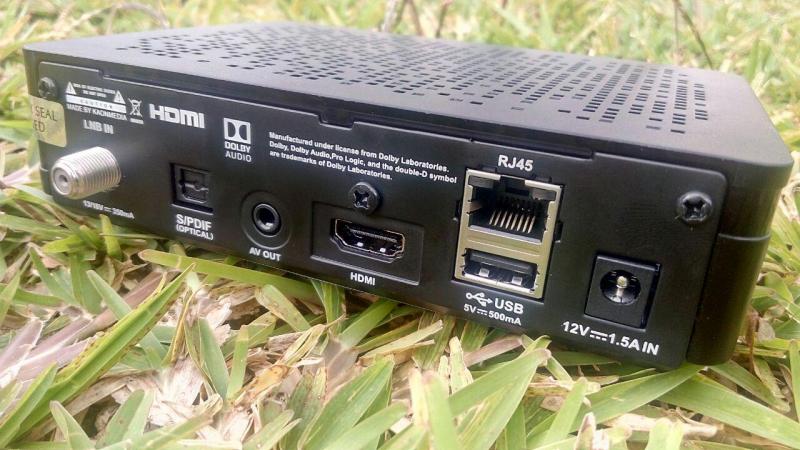 +In the box
– Decoder.
– External Power Supply Unit (PSU).
– Remote Control Unit (RCU) with batteries.
– AV cable.
– HDMI cable
+Connectivity
Advertisement - Continue reading below
– DC 12v IN
For connecting your decoder to the main power supply
– LNB IN
For connecting to a satellite antenna and cable jacks
– S/PDIF(Optical)
For connecting to digital amplifier input
– AV OUT
For connecting to a 3.5mm phone-type jack CVBS cable.
– HDMI x 1
For connecting to the TV
– RJ45 x 1
For connecting to the internet via a router.
–  USB 2.0 x 2
Two front and rear USB ports for connecting an external USB HDD for recording. HDD is not provided by Kwese.
+Dimensions
– 155(W)x 110(D) x 38.5(D)
+Wattage
– 6W stand alone, 11W max with HDD
+Satellite
– Eutelsat 7B
+Codecs
Advertisement - Continue reading below
– Video
1080p/1080i, 720p, 480p/576p, 480i/576i
– Audio
MPEG-1 layers 2,3,ACC,DD, DD+(E-AC3), Dolby Digital AC3 Downmix
+Software 
–  CubiTV Tivo
Full HD ready with 5 HD channels
Kwese TV decoder is a full HD decoder cable of Full HD (1080p/1080i), HD (720p) and SD(480p) content. Kwese has about 5 HD channels of the 65 that include NBA, ESPN, Kwese Info, Kwese Sports 1, Kwese Sports 2, Kwese Prime. Of course, you should equally have an HDTV to fully take advantage of these HD channels.
PVR support: Record and pause Live TV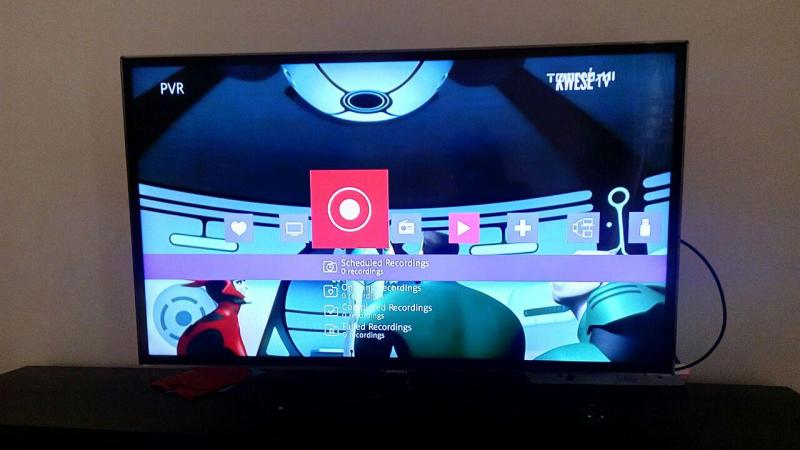 Kwese decoder also supports PVR(Personal Video Recorder) functionality akin to DSTV's Explora decoder. The decoder, unlike DSTV Explora, doesn't come with onboard storage for the recordings. Instead, the user has to connect an external Hard Drive via rear USB port on the decoder.
With PVR functionality, you can pause live tv allowing you to rewind live TV if you want. You can also schedule recordings of your favorite TV shows. The size of recordings must be limited to the size of the external HDD.
Advertisement - Continue reading below
Play your multimedia via USB
You can also play your own home media to the TV via the decoder's USB ports. The decoder is equipped with two 2.0 USB ports. Your external hard drive should be formatted in FAT file system to best results. We were able to play videos and view images on a transcend 4GB flash disk. However, when we plugged in a WD MyPassport 4TB external USB  hard drive formatted in NTFS windows file system, it said "unsupported".
Internet-ready but not yet functional
The Kwese TV decoder is internet ready although the feature is not yet functional. The decoder comes with an RJ45 ethernet cable which you connect to local LAN or directly to a router. We connected the decoder to Huawei B683 HSPA 3G wireless router and the decoder immediately connected with dynamic IPs.
However, the features that would take advantage of internet connectivity are not enabled. For instance, the extras feature which is supposed to give updates on weather, news and other web services does not work. We think Kwese will enable these features in the future via over the air software updates.
Sofware and User Interface (UI)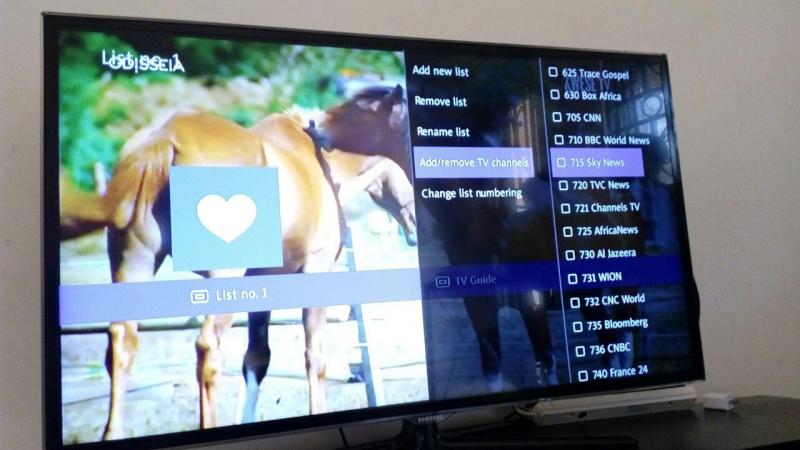 One of the coolest things about Kwese decoder is the (UI). The decoder sports an aesthetically pleasing purple aero glass theme reminiscent of Windows operating systems introduced in Vista. The transparent black and purple slides blend with a beautiful font that's easy on the eye. The iconified menu is a modern horizontal slide with corresponding remote button configuration for easy access.
What we also liked about the Kwese decoder is Over the Air software updates so you can be assured of the latest features from Kwese instead of buying a completely different piece of hardware. Few decoders push firmware updates of their decoders to users.  We noted that some features are not yet activated; such as the radio feature, DNLA, Extra, internet feature, catchup.
Under the hood, the software is powered by TiVo's CubiTV software.  CubiTV is the hybrid entertainment discovery solution that unifies content, listings and recommendations from linear TV, video-on-demand (VOD) and over-the-top (OTT) sources to bring quick and effective guidance to subscribers.
Kwese TV decoder price
The decoder comes together with the satellite dish and one-month subscription at price of Ugx 143,000 ($40) with Free installation. The other packages include;
Advertisement - Continue reading below
Ugx 106,000 – Premium Monthly Subscription
Ugx 32,000 – Premium Weekly Subscription
Ugx 17,000 – Premium Three days Subscription
4/5 Star Dignited Rating
We took an average of three senior Dignited editors. The decoder scored high on affordability, great hardware design and software and a lot of premium content especially for sports lovers and parents with Kids.  The decoder falls short on customization, no free-to-air and some non-functional features.
The Kwese decoder scored a whooping 4.0/5.0 rating.