It's 2017 and so many things are changing in the tech world. For starters, 4G technology is fast catching up, internet is becoming pretty affordable and that opens up the internet to a lot of possibilities. Enjoying your music is now pretty easy, with your smartphone you can now tune in to Internet Radio and it is surprising just how many of your local radios are available online.
Also, gone are the days of walking around with your Walkman or bulky iPod with a few of your favorite tunes. Music streaming services have caught on and they offer most of the songs you would ever want to listen to, anywhere you are provided you have an internet connection. Apple Music, Pandora are some of the notable players in this space. Sadly, these services are only available in the west and some parts of Europe and that's it. We in this part of the world get Nothing.
Advertisement - Continue reading below
It is an open world however, there are workarounds to these geographic restrictions and today, let us see how to get you a Spotify account and et you grooving to your favorite tunes.
Creating a Free Spotify Account
To use Spotify you will need an account. Normally to sign up you'll have to go to their sign up page, but if you're in an unsupported country, you'll get to a "Spotify isn't supported in your region" page. Use your favorite VPN service or application to connect to the US. Sign up for a free account and you are good to go.
You should know, the service has a free model account that supports ads and has limited functionality on the mobile app (but we'll look at ways to work around that), and a premium account that goes for $10 a month that offers everything you ever dreamt of music-wise: you can listen to anything, anywhere, download what you want. Feel free to upgrade your account anytime. You get a 7-day trial with every sign up so use it to see how that works for you.
Installing Spotify on your Computer
Now that you have a Spotify account, you may need to install the PC/Linux/Mac client so you can listen on your computer too. It should be noted that you get a lot fewer limitations on the free account when using Spotify on your computer.
To install Spotify on your computer simply go to Download Page, you will be automatically redirected to the correct download page for your OS and follow the instructions. Windows, Mac, and Linux clients are all fully supported.
Install Spotify on your Android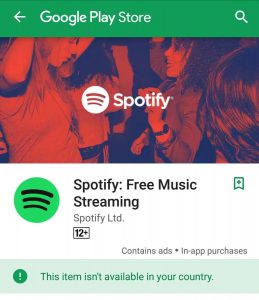 Since you cannot get the official app from the Play Store in unsupported regions, you may have to side load it on your Android. To do this, go to APKMirror and search for Spotify and download the latest version available. Install it on your Android and sign in with the account you created.
Welcome to a whole new world of Music Streaming
Now that you have Spotify, feel free to dig around the settings to find what exactly works for you.
Advertisement - Continue reading below