Summary
The iDroid Royal V4 was launched in Uganda recently and we were there. Today we bring you our first impressions with the much hyped device. If you are looking for a deal on an entry level smartphone, then look no further. But if you are looking for a replacement smartphone, you might have to keep looking. With a sleek design, a 1.3 Ghz quad-core processor and 1GB of RAM, the V4 makes a very good first smartphone companion. That said, the iDroid Royal V4 in partnership with Africell remains one of the best smartphone deals on the Ugandan market today.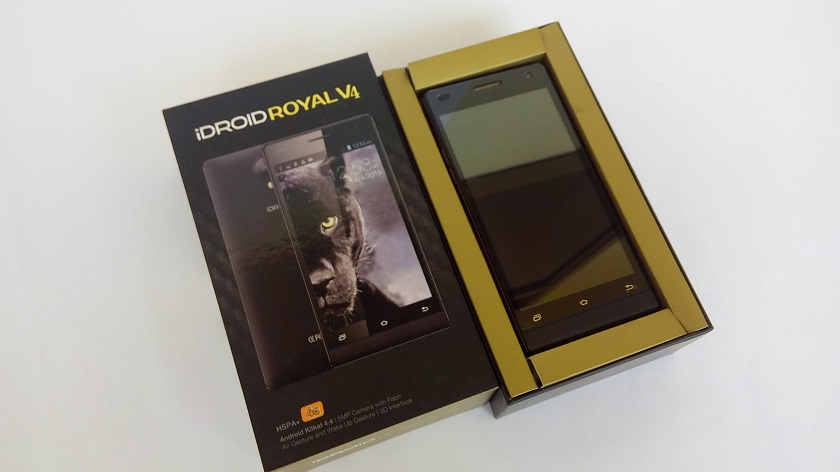 Advertisement - Continue reading below
Unboxing
The iDroid Royal V4 comes in a sealed black and gold box that is very attractive I must say. On breaking the seals and opening the box is the Royal V4 in a gold pad. In the box is a white travel charger, USB cable and earphones. There is also an iDroid branded battery and a manual. The V4 came with a screen protector already installed
iDroid Royal V4 Specifications
The V4 is a 3G/4G, dual SIM device that features a 1.3 Ghz quad-core processor with 1GB of RAM, 8GB memory expandable via Micro SD card. It also packs a 5MP auto focus rear camera with an LED falsh and a 2MP front camera. The V4 has a 5 inch IPS display with a 540×960 resolution and a pixel density of 240 ppi. Running the V4 is a 1800 mAh battery and also comes with Android 4.4.2 Kitkat.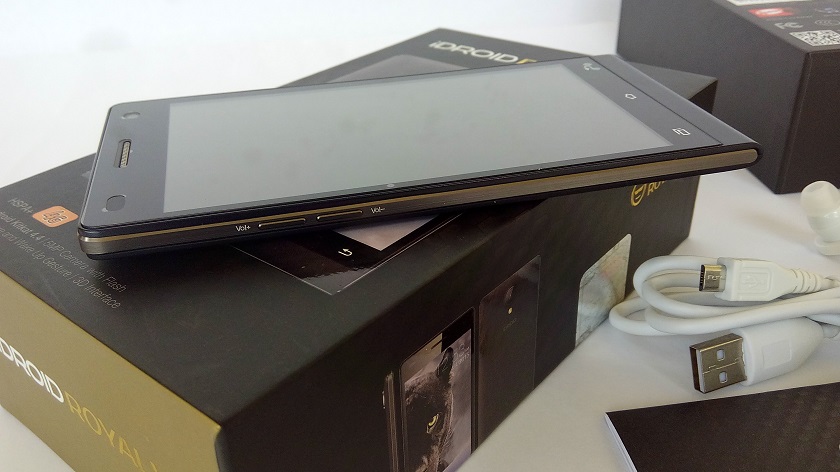 Design
The V4 is slim and sleek device with unique but familiar design. The design goes between a Huawei P6 and Sony Xperia form with printed navigation buttons. The Volume buttons have been placed on the upper left while the power button is on the right. The micro USB charging port was placed on the bottom centre with the device speaker on the back – bottom left.
The back cover has a poly-carbonate finish with a protruding camera (like that of the Tecno Phantom A+) on the top center and an LED flash right below it. The device look and feel is premium and it feels solid in the hand.
Advertisement - Continue reading below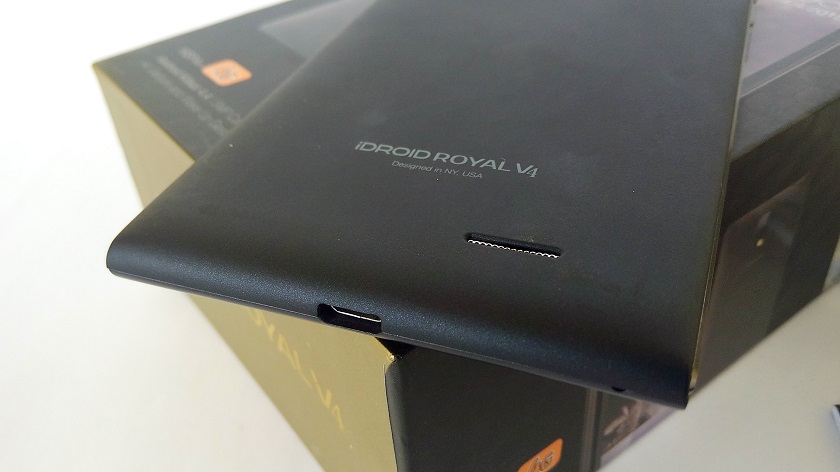 Operating System
The iDroid Royal V4 runs on Android 4.4.2 Kitkat and has a familiar user interface with a couple of tweaks from iDroid. We have the usual Android menu, which reveals the apps in one tab and the widgets in another. We also have the notification center that gives you quick access to a couple of settings like brightness, profiles, Wi-Fi Bluetooth and the data switch among others .
Another good thing about the V4 is that it supports Over-The-Air (OTA) updates. For the time we had it, there was a minor update fixing a couple of bugs. This means that there is hope that iDroid might roll out Android 5.0 Lollipop to the V4 (Who knows?)
Pre-Installed Apps
The V4 comes with the entire rocket internet family of apps and some other Ugandan apps that many users will find useful. These include apps like Jumia, Kaymu, Lamudi, Hellofood, NTV Mobi, Africell and Galaxy FM. Other apps included Facebook, Whatsapp, Chrome and the iDroid Hub. In total, we had 5.7GB of ROM before we installed any apps of our own.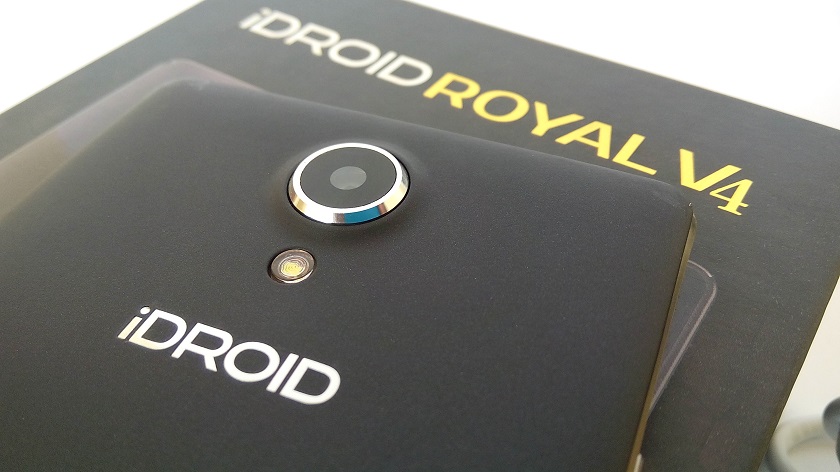 Performance
Battery: We didn't fully test the battery so as to pronounce ourselves on it but from the short time we had with the V4, we can safely say it's nothing extra ordinary. Like most smartphones, it will give you about 5-8 hours on 3G/4G and may be a day if you are aren't a heavy user.
Camera: The camera was able to give us crisp images with both cameras in day light. Even in the house, we captured some lovely images with day light. We noticed a little bit of shutter lag or delay meaning you have to really be stable in order to capture crisp images. As with many entry level smartphone cameras, the V4 camera suffers in low light giving average photos.
Advertisement - Continue reading below
Entertainment: The V4 has an FM Radio, an average camera, micro SD card option, a large 5 inch display that should sort out your entertainment needs. With it you can enjoy your music, videos/movies and games
Gesture controls: The iDroid V4 also comes with gesture controls that you can customize to your preference. With these gestures, you can wake the phone up straight to say; Camera or email or music etc.
We had a general problem with connectivity via Bluetooth and micro USB using our review unit. It wasn't able to communicate with other devices via Bluetooth and also wasn't recognized on PC via USB cable. We also weren't happy that the device has no connectivity apps like Hot-Knot and or Flash share pre-installed because this limited connectivity for us. Thankfully there are multiple apps on the play store like AirDroid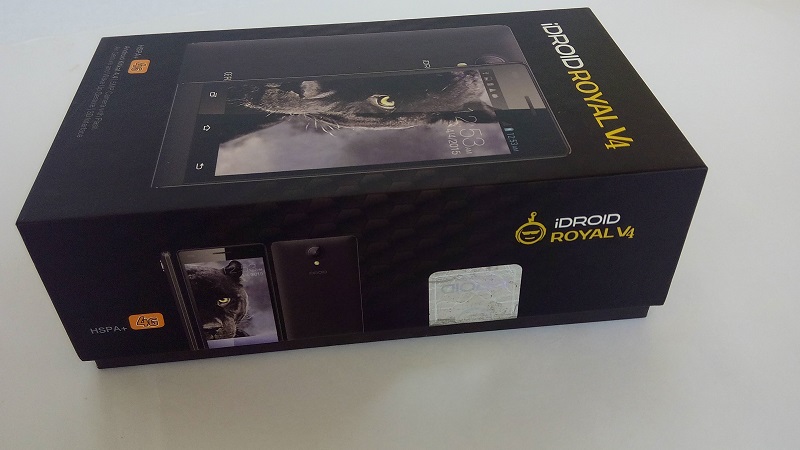 iDroid Royal V4 Price and Availability in Uganda
This is is the best part! iDroid and Africell Uganda have partnered to bring you the Royal V4 for just Ugx 349,000 which includes 750MB of data per month for 12 months. That is one hell of a deal.
The iDroid Royal V4 can be found at all Africell Shops country wide. There are also multiple vendors that iDroid has partnered with including Jumia from whom you can buy the V4 but that will be without the data deal.
Round Up
If you are looking for a first smartphone at an affordable price or a gift for your young sister or brother, the V4 would be your best bet especially for that 1 year data deal with Africell Uganda. As a replacement smartphone, the V4 would fall short as an experienced smartphone user probably already complains of more space and advanced functionality.
Unfortunately it's hard to complain about what the V4 cannot do given it's price. It's been made very affordable and as such, I guess some compromises had to be made. If you want something better, you would have to top up.
Advertisement - Continue reading below