HDMI is now everywhere; on your Smart TV, laptop, home theater, Blu-ray, Monitor and several other display devices. But so is USB. While HDMI dominates on bigger displays such as monitors and Smart TVs, USB takes the crown on Smartphones, tablets and laptops. So how do you then send video stream from your smartphone to the big screen?
Enter MHL or Mobile High-Definition Link. MHL is a marriage of convenience between HDMI and USB connectors bridging the gap between the two completely different standards. MHL developed by a consortium of five companies that include Nokia, Samsung, Silicon Image, Sony and Toshiba was first introduced in June 2010 with version 1.0.
Advertisement - Continue reading below
With a passive MHL cable which is like a Micro-USB to HDMI cable, you can connect your smartphone through the Micro-USB or more recently USB Type-C port to the MHL-enabled HDMI port on your TV. With this, you can stream your favorite Movies, games , Music and home videos in High Definition to your TV while charging your phone tat the same time.
---
Related post: What is miracast: A complete beginner's guide
---
Now we know you can use Miracast to achieve the same without using a cable. And that's great especially if your TV doesn't have an MHL-HDMI cable or you don't want to deal with the mess of cables. But we know that wireless connectivity is affected by interference which slows down data transfer speeds. To avoid any lags, cables are the way to go. Cables are much faster because they are not affected much by interferences from nearby wireless devices and they are secure too.
More importantly MHL specification enables charging of mobile devices like your smartphone while they are connected to the TV. That's really awesome given the short battery life that phones have.
MHL has evolved since its first release in June 2010 with version 1.0 which supported uncompressed HD video up to 720p/1080i 60 Hz. MHL 2.0 was introduced in April 2012 and increased charging power and support for 3D video. But the game changer came with MHL 3.0 which introduced support for 4K video, 7.1 channel Dolby TrueHD and DTS-HD surround sound support, charging power of up to 10 W and support for peripheral devices such as mice, keyboards, touchscreens, and game controllers.
---
Related post: Stream your own home media: A complete guide to DLNA and UPnP
Advertisement - Continue reading below
---
Which devices are supported
Samsung, Toshiba, Acer, AOC, Asus, BenQ, Canon, Dell, Hisense, Hitachi, LG, Kenwood, Sharp, Viewsonic Tvs and displays are supported. Among smartphone brands, Acer, Alcatel, Asus, HTC, Huawei, LG, Meizu, OPPO, Panasonic, Samsung, Sharp, Sony, Xiaomi, ZTE are also supported. You can search for your device brand from here http://www.mhltech.org/devices.aspx to confirm if your device supports the standard. If you device is not on the list, then you might have to buy a compatible adopter.
MHL Alternate Mode
With USB Type-C quickly replacing Micro-USB connectors, the MHL Consortium developed what it dubs "MHL Alternate Mode " which a standard that enables devices to support MHL as well as USB 2.0 and/or USB 3.1 functions over the new reversible USB Type-C connector.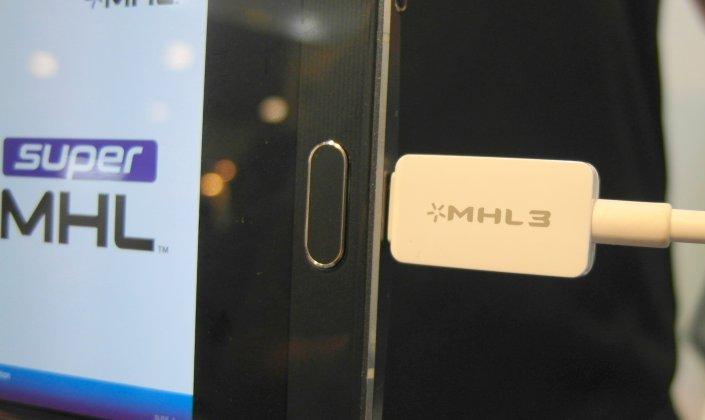 MHL Alt Mode for USB Type-C Features:
4K 60fps over a single lane

8K 60fps over four lanes
Immersive audio (such as Dolby Atmos®, Dolby Digital, DTS:X™, etc.)
USB 2.0 and USB 3.1 Gen 1 or Gen 2
Power charging
Use of existing remote to control MHL phone (RCP)
Backward compatibility with existing MHL specifications
SuperMHL and Beyond
In January 2015, consortium announced the next MHL specification. SuperMHL 1.0 was announced and it will bring support for 8K Ultra HD (7680 × 4320) at120 Hz High Dynamic Range (HDR) video, a reversible 32-pin superMHL connector with higher charging power of up to 40 W. The consortium claims that consumers will be able to connect their mobile devices, set-top boxes (STBs), Blu-ray Disc players, AVRs, streaming media sticks and other source devices to TVs and monitors.
---
8K 120fps video

Deep Color support up to 48-bit color depths
Wider color gamut to view content the way filmmakers intended via BT.2020
High-Dynamic Range (HDR) support to strike the perfect balance of bright spectral highlights along with shadow details
Enhanced audio for immersive surround sound including Dolby Atmos®, DTS:X™, 3D audio, and an audio-only mode
Single remote control for multiple MHL devices (TV, AVR, Blu-ray player, STB)
Power charging up to 40W
Content on multiple displays when connecting a single device
Backward compatible with MHL 1, 2 and 3 specifications
New support for the MHL Alt Mode for the USB Type-C specification
MHL is an alternative way for connecting your smartphone, set-top boxes (STBs), Blu-ray Disc players, AVRs, streaming media sticks to smart TV or video monitors. USB and HDMI are already very popular standards available in billions of devices. MHL sits right in between the two standards enabling you inter-connect devices that would otherwise not be able to talk to each other.
Image: mhltech.org
Advertisement - Continue reading below