Bitcoin mining by rogue websites, compromised ones, torrent sites and even Ad-serving platforms such as YouTube has become a new nuisance for most internet users. Bitcoin mining is a very CPU-intensive process which drains users' computer batteries and resources. It's a terrible thing.
Now users have resorted to using Anti-bitcoin mining browser extensions such as  minerBlock for Google Chrome or not visiting suspected sites at all to combat this problem. However, browser vendors such as Opera now have the feature built-in in their latest versions specifically Opera 50.
Advertisement - Continue reading below
Opera has been [un]famous for including Ad blocker by default in its browser. Along with this Ad blocker, the browser vendor is now incorporating the ability to prevent  concurrency mining sites from hijacking your computer CPU to run bitcoin mining activity.
---
Related post: How to Protect Your Computer From Becoming a Crypto-Mining Machine
---
How to activate Anti-Bitcoin mining tool on Opera browser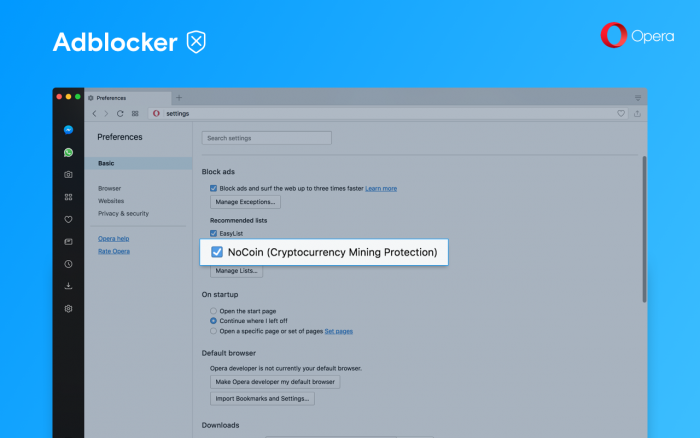 To keep rogue cryptocurrency miners at bay, download Opera browser if you don't have it installed. Open Opera, then enable Opera's ad blocker. You can also find and change NoCoin in Settings (Preferences on macOS) > Basic > Block ads, under the Recommended lists of ad filters. If you like ads but still want to be protected from Bitcoin-mining, you can simply uncheck EasyList and leave the NoCoin box checked.
---
Related post: Some Torrent websites are using your computer to mine bitcoin
---
Users without Opera browser can still use several Anti-Bitcoin extensions. Aside anti-bitcoin mining, Opera 50 comes with extended VR360 support for Oculus and Chromecast support.
Advertisement - Continue reading below