In a digital era, you don't have to look for something. Find a way of something always looking out for you. The Uganda National Examinations Board (UNEB) is clearly defining this by letting you simply send in a text message to access your results instantly via your mobile phone.
Back in the days, to know your results fast, you had to either know of someone in the board that could give you a hint, or base on your teachers' impressions  based on what they heard from marking centers. Gone are such days.
Advertisement - Continue reading below
This is done by sending a simple sms to 6600.
For P7 results, go to messages on your phone and type PLE <space> Index No e.g. PLE 000001/001
For S4 results, go to messages on your phone and type UCE <space> Index No e.g. UCE U0001/001
For S6, go to messages on your phone and type UACE <space> Index No e.g. UACE U0001/501
For Technical Institute results, go to messages on your phone and type TECH <space> Index No e.g. TECH UT002/0001 and send this to 6600.
You will then receive your Exam Result details instantly. Each SMS sent costs Ushs 500.
---
Read About: Access UNEB past papers from this site
---
The issue with the SMS platform is that it has no limit on who will view the results, and thus compromises the privacy of the candidates. You may have a right not to tell someone your results, but you don't have a right to stop the ministry, UNEB, or media from publishing the same results.
Via UNEB eReg Portal
If you don't use SMS platforms, then you can also use UNEB's e-registration platform which also has the latest results.
Visit the UNEB eReg Portal, and select Results   https://ereg.uneb.ac.ug/results. You will be redirected to a page that has a UNEB 2018 Results header. From here, enter your Index Number and tap Search.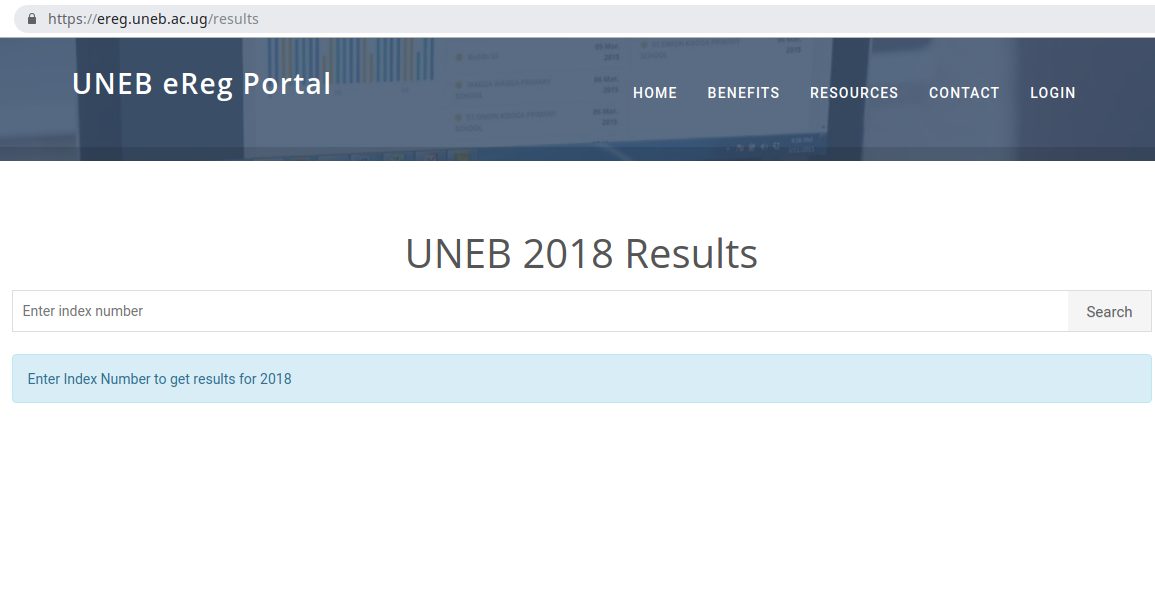 Related post: How to Register Candidate Students on UNEB's e-Registration portal
If you are interested in the results for the past years, you can visit an online database that contains the details of UNEB results by school, and by District, but it does not contain results for individual candidates in a bid not to compromise the privacy of candidates.