Combining the real world with the imaginary is proving to be a big deal, and given that Pokémon Go — that game where you battle with real world monsters — is one of the most downloaded mobile games and is an AR make, then you can actually make relation.
Whereas virtual reality takes you in a computer-generated world, augmented reality brings that world over to you. And if you desire of something but probably can't have it, you may as well make it yourself! Yes, with augmented reality, you can have a virtual objection of your desires while using a smartphone, and even make a simulation of it.
Advertisement - Continue reading below
This is very possible with an experience created using ARCore, a set of software tools from Google that makes it easier for Android developers to overlay digital images on the real world through a mobile device's camera.
Coming as Google's answer to Apple's ARKit, ARCore uses three key technologies to integrate digital objects into a camera image.
These are; Motion tracking which allows the phone to understand and track its position relative to the world; Environmental understanding  which allows the phone to detect the size and location of flat horizontal surfaces like the ground or a coffee table; and Light estimation which allows the phone to estimate the environment's current lighting conditions.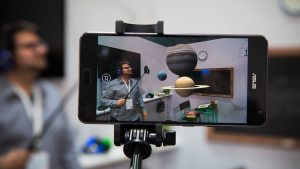 How does ARCore work?
ARCore basically tracks the position of your mobile device as it moves, and builds its perception of the actual world along the way.
It uses the camera to identify features, and to make tracks on how these features locomote. A combination of this movement and readings from the phone movement sensors is then used to determine both the position and orientation of the phone, as it moves through space.
Advertisement - Continue reading below
ARCore is capable of detecting flat surfaces, such as a table or floor, providing an estimate of the average lighting in the area around it.
Quotable: ARCore's understanding of the real world lets you place objects, annotations, or other information in a way that integrates seamlessly with the real world.You can place a napping kitten on the corner of your coffee table, or annotate a painting with biographical information about the artist.Motion tracking means that you can move around and view these objects from any angle, and even if you turn around and leave the room, when you come back, the kitten or annotation will be right where you left it.
Supported Devices
ARCore is designed to work on a wide variety of qualified Android phones running Android 7.0 Nougat and later Operating Systems.
Supported phones include Asus Zenfone AR, LG V30, LG V30+, Google Pixel, Google Pixel XL, Google Pixel 2, Google Pixel 2 XL, Huawei P20, Huawei P20 Pro, OnePlus 5, Samsung Galaxy Note 8, Samsung Galaxy S7, Samsung Galaxy S7 Edge, Samsung Galaxy S8, Samsung Galaxy S8+, and Xiaomi Mi Mix 2S.