Ever found yourself in this situation? You are working on a file/document but the machine you're using doesn't have the software, or the power to get the task done. You need to transfer your work to another PC. Apps and services like Google Drive and Dropbox are great ways to share stuff between devices, but they're not the only way. You can share files and folders through your home network too. It might sound complicated, but don't worry, we've broken it down to help you get it sorted.
It is important to note that for Homegroup to work, the two PCs must be connected to the same Home Network. This feature is disabled in Public Networks for obvious reasons. That said, here's how to share files (including photos, documents, and videos) in Windows 10:
Advertisement - Continue reading below
Sharing using Windows HomeGroup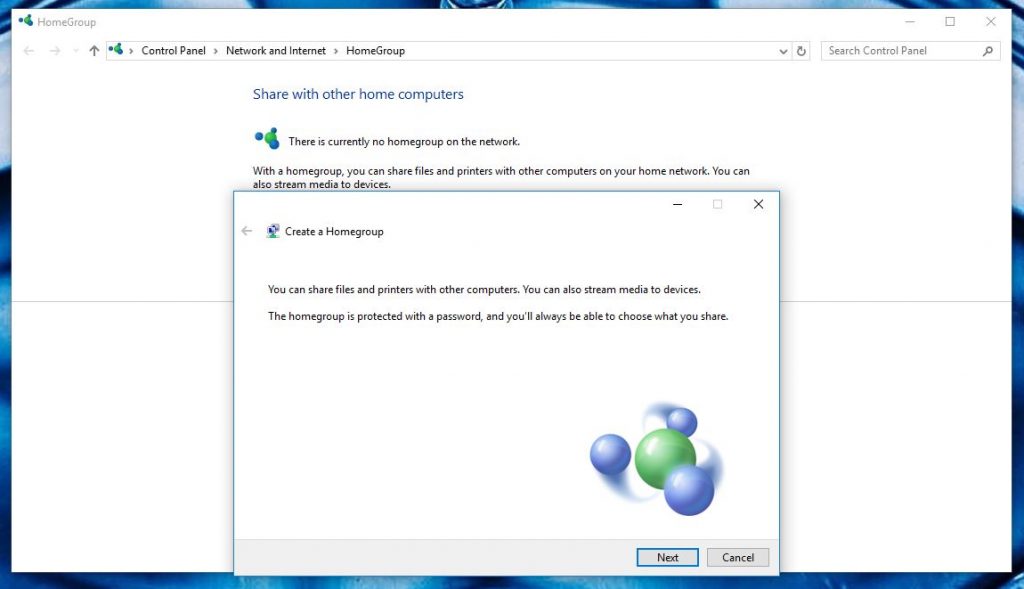 Microsoft has for a while now been baking in a way to send files between computers since Windows 7. Microsoft included HomeGroup to allow Windows devices to share resources with other PCs on a local network with an easy to set up approach that anyone can use. HomeGroup is a feature best suited for small home networks to share files and printers with devices running Windows 10 

If there's a HomeGroup available on your network, click the button to join it. If not, you can set one up.
Setting up a new HomeGroup
Setting up a new HomeGroup only takes a few clicks, please follow these steps if you have no existing homegroup:
Go to Settings > Network & Internet > Status > HomeGroup.
If there's no HomeGroup already set up, click Create a homegroup.
Read the information onscreen, then click Next.
Choose which Libraries you want to share using the drop-down options, then click 

Next

.
VERY IMPORTANT: Take note of the password, you'll need to enter this on your other computers to join the group.
Click Finish to create the HomeGroup.
To join an existing homegroup:
Go to Settings > Network & Internet > Status > HomeGroup.
Advertisement - Continue reading below
If a HomeGroup's available, you'll see information about it in the window. Click Join now. Select Next on the information window, then use the drop-downs to choose what to share with the group. Click Next again. Type the HomeGroup Password (anyone who has joined the group has access to it) and click Next to join.
Click Finish to complete the setup and when the settings update, you'll see which Libraries and devices you're sharing.
 Sharing files with a HomeGroup
When you've joined a HomeGroup, it's easy to share files and folders to it:
Open File Explorer (Win+E) and go to the file or folder you'd like to share. Right-click on the item, then move the cursor to Give access to:
You'll see several options including 'view' and 'view and edit'. Click view to let group members see the file, or view and edit to let them change it. You can also 'Remove access' to stop sharing an item.
After you've chosen, anyone in the group will have access to it through the HomeGroup link in File Explorer. If you only want to share the item with one person instead of the whole group, pick their name or click Specific People.
PS: To stop sharing a file with the Homegroup, navigate to the item, right click and choose toGive access to > Remove access. Also, while it is more straight foward to set this up in computers running the same Operating System, it can work on computers running Windows 7, 8, 8.1 and 10.