Most home users now have several Wi-Fi enabled devices at home; your smartphone, a tablet, a laptop, smart TV, streaming set-top-box, an Xbox among several others. And a single WiFi router or MiFi won't cut it else you end-up with several WiFi dead zones. This is why the Wi-Fi Alliance, the organisation that oversees development of the WiFi standard is rolling out EasyMesh protocol to put sanity back into your home WiFi network.
The Wi-Fi EasyMesh is a certification program will enable WiFi router vendors produce routers or Access Points (AP) that talk to each other in order to create a single wireless network that envelops your entire house or office without dead spots. Until now, if you wanted such a dead-simple unified home WiFi system, you have to buy a Mesh WiFi router from a single vendor such as Google WiFi, Netgear, Linksys, TP-Link and D-Link, Eero, Luma or Plume. This means vendors can charge hefty prices which is why home Mesh WiFi routers range between  $249 to $300.
Advertisement - Continue reading below
---
Related post: Beginner's guide to Home Mesh WiFi Router Systems
---
But now the Wi-Fi Alliance wants to change all that with EasyMesh.
Consumers will now have the flexibility of choosing multiple routers or rather Access Points(AP) from multiple vendors to create a single unified wireless network as long as they are Wi-Fi EasyMesh compliant.
You can call it "Smart WiFi" if you like. It all will work indoors or outdoors with minimal or little configuration from you. EasyMesh APs won't interfere with each other and your WiFi devices will automatically connect to the AP that offers the best wireless signal and bandwidth. At least this is the hope.
Related post: The updated guide to WiFi wireless network connectivity
Sadly, it's not always the case as vendors don't like to play nice with each other. They would want you to buy everything from them instead of getting different pieces from different vendors.
Advertisement - Continue reading below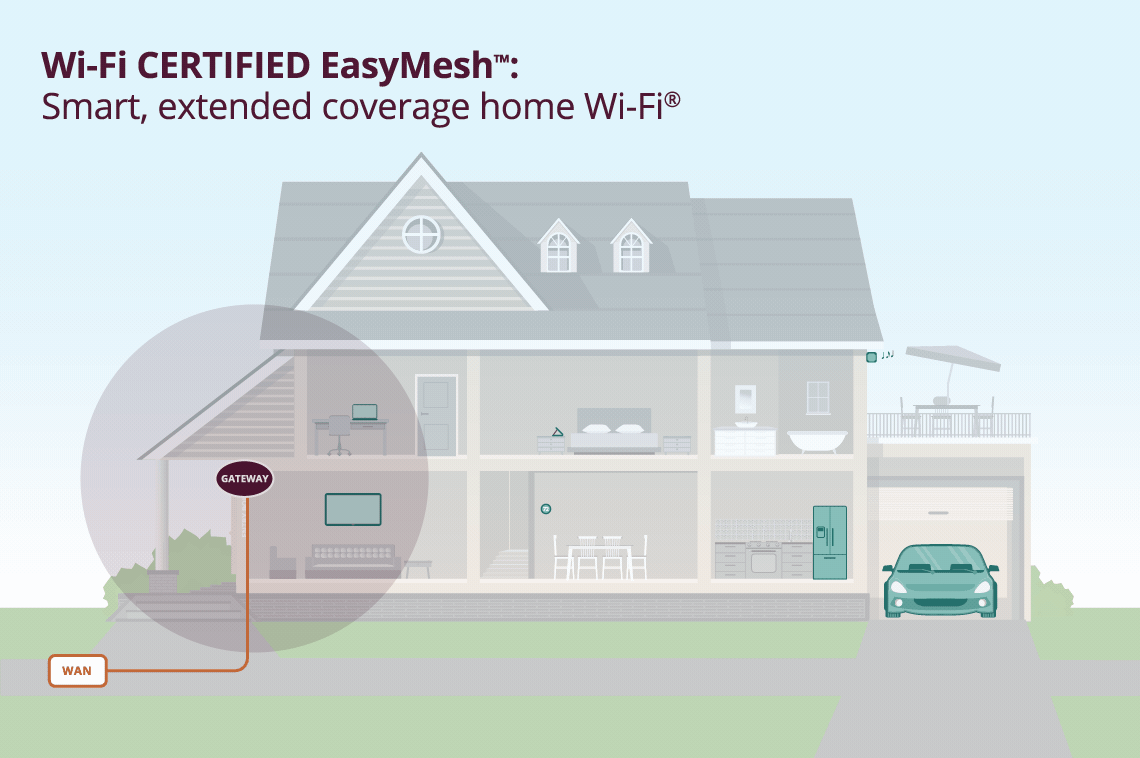 According to the WiFi Alliance, EasyMesh will bring the following benefits;
Flexible design: Allows for best placement of multiple APs providing extended coverage.
Easy setup: Delivers automatic device onboarding and configuration.
Network intelligence: Self-organizing and self-optimizing network collects information and responds to network conditions to maximize performance.
Effective load balancing: Guides devices to roam to the best connection and avoid interference.
Scalability: Enables addition of Wi-Fi EasyMesh APs from multiple vendors.
Wi-Fi EasyMesh APs require support for 802.11n compliant Wi-Fi devices. If you don't want to be locked into a single vendor, then you want to check if the AP you are buying is EasyMesh compliant. It will take several month before we start seeing EasyMesh WiFi devices on the market. Right now, if you want a single whole home WiFi system, then your best bet is purchasing one from a single vendor; Google, Netgear, Asus, TP-Link or D-Link. You can find out more from this previous post.
Image: smarttvaerials.co.uk