In the grand scheme of things, the Tecno Spark 2 might or might not set your world on fire. We will leave that for the flagships, some of which top a depressing $1,000 price tag.
But know this, there will be lots of sparks at least, be sure of that. Tecno has consistently shown that you don't need to dish out crazy money to have yourself a decent phone with decent specs.
Advertisement - Continue reading below
On that point, the Tecno Spark 2 ticks off most of the boxes when it comes to the phone requirements of 2018. These include the venerable Face ID, 18:9 aspect ratio with a bezel-less display, 6-inch screen or thereabouts, a good battery and an HD screen.
The specs themselves are a different kettle of fish and the Tecno brings a mixed bag to this costume party. At this juncture, let's have a look at what you get or don't get.
What to like
Brilliant 18:9 HD+ display
Humongous 3500mAh battery
Front camera portrait mode/bokeh blurring effect
HiOS looks good
What not to like
No LED message notifications
Only one speaker for sound output
Audio jack situated at the bottom
Micro USB slot
3G only
---
Related:
---
Tecno Spark 2 Spec Sheet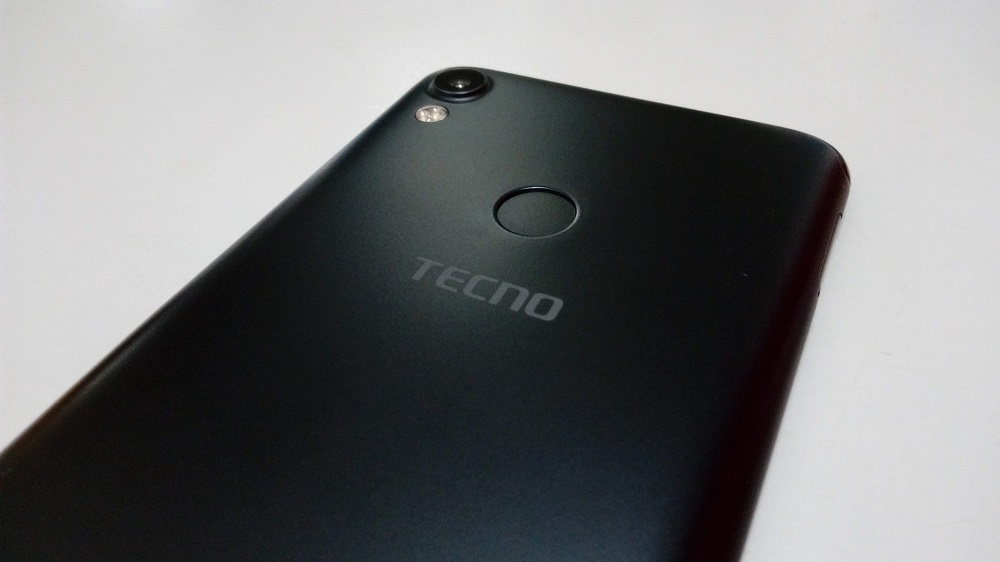 Announced: 2018, June
Available: 2018, June
Model: Tecno KA7
Colors: Champagne Gold/Bordeaux Red/Midnight Black/City Blue
SIM: Dual SIM (Nano-SIM, dual stand-by)
OS: HiOS v3.3.0 based on Android™ 8.1.0 (32 bit Go Edition)
Network: GSM, WCDMA, GPRS, EDGE, HSPA
Dimensions: 159.4 x 76.2 x 7.8 mm
Display: 6.0″ 18:9 HD+ 1440 x 720px capacitive touchscreen, 16M colors
CPU: MediaTek MT6580 Quad-core 1.3GHz, 64bit, ARM Cortex-A7 Mali-400 MP Processor
Memory: 16GB ROM, 1GB RAM, microSD, up to 32 GB (dedicated slot)
Camera: 13M (4160 x 3120) Tri-LED rear flash, 8M (3264 x 2448) front Camera with Dual LED Flash
Connectivity: Wi-Fi 802.11 b/g/n, hotspot, Bluetooth v4.1, OTG, WiFi Direct, HSDPA 850 / 900 / 1700(AWS) / 1900 / 2100
Sensors: Gyroscope, Accelerometer, Orientation, Ambient Light, Proximity, Compass, Fingerprint, Face-ID
Battery: Non -Removable Li-Ion 3500 mAh battery
Build & Display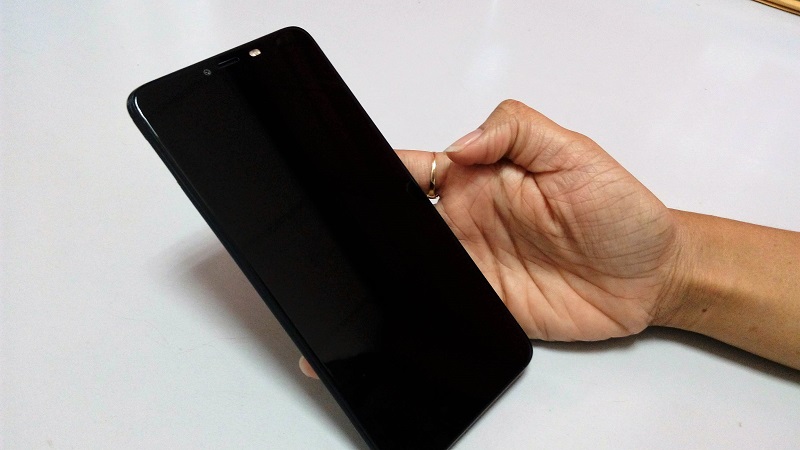 Advertisement - Continue reading below
In this day and age, nothing screams 'cheap phone' as loud as thick bezels fencing a device. In that regard, the Tecno Spark 2 is doing better than good. The first thing that will meet the eye is the massive 6-inch almost bezel-less display. The HD+ capacitative screen crams in a decent 1440 x 720-pixel resolution at 320 dpi. It also makes use of an 18:9 aspect ratio to extend relative screen size without necessarily getting a bigger phone.
Not that we are saying it's a small phone. The Spark 2 dimensions are 159.8 x 76.8 x 8.5 mm, which is more on the flat slim side, but still a bit wide for some fingers. The Polycarbonate finish is smooth and rounded, broken by ridges at both ends. The device can get slippery especially when you use your device is a horizontal position. Be sure you're not holding it in empty space to reduce chances of slipping and falling.
The camera lens protrudes from the device, something which we don't really care for. But you can always get a jacket to protect camera lens and device from scratches. This is directly contrary to the Fingerprint sensor which is a well-positioned depression right where your index finger would be.
The display is bright, so bright in fact that its lowest brightness setting is still too bright, especially at night. The Eye Care feature is a saving grace. It tints the screen a sepia-ish color, which is easier to look at in dim light. What's more, you can set it to automatically kick in when you want it to.
Tecno Spark 2 Performance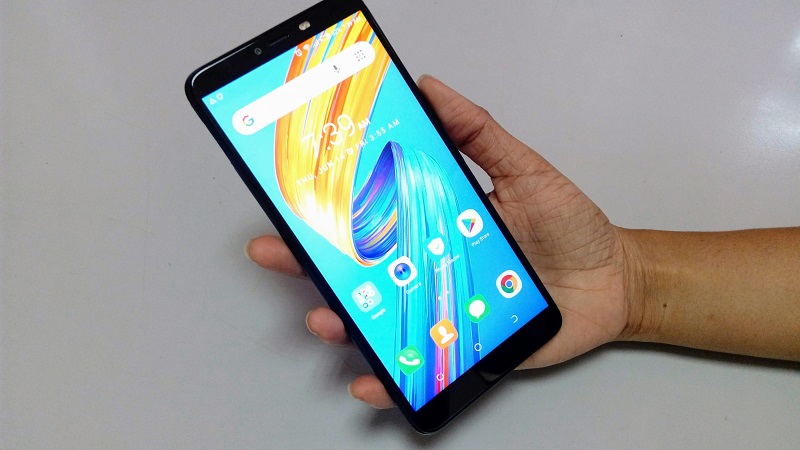 Einstein is quoted to have said that you shouldn't judge a fish by its ability to climb trees. In this respect, we would urge you to remember that the Spark 2 is running 1GB of RAM and 16GB of ROM. The MediaTek MT6580 Quad-core Mali-400 MP Processor does a commendable job keeping things together but it has its own limitations. We're running on a shoe-string budget after all.
In the performance department, we noted that manoeuvrability is snappy and the apps and games load just fine overall. Our Temple Run test went down without a hitch. The game rendering is passable and we didn't notice that much sluggishness.
At this juncture, we observed an itsy bitsy inconvenience. Sometimes, the fingerprint sensor took a while to respond when the device came from sleep. Often times we had to use a passcode or pattern unlock. Face ID works fine, though, any time. B
Advertisement - Continue reading below
Being the geeks that we are, at some point we went all gung-ho on the Spark 2. We took our phone through a serious stress test, the same way we would is a heavily specced device. Consequently, we experienced intermittent shutdowns and restarts. ut that can be a fault in our own piece, so we will leave it at that.
Not that it was unexpected, given the specs. It's always a good thing to know your limitations. However, we also believe it was because we had a pre-market device with a few bugs that get squished in the final product.
The lesson in all this is that the Spark 2 does get overwhelmed when I use it the same way I am used to using my 3GB RAM and 32GB ROM Infinix S2 Pro. One would say that you can't buy a Vitz and expect the performance of a Ferrari. We have to be realistic here.
Camera
The Tecno Spark 2 camera comes with some cool wizardry that will put a spell on you. The camera app is your usual fanfare. You don't even get much in terms of functionality. Not that you need it. The modes comprise; Normal, Beauty, Night and Video.
But in Normal mode, we managed to take some very enviable shots without even trying too hard. The color depth and exposure make a good showing of themselves. Expect a second, though, for image stabilisation before the shot is taken.
Tecno threw in a Bokeh effect along with the modest 8MP front-facing camera. The blurred background is somewhat of a hit and miss though. Some shots lose limbs and tufts of hair in Bokeh mode, which Tecno calls the Portrait Mode. Despite these misgivings, overall the effect gives your photo moments a new spark for which we are grateful.
Pictures save to Google Photos, which works even in offline mode. It doesn't hurt that this way, you can automatically save your candid shots on the cloud. Google Photos can even help you out with some filters and other minor edits.
Battery & Charging
One thing you can say about this generation is that they have grown in good times. Back then, charging an Android battery took as much time, if not more than it took to drain the battery.
Advertisement - Continue reading below
Of late, Quick Charge is all the rage and we still feel it could be better. Unfortunately, the Tecno Spark 2 just took us back to those dark days. The battery does take its sweet time charging, clocking a few hours, in the absence of Quick Charge.
But fret not, there's a silver lining in all this. The Tecno Spark 2 is all 4,000mAh of humongous battery. That's something Tecno fans can boast they have over the iPhone X which has only 2716mAh. The battery can and does last a long time.
Also, keep in mind that the Tecno Spark 2 is running Android Go. At the heart of it, optimisation in every sense of the word is what this Android version is about. True to form, we comfortably used the Spark 2 for 2 days before we needed to charge it. That's something, isn't it?
In conclusion
The Tecno Spark 2 introduces a host of new features to the Spark line-up including Face ID, 18:9 aspect ratio, and a better battery. The performance is okay without being outstanding, so don't expect it to handle heavy apps or dozens of processes. We recommend the Tecno Phantom for the like.
The Spark 2 would appeal to people who wish to remain hip and trendy without spending obscene amounts on a device they won't use extensively. That's a win-win in my book.