Whatsapp groups I subscribe to are dead silent you could hear a pin drop. That's evidence that the Social Media or OTT tax is now in full effect in Uganda. But according to multiple reports, defiant Ugandans are turning to Virtual Private Networks(VPNs) to bypass the censorship.
However, even though VPNs don't qualify as OTT services, the telecoms will block them unless you pay your OTT tax according to an FAQ posted on the MTN website.
Advertisement - Continue reading below
VPN's are a common global method of accessing internet services while masking the nature of the internet service being used.  It is because such VPN's can then be used to access OTT services indirectly that government has included such sites as being subject to OTT TAX.  Unfortunately, the creation of a VPN service is relatively easy, and takes place outside of Ugandan borders.  For this reason, the operators will block access to VPN's that the authorities declare to be used for OTT services, unless the consumer has paid their OTT TAX.
Uganda Communication Commission (UCC) boss Godfrey Mutabazi said telecoms will slowly, one by one block VPN Apps that are aiding Ugandans to evade paying the social media tax according to the Weekly Observer.  VPN search keyword in Uganda has spiked in traffic in the last two days according to Google Trends which means a lot of Ugandans are searching to VPNs apps right now to evade the tax.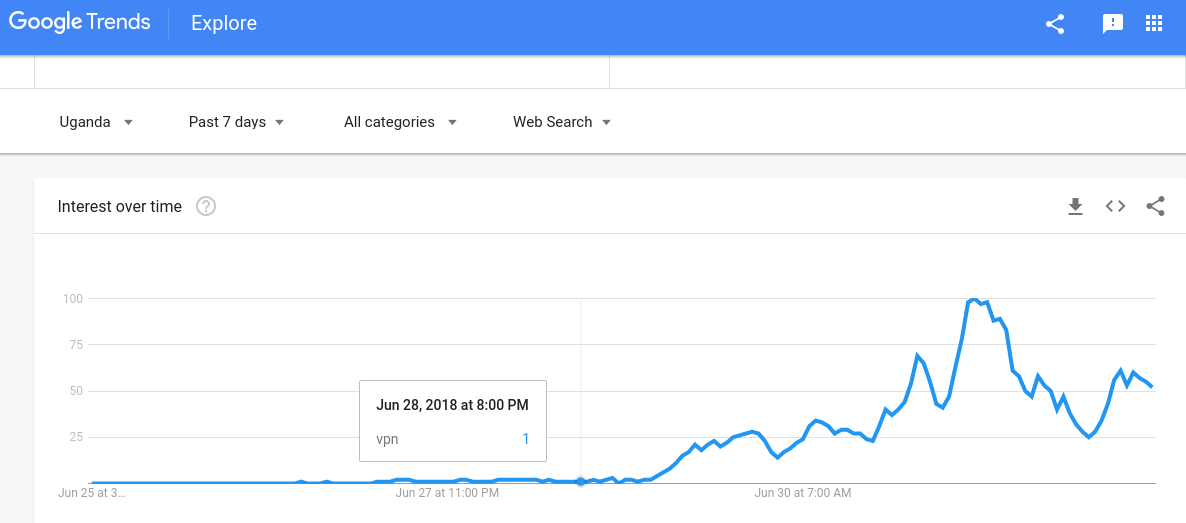 How will Telecoms block VPNs?
A VPN only hides your IP address as well as the contents of whatever you are browsing online. This is how its possible to browse a specific website if it's blocked in your country. However, to connect to a VPN provider, you still go through your Internet Service Provider(ISP) or Telcom for this matter. If the Telecom knows the VPN provider you are connecting to, then they can effectively block any traffic (even though they have no idea what it is) going to that provider's IP address. So Telecoms will learn and compile a list of popular VPN provider IPs and block them unless of course you have paid the OTT tax.