What you watch on YouTube today can impact on future usage while influencing your recommendations. If you watch a horror movie by dull choice, YouTube will keep bringing up more horror movies for you to view the next time you open your account. This sucks, especially if whatever you watched was not an interest, or if it's embarrassing to watch in public, and for this reason, the YouTube Incognito Mode is being added to the YouTube app for Android.
The new feature allows users to have access to all their video needs and browse videos on the YouTube app without worry of getting their viewing and search history exposed; the way one would browse through pages in the incognito mode on the Google Chrome web browser.
Once the update fully rolls out, the new mode should be available in the Account section of the app with the Sign out button at the bottom of the page replaced with Turn on Incognito. With your account avatar in the top-right corner accessible from anywhere in the YouTube app, you can enter this mode so fast and with ease.
Advertisement - Continue reading below
How to switch on YouTube Incognito Mode
Press your profile icon in the top right corner.
Select "Turn On Incognito."to watch your videos without fear of exposure.
If you enable the feature for your first time, you'll get a notification letting you know that you're browsing incognito.  There are several indicators that your search and viewing history are not being recorded, including Google's hat and shades avatar icon in the top-right and a "You're incognito" bar at the bottom throughout the app.
The Home and Trending feeds are the only parts of the app accessible when Incognito is turned on. Subscriptions, Inbox, Library, and Search remind you how content is hidden and that nothing is being saved to your history.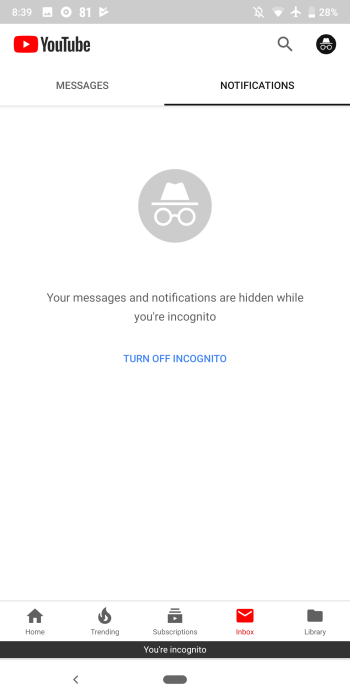 If you want to add a video to a playlist when private, a button will appear at the bottom to quickly "Turn off Incognito" while keeping your position watching the clip. The option to just pause watch and search history — and therefore stay logged in to retain video suggestions — remains available in settings.
---
Related Article: How to Use YouTube's Picture-in-Picture Mode
---
Turning Off Incognito mode
Click the icon in the top right corner. Select Turn Off Incognito.
Advertisement - Continue reading below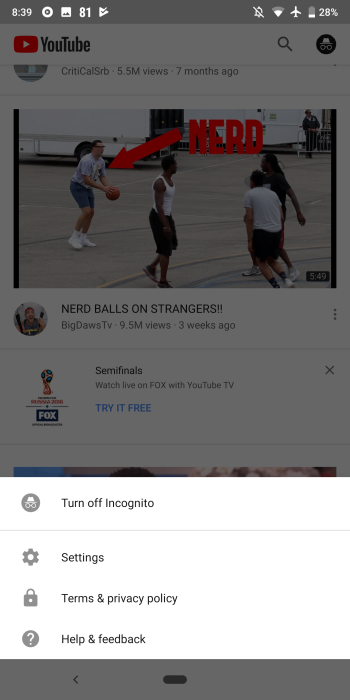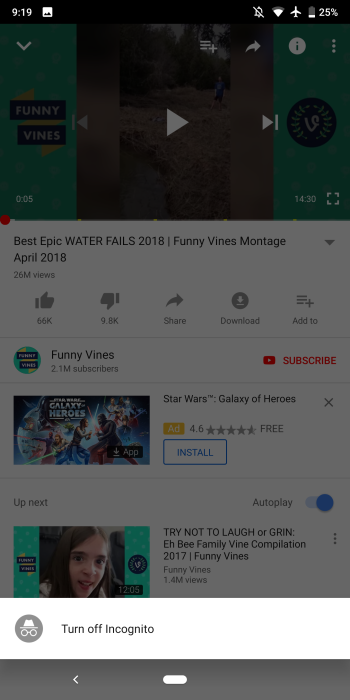 Incognito will automatically turn off after a period of inactivity, or users can manually tap the avatar in the top-right corner.
Google still cautions the users with a disclaimer that their activities while in incognito mode might still be visible to their employer, school or Internet service provider. While in this mode, users will not be able to access their Subscriptions, Inbox and Library, and users will not be able to save any video to their playlists as well.
The feature is currently unavailable on iOS, but it may likely come soon.
Images: 9to5Google, Digital Trends