How many of you can relate with this situation? You bough some data bundles, not a lot of it because you just want to reply to an email or two, maybe respond to some WhatsApp messages on your way home because once you're home, you'll be connected to WiFi for the heavier tasks. So you purchased 75MB to last you the two hours of your commute. 10 minutes later, you receive a text from your carrier telling you you're about to run out of bundles. You quickly turn off your data to save your credit. You go on to check your credit balance and it's all gone. You overused your allocated data and ate into your credit too.
This has been the frustration for many Kenyans. A quick scroll through your carrier's Twitter or Facebook page will show you the level of frustration among users. But then a couple of months back, Safaricom users got a reprieve with the launch of 'My Data Manager". This service only allows you to connect to the web if you have a data bundle.Under no circumstance shall your credit be used to browse the web when this feature is activated. Neat, right? Customers on other carriers wanted in too.
Advertisement - Continue reading below
---
ALSO READ: Telkom Kenya launches its self-service app for Android and iOS
---
Several months later, the service is now available to Telkom Kenya subscribers. And rightfully so. Telkom kenya is quickly becoming the go-to internet carrier in the country yet still remains third among the top three carriers in the country.
How to Activate Data Manager
It is really simple to sign up, or more accurately, opt-into this service. All you need is to be a Telkom subscriber, regardless of your account or data balance.
Dial *544#
Select option 8 to go to the next page of options. Select Option 8, Data Manager.
You'll then be presented with a brief description (This is a service that that ensures that you are not charged from airtime when browsing. Data charges will only be from data bundles).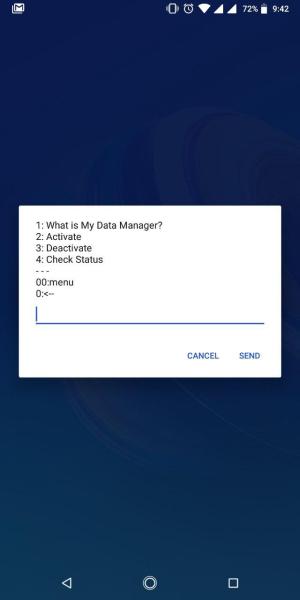 Select the operation you'd wish to perform, Activate, Deactivate or Check Status from the following menu.
You should soon receive a confirmation message from Telkom acknowledging the activation of your data Manager. Go ahead and surf the web without fear of running out of bundles and using up all your credit in the process.
Advertisement - Continue reading below
Once you purchase more bundles for your device, to get reconnected to the web, you might have to reboot your device, that is if turning off your data and turning it back on doesn't reconnect you automatically.
In-post image courtesy of Techweez and TechArena