There's a lot of things you can do with the MTN MoMo App and the MTN Mobile Money tricks we have here are but a bare minimum of what the app is capable but small moves make big strides. Let's take a look, shall we?
MTN MoMo App Tips and Tricks
1. Download Statement From the Momo App
Downloading your mobile money statements from the MTN MoMo app is one of the underrated features of the app. The app has a summary of your last transaction on the home screen with your account balance.
Advertisement - Continue reading below
Click on the button labeled "see statement" to see your account history. The account history has cards that have information regarding your last 10 transactions from withdraws to airtime purchases and deposits.
You request MoMo transaction statements for 30 and 60 days respectively and download the file in PDF format to view within your phone or PC.
Alternatively, you can select my "My Account" tab on the bottom right corner of the app and access your MTN MoMo statements.
2. Use Fees Calculate to Check Withdrawal Fees
Another useful aspect of the MTN MoMo app I got was the fees calculator, you can calculate the transaction fees (withdrawal charges, bank deposit, and payment charges) you'll be charged when sending money to MTN users and other numbers.
To Get started with using the fee calculator feature on the MTN MoMo app, on the home page of the app, scroll to "Fees Calculator" and select info. Choose the service you want to calculate its fees and proceed. Services available include sending money, payments, bank deposit, and withdrawals charges.
I don't know about you but I always struggle to remember the charges fee off-head when I plan on sending or withdrawing money and I found this feature to be immensely helpful.
Advertisement - Continue reading below
3. Deposit and Withdraw Money From You Bank Account
Managing deposits and withdraws of money from your Bank account seemed like a far-fetched idea when mobile money just started in what it's currently called mobile money 1.0.
Thanks to tech and Evolution from USSD-led mobile money 1.0 to smartphone-led Mobile Money 2.0 coupled with an interoperability layer with banks. Bank transfers to MoMo wallet are possible and highly efficient lately.
To deposit and withdraw money from your bank account on the MTN MoMo app, select "Bank Transfers", choose whether to withdraw or deposit and select your bank.
Keep in mind, other banks require you to register for this service and have your phone number attached to the mobile money account before doing this kind of transaction meanwhile others don't.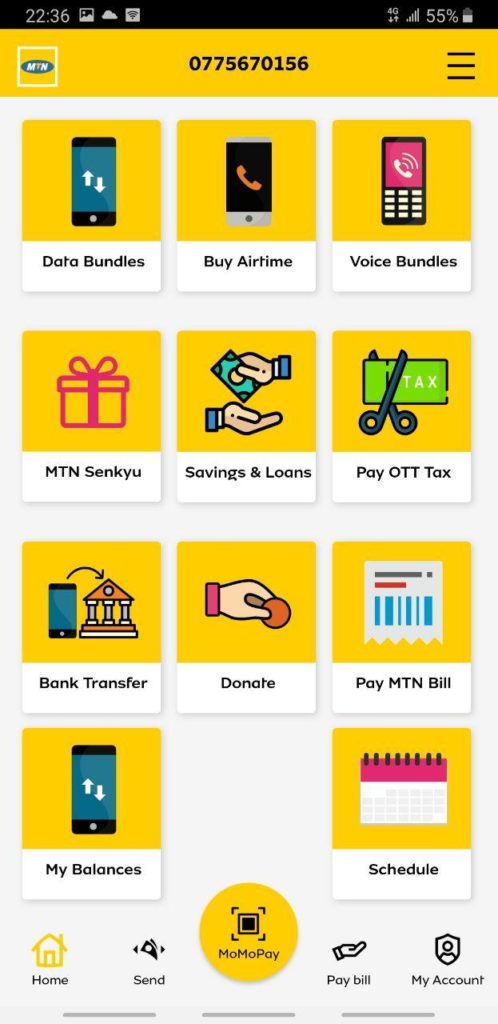 4. Schedule MoMo Transfers and Payments
You can schedule your utility bill payments and sending money from your account to another number using the MTN MoMo app. Transfer scheduling comes in 3 frequencies of monthly, daily, and weekly.
To schedule MoMo payments on the app, go to the menu option on the top-right corner of the app, select "Tips and Tricks" and look for Schedule to get to the schedule page and choose either to schedule payments or transfers.
---
READ ALSO: MTN vs Airtel Mobile Money Apps Compared: Which One Is Better?
---
General Mobile Money Tips and Tricks
5. See Account Balance From MTN Mobile Money SMS Messages
Whenever you make any transactions from mobile money, you receive SMS text messages to show you the timelines and progress of your status. The last message usually has your mobile money balance. This can be quick trick to have a glance at your MTN MoMo balance than having to go to the USSD or using the MTN MoMo app.
Advertisement - Continue reading below
6. Request Funds of Deceased Relative
MTN Uganda gives users the ability to request funds of their deceased relatives. Here are the steps you have to follow to be able to claim or request money of a deceased person from MTN;
Step One: The registered next of kin registered on the mobile number is required to get a legal letter of administrations to confirm responsibility.
Step Two: You will be then be required to go to a nearby MTN service center with a valid National ID and your letter of administration to initiate the process of clamining the money.
Step Three: An MTN agent will thereafter follow up on the way forward and give you a proper next steps.
7. Withdraw Mobile Money From an ATM Machine
We have extensively covered how you can withdraw mobile money from an ATM machine here.
In what's called Cash out, MTN Uganda has partnered with a number of banks to allow you withdraw your mobile money from an ATM machine. No need of an ATM bank card. Supported banks include Centenary bank, DFCU bank and several Inter-switch supported ATM machines.
Taking the case of Centenary bank ATM, here's how to withdraw your mobile money.
Press any key and select MTN Mobile money.
Enter your mobile phone number registered to MTN Mobile money.
Enter the amount you wish to withdraw.
Enter your mobile money PIN code and select Ok.
Withdraw your cash.
And that's it for our top 7 tips and tricks. Let us know in the comment section what we missed and your top hack you have been using lately.
Advertisement - Continue reading below