It's 2020, almost every mobile money provider has a mobile app companion to extend services delivery. And quite interestingly, the user interface and overall user experience of mobile apps are considerably better than USSD.
In this neck of the woods, MTN Group has the MTN Momo app for mobile money services and MTN MyApp for products and services. Meanwhile, Airtel packs everything in the myAirtel app. Another big part of making mobile money more useful is increasing the number of products and services that can be purchased with it.
Advertisement - Continue reading below
Follow our thoughts as we compare these apps from the leading two telecom providers in Africa. We'll explore the core features, UI and UX, performance & security, storage and how it is improving the core telecom layers beyond the sim card interfaces.
Mobile Money Features
The important part of making mobile money more useful is increasing the number of products and services that can be purchased natively with it. For the case of MTN Group, they have opted to distribute it over two mobile apps which is a bit unpleasant.
myMTN App & MTN Momo App Mobile Money Features
The myMTN app is mainly used for MTN's product and services; to purchase airtime, minutes, SMS, pay OTT tax and data. You can also use it to pay for international and roaming bundles. Additionally, you can get 100% credit on your daily bundles (thanks to the new Dobolo campaign) when you purchase from the myMTN app. 
The biggest perk for me using this app has been the airtime/data sharing option. Sharing data via the app is straight forward: enter the recipient phone number and the amount of data to share (without adding the unit i.e. MB or GB). You can share a minimum of 5MBs and max of 1GB. 
The downside for me has been paying for the controversial social media OTT tax. The checkout process where the payment option is only mobile money and none like an option to pay using the airtime. Why use an app that will take you to another platform to complete a transaction, it's better you remove the functionality altogether.
MTN Momo app is mainly used for mobile money services as the name suggest and does a phenomenal job in doing so.
Advertisement - Continue reading below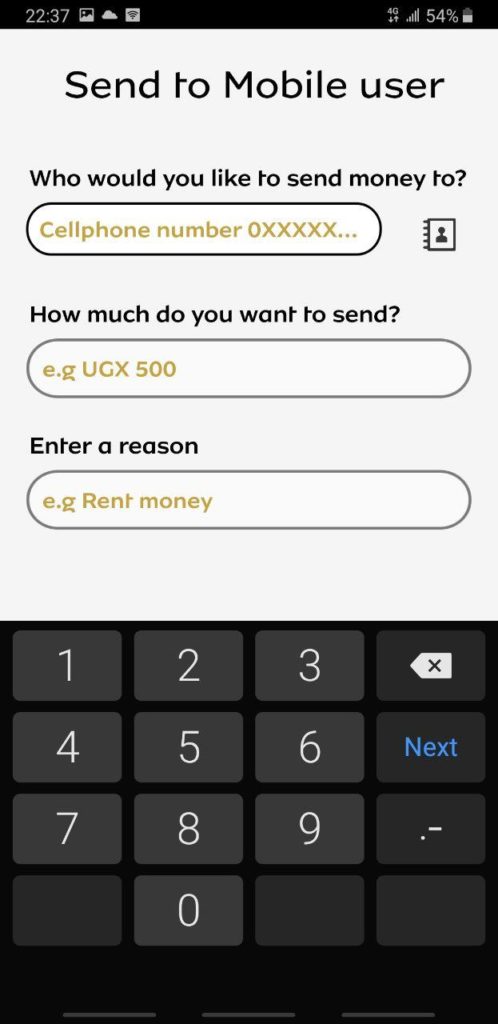 Sending money is simple and direct. First, you choose if you want to send a registered MTN mobile user or a third-party user. Then you enter the cellphone number, the amount you are sending plus the reason. And you are done. You will see the account details for the recipient before confirming the transaction.
Other additional features include paying school fees, bill payments, savings & loans, bank transfers, donation and all the MTN service that the myMTN app does.
Another useful aspect of the app I got was the fees calculator, you can calculate the transaction fees (withdrawal charges, bank deposit and payment charges) you'll be charged when sending money to MTN users and other numbers. All of these come beneficial when you are cost-sensitive and wants to know upfront what all these charges are before making a transaction.
myAirtel App Mobile Money Features
The myAirtel app is a one-stop center for all Airtel services such as buying data, voice and SMS bundles, bill payments, and combos. Additionally, all mobile money services including Bank and wallet money transfers are only a few taps away.
In the functionality department, the myAirtel app doesn't lack anything significant but rather add a Midas touch to the platform with some of the features. The top two features that stood out for me are the Airtel Shop location finder and the referral program.
Refer to earn up to 50MBs of data whenever a colleague redeems your referral link by registering on the myAirtel app. Your friend, on the other hand, gets up to 200MBS worth of data when they use your link.
On the Airtel shop locator, the app pulls your location and shows a list of all nearby Airtel shops to help you in case you are looking for one. This works whenever you download the app regardless of whether you're a registered user or not. Plus, it looks like the service is pulling resources from Airtel Uganda's official website.
We haven't talked about all the features on all apps but here are some vital features you should know when making up mind to download one;
Advertisement - Continue reading below
| | | | |
| --- | --- | --- | --- |
| Features | MTN MoMo | MTN myApp | myAirtel App |
| Goods and Service Payment via QR Scan | Yes | No | Yes |
| Send Money | Yes | No | Yes |
| School Fees Payment | Yes | No | Yes |
| Buy OTT Tax | Yes | Yes | Yes |
| Transaction History | Yes | No | Yes |
| Utility payment | Yes | No | Yes |
| Bank withdraws and deposit | Yes | No | Yes |
| View mobile money transaction fees | Yes | No | Yes |
Interface & Usage Experience
Although the initial value proposition of mobile money use cases were local remittances and p2p payments, we are now seeing the case widen with the mobile financial services.
Both MTN Momo app and myMTN app are zero-rated on the MTN network meaning you can open and use the app even if you aren't subscribed to a data plan. You can use the apps as long as your smartphone is connected using the MTN internet network service.
Now, this is a big bonus when using the app and I can't wrap my head around why Airtel can't do the same for their mobile app. You need mobile data or an active data plan to use myAirtel app.
On Android phones, the OTP PIN is automatically filled in to complete the login process when using the same SIM cards on the phone. This is only possible when using the MTN MoMo app.
When accessing Airtel Money on the myAirtel app, you have to click Proceed to continue which is unnecessary and required to enter mobile money PIN every time you are completing any transaction.
What I find extra cool using the myAirtel app when sending money is Airtel loads your contact to the app so you don't have to remember the phone numbers but rather choose from the contact list within the app.
Performance and Security
MTN Momo app uses 2-factor authentication when before logging into your account. After entering your mobile money PIN, a temporarily 4 digits OTP is sent to your phone number to complete the registration process before going to the account dashboard.
Performance-wise, both MTN apps are a bit more superior to the myAirtel app. There is no wait time when switching between tabs and selecting services; your payments are immediately completed whenever you confirm the transactions.
Advertisement - Continue reading below
myAirtel loads without any security authentication. This is quite bad considering that the app dashboard has sensitive information like your number, the airtime balance, and the data.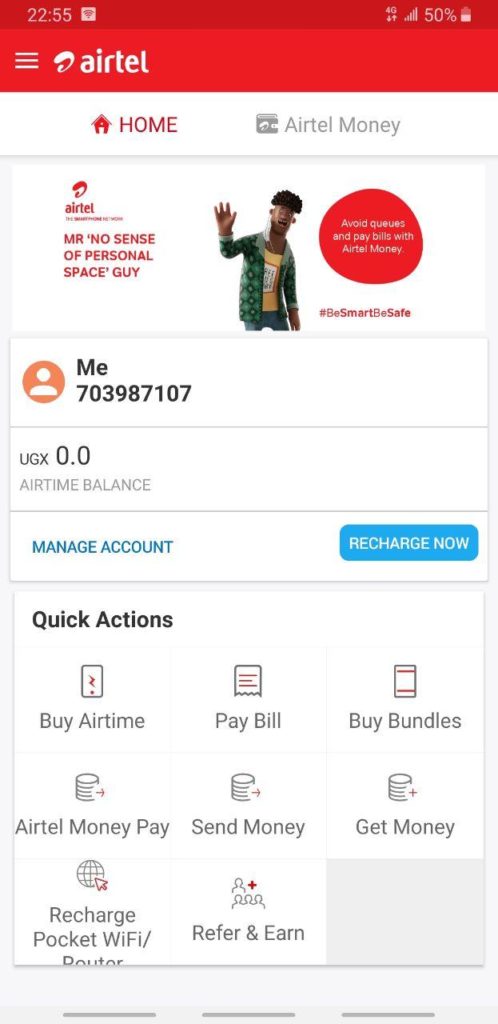 All apps can use extra security options, though. A security lock feature like fingerprint or face unlock would be highly instrumental in this scenario.
Storage
Storage is a big determinant when it comes to installing an app and here is how much space the app will consume from your phone's storage.
| | | |
| --- | --- | --- |
| App | Andriod Play Store | Apple App Store |
| myMTN App | 39MB | 60.3 MB |
| myAirtel App | 51MB | 128.3 MB |
| MTN MoMo App | 13MB | 30.7 MB |
Final Rating
The question of which app is superior is quite subjective as it depends on the task you want to accomplish. The fact that MTN Group requires you to download 2 separate apps to be able to fully use their services says a lot about their direction and how they are faring in the mobile financial services which I feel not all customers will appreciate.
Personally, I liked the experience with the MTN MoMo app. It ticks all the boxes for a super app when it comes to managing financial services but the idea of having another app companion doesn't sit well with me.
On the other hand, Airtel makes life easier with the myAirtel app. Combining all services under one roof comes with a myriad of benefits. The porous security is a downside but overall, it's a decent app that gets things done.
If you've used any or all of these app, tell us about your experiences in the comment section below. Which app do you like the most and why?
Advertisement - Continue reading below