In the tech industry, few devices get the kind of hype and attention that Xiaomi's new sub-brand, Poco, and their first device, the Pocophone F1 have received. And righfully so, we haven't seen such a disruptively priced device since the early days of OnePlus; flagship specs with just the right amount of compromises, minus all the bells and whistles, all at less than half the price of similarly spec'd competitors.
With the OnePlus magic and all, we didn't quite have much to smile about as these devices didn't quite make their way to our shores, at least not officially. Stores like Avechi became our source of these devices, but then when they finally got stocked, they weren't priced as competitively anymore, maybe shipping fees and customs? Also, after-sale support was sh*tty or outright non-existant. But then this could change with this new flagship killer.
Advertisement - Continue reading below
During the launch of the Redmi 6A where Xiaomi also announced their official presence in the Kenyan market, the company mentioned that they would be bringing their sub-brand, Pocophone onto the market, and their first device under this brand, the Pocophone F1 would also be first. And today, Pocophone has offically confirmed that the F1 will be coming to Kenya, Egypt, South Africa and Morocco, among other countries in Asia and the Middle East.
We have renewed the list of markets POCOPHONE F1 will be available in. We look forward to bringing POCOPHONE F1 to these markets soon! #GoPOCO #MasterOfSpeed pic.twitter.com/dzwJv3jf0K

— POCOPHONE Global (@GlobalPocophone) August 27, 2018

Xiaomi is a super popular brand among enthusiasts and software tweakers and it is a shame that it is not officially available in more African counties.
Availability
The Pocophone F1 will be officially available in 62 markets all across Asia, Europe, Middle East, Africa and Americas. In Africa, Kenya, Egypt, South Africa and Morocco have made the list with still no word of more countries. If this changes, we will be sure to update you on the same.
Pricing
The Pocophone F1 comes in two storage options, 64GB and 128GB, priced at 329 Euros and 369 Euros respectively. Converted to local currency, these should retail at anywhere between Kes.35,000 and Kes.40,000
Advertisement - Continue reading below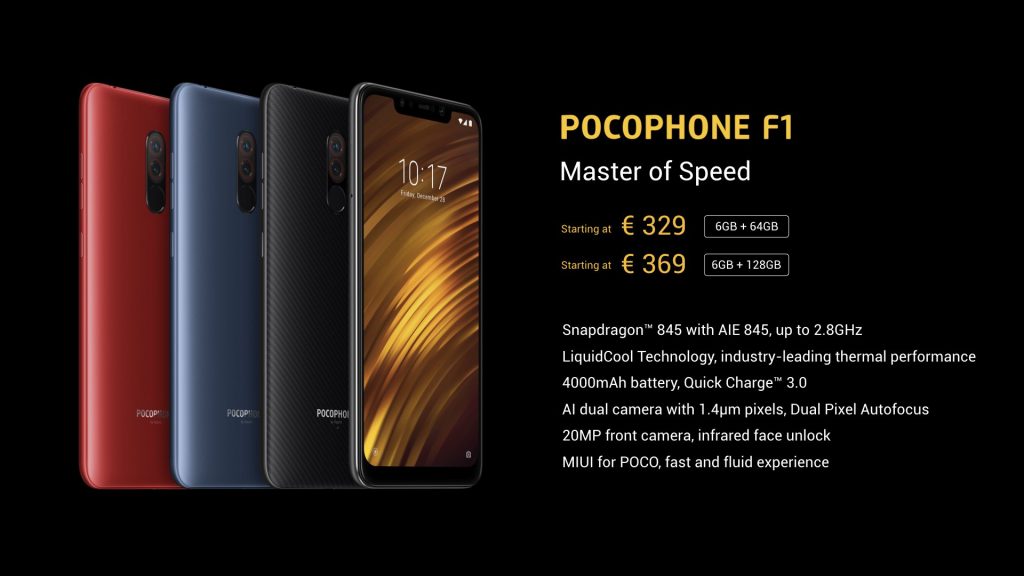 UPDATE: Avechi Kenya has already listed the Pocophone F1. The 6+64GB model goes for KES36,499.00.