With one month to the MTN Kampala marathon 2018, MTN has announced a new and better route for runners. MTN promises that the new route has a lot more security for marathoners against reckless road users.
The MTN Kampala marathon is a social responsibility initiative of the MTN Foundation in partnership with Huawei, New Vision, Stanbic Bank, Spedag Interfreight Uganda Limited and Rwenzori Mineral water.
Advertisement - Continue reading below
Leading up the MTN Kampala marathon are three regional races that will take place in Mbale, Gulu and Mbarara. The Mbale race will feature a 10km road race and a 21km half marathon. However, the Gulu and Mbarara regional races will only feature a 10km road race.
"The addition of regional road races indicates the presence of MTN, everywhere you go in the country". said Anthony Katamba, the General Manager Corporate Services at the launch of the MTN Kampala marathon 2018 season.
The new route for the MTN Kampala marathon 2018 is purposely to highlight Kampala as a marathon destination.
The MTN Kampala marathon 2018 is another part of MTN at 20 celebrations after the MTN expo at Kololo Airstrip. "We believe that the MTN Kampala marathon  2018 will play a role in connecting and uniting Ugandans to causes that make a difference in the lives of thousands."
The theme for the MTN Kampala marathon 2018
The cause for the MTN Kampala marathon 2018 is improving maternal health in Uganda. This is through ensuring safe childbirth for expectant mothers regardless of their means or where they come from.
MTN Kampala marathon 2018 season dates and registration details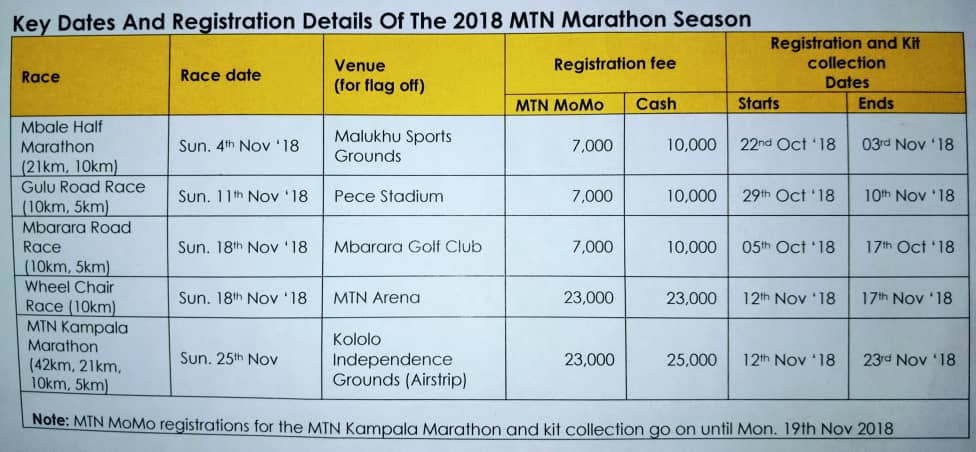 Advertisement - Continue reading below
As seen above, the Yello telecom giant is pushing usage of its MoMo service by providing a . Currently, MTN Uganda is the largest mobile money service provider in Uganda.
Notable quotes at the launch of MTN Kampala marathon 2018.
Susan Nsibirwa, Head of Marketing and Communications, Vision Group.
"With this UGX 250 million sponsorship, we reiterate our commitment to keep working with MTN and supporting them as they deliver services that improve delivery of maternal health services to Ugandan women. It is always a great honor for Vision Group to be part of such sustainable projects that ensure that Ugandans are given a better livelihood".
Ms. Flavia Nabaasa, Franchise Manager for Coca-Cola Beverages Africa.
"Our relationship with MTN and this prestigious marathon dates back many years. This marathon also gives us an opportunity to collect plastics and disseminate the message about recycling to all participants so that we limit the environmental damage caused when plastic is not disposed of properly. We shall therefore deploy plastic collection points along the MTN Kampala Marathon 2018 route".
Mr. Liu Jiawei, Managing Director Huawei Uganda.
"We pledge our continuous support at every opportunity given to us to make Uganda a better place as we continue bringing digital to every person, home and organisation for a fully connected, intelligent world. We are committed to growing with our customer MTN as we explore new opportunities to pave a way forward for the industry and Uganda at large".
Daniel Ogong, Head of Marketing and Communications, Stanbic Bank Uganda.
"We are extremely proud to be partnering with MTN once again in what is truly a world-class event that attracts both elite athletes and fun runners across the country and the globe. This year, we've  made a significant contribution of UGX 250 million towards efforts to improve maternal health in Uganda".
Domenic Otucet, President of Uganda Athletics Federation.
"The marathon had modest beginnings in 2004 and since then we have evolved to what many of you experience to-date. We welcome all participants, their families and friends to experience the runs in Gulu, Mbale, Mbarara and Kampala. We shall endeavor and sincerely hope that everyone returns home as a champion".
Advertisement - Continue reading below