With the current "Smart" trends, someone would think that feature phones don't sell and are losing relevance, but that is until you consider the price tag that comes with owning a smartphone. It's not surprising that a majority of the mobile subscriber base consists of feature phone users. Further, most smartphone owners possess a feature phone as well which clearly indicates the relevance of feature phones. The biggest advantage of feature phones over smart phones is majorly two things: price and battery life. There are phones however that are not smart but neither basic, offering features like Social Media Access, Email, IM, Internet among other basic Java based apps. A good example of this is the Alcatel OT 808. We had the opportunity to review it and here is what we think about it.
In Summary:
It's a feature phone that will surprise you at how functional it can get with a good battery, a  qwerty keyboard  for fast typing and a host of Java apps for your productivity and fun. The bottom side is that it has no 3G or WIFI connectivity making it a little slow. It's however a great phone for its price.
Advertisement - Continue reading below
Unboxing:
The Stylish Pebble like phone comes in either pink or Chrome with a standard travel charger, an 850mAh battery good enough for a feature phone,  earphones for answering calls and listening to music. It's unfortunate thought that the audio port is not the standard 3.5mm audio port.  A memory card and USB charger are sold as separate accessories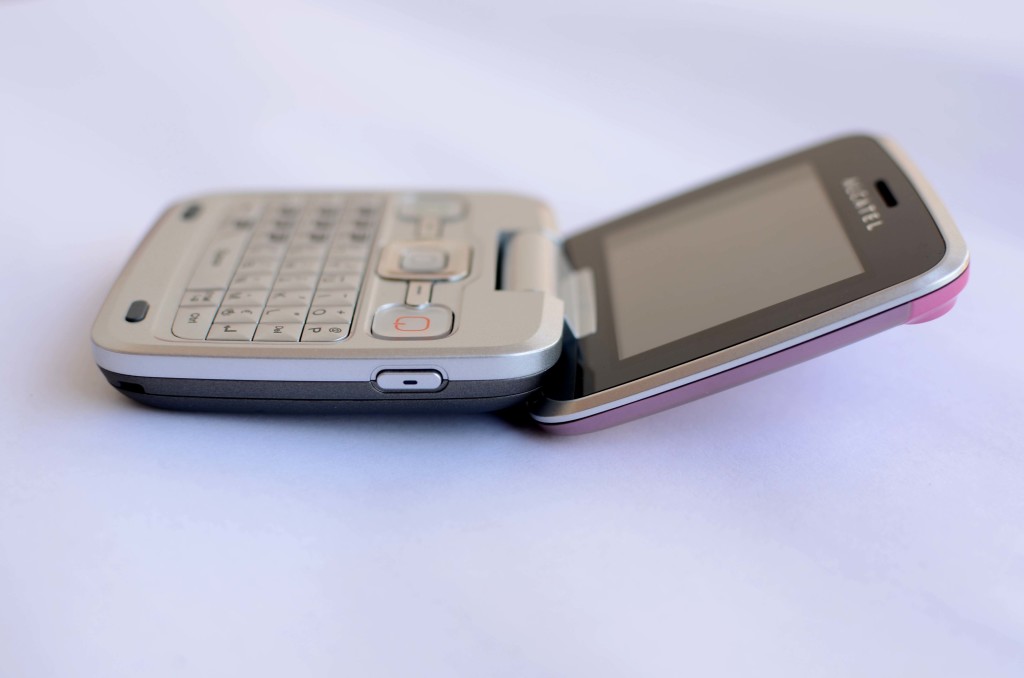 Style and Feel:
The the pebble like square phone feels awesome in your hands and the pink or chrome options with a glossy finish and customizable themes would be a ladies favorite. It incorporates a secondary monochrome OLED display for notifications that illuminates beautifully in the dark notifying you without you needing to open the phone. It also has a qwerty keyboard that is a plus over the ordinary feature phone keyboard.
Going Social:
Since this is key for many users, the OT 808 incorporates Facebook, Twitter, "Palringo" an IM app which incorporates your different IM platforms , and the "My Friends app" that combines Bebo, Friendster, Hi5, Facebook, Myspace and Flickr all in one place.
Functionality:
Amazingly, the OT 808 comes with a pre-installed email, opera and a browser app that help you get online and access your emails on different accounts. It also features a unit and currency converter, a notes and tasks app and lastly a weather and news app all of which is impressive for a feature phone.
Advertisement - Continue reading below
Extras:
A 2 megapixel camera capable of Video. 80Mb of internal memory and an expandable memory of up to 8Gb via a micro SD card slot. Bluetooth 2.0 and EDGE class 12 connectivity An FM radio and Games.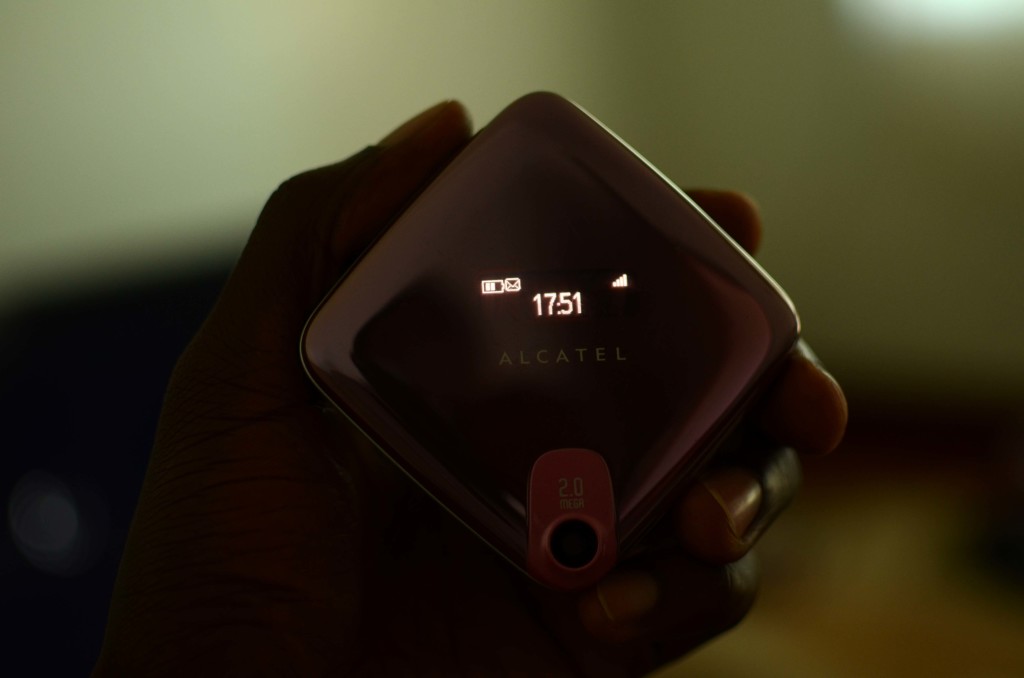 Our Experience:
We found the the OT808 to be a fun phone mainly for the ladies with great functionality and social media integration. It was has an easily customizable user interface to fit user preferences. The lack of 3G and WIFI to facilitate the use of social media platforms was frustrating. We also had a problem signing into the different social media platforms and advise that you seek the help of the phone retailer in setting up the phone.
The Alcatel OT 808 is available at Orange Uganda (Now Africell Uganda) on the Pata Pata Promotion and has been discounted from 259,000 (about $ 99) to only 129,500 (about $ 49)  while stocks last