This is a continuation of last Weeks's article (what's next for Mobile Money….) in which I/ we explore some of the modifications/changes/innovations that can be built on top of the existing mobile money service. So what's next for mobile money?
Mobile Money + VISA + MasterCard
This week I wanted to buy a domain name cheaply from GoDaddy but couldn't because my debit card is not accepted by PayPal, not even my Facebook friends could help.
Advertisement - Continue reading below
What if I could use my Mobile Money account to pay for goods through PayPal directly? What if I could receive money from Europe directly without any middle man like Western Union? What if I could pay for coffee while at Café Java's with my Visa prepaid Mobile Money card? What if I could withdraw money from my Mobile Money account from any ATM that accepts VISA cards?
What if all the above was possible? The truth is that all the above is possible and will be implemented in the next few years when the giants that be wake up.
It is already here!
In 2011, Visa introduced a mobile prepaid product for developing countries in partnership with MTN; it was to be rolled out in Nigeria and Uganda and would be in service by at most 2013. It is 2013 right now and I am wondering what happened to this plan/project but since the year is yet to end, I'll keep waiting.
Early last year (Feb 2012) France Telecom-Orange announced plans to offer Visa mobile prepaid accounts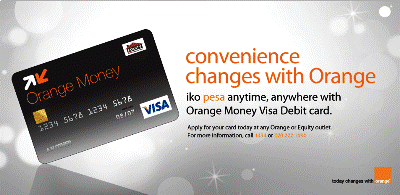 to Orange money customers in Africa and the Middle East. This arrangement will enable Orange to introduce Visa payment Functionality to Orange Money subscribers in select markets.
 "Visa Mobile Prepaid enhances the security, scale and interoperability of Mobile Money programs, such as Orange Money, by enabling account holders to make person-to-person payments, retail and e-commerce purchases at merchants where Visa is accepted, or withdraw funds at Visa ATMs" Jean- Paul Cottet – Orange's Executive Director for Marketing and Innovation).
Orange Money Kenya in partnership with Equity bank have already integrated with Visa and currently offer an orange money visa card to their customers
Advertisement - Continue reading below
What we would like
Now that we know that our wish for Mobile Money integration with international payments is almost about to be achieved all we can hope for is ease of use and reasonable transaction fees.